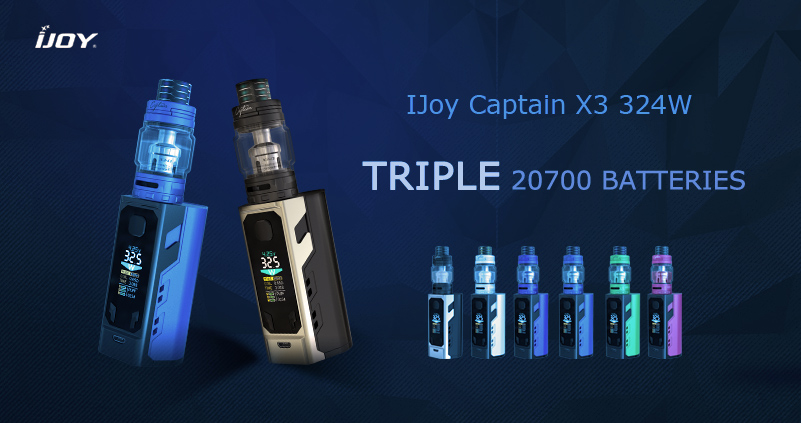 With festival season in full swing, many of you no doubt wonder on a regular basis why e-cig battery isn't getting any better. The answer is quite simple – it is getting better since extending the battery life of our e-cig devices is something that preoccupies manufacturers and consumers alike, but the e-cig manufacturers are more willingly to use that "technology breakthrough" to bump up specs rather than delivering improved battery life. With every new vape mod launch we're treated to new features, such as increasingly high-wattage output and more sophisticated modes,
but it's longer battery life they all want
, especially for beginner and ex-smokers. Now, however, engineers at the IJOY e-cig have taken a very interesting leap into a totally different way of powering their vape mods. Usually when we think of big vape mod batteries we tend to think of something with dual 20700 batteries, like the one in the IJOY CAPO SQUONKER and IJOY CAPTIAN 20700, while a unit loaded with
three
20700 batteries in the
IJOY Captain X3 KIT
is almost unheard of. [caption id="attachment_5202" align="aligncenter" width="600"]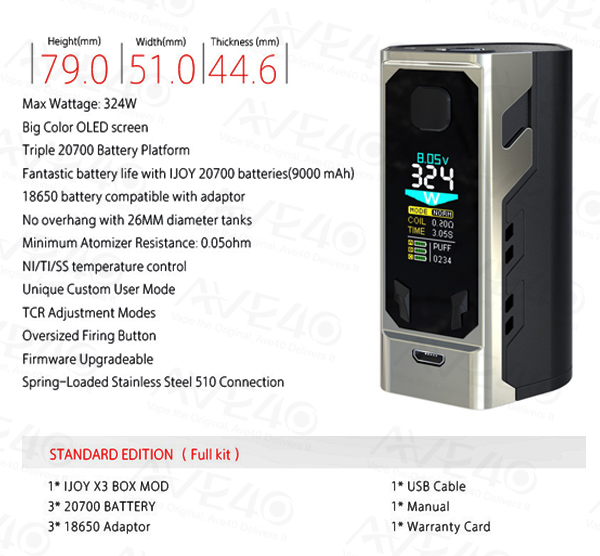 IJoy Captian X3 Mod Order Online
[/caption] That's good news, because battery life is an issue for most vape boxes, and one which the old
IJOY Captain boxes
have so far failed to convincingly tackle, even if it is the very first company that adopts the 20700 batteries on a modern vape mod. For most of the vapers, being able to use our vape boxes for a full day still means charging it every night, or lugging your charger around all day and hunting for a power socket. And when the e-cig devices revolution reaches full speed, a faster-charging and longer-life 20700 batteries are going to be essential. Let's take a look.
Parameter and Specification
Max Wattage: 324W
Most compact triple 20700 platform
Big Color OLED screen
Triple 20700 Battery Platform
Fantastic battery life with IJOY 20700 batteries (9000 mAh)
18650-battery compatible with adaptor
No overhang with 26MM diameter tanks
Package Included
1 x X3 324W Box Mod (Batteries not included) 1 x USB Cable 1 x Manual 1 x Spare Part The
IJOY Captain X3 box mod
has just been sold on Ave40 and it's set to slot in at the upper level of the new Captain lineups with a surprisingly big triple-20700 battery, which is much bigger than the batteries in most boxes at any price. The massive
Captain PD270
for example has just dual 20700 batteries, and IJOY claims the new Captain X3's battery will allow for up to three days of life on a single charge. That's why X3 could have more going for it than just a regular Captain product. [caption id="attachment_5210" align="aligncenter" width="600"]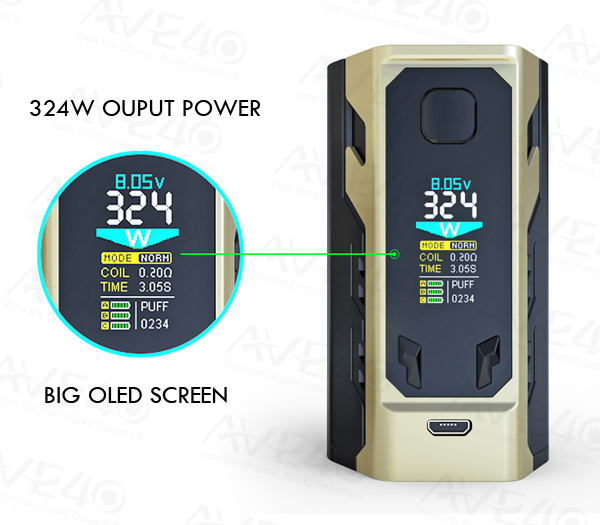 IJoy Captian X3 Mod Order Online
[/caption] "To achieve the efficient power consumption that you need to run a high-spec box mod(324 Watts), we had to fundamentally rethink how our devices are designed," said one of the IJOY engineers. Well, the
new battery-bolstered X3 chipset
should help here. They noticed that when vapers run their devices over 125 watts for over 3 seconds in a single puff will get a boost of 8% extra battery life respectively with the old version of Captain chipset. For this, the computations in the latest chipset will be reorganized for the longer processing puff time and prediction model will be used for the interface which require short processing time in which reading time threshold will be considered for the mode switching. It is estimated that the latest version of X3 interface delivers a 17% boost in battery life. Also, the method of "Prefetching" user mode will also be added to reduce latency of the TCR loading. [caption id="attachment_5214" align="aligncenter" width="600"]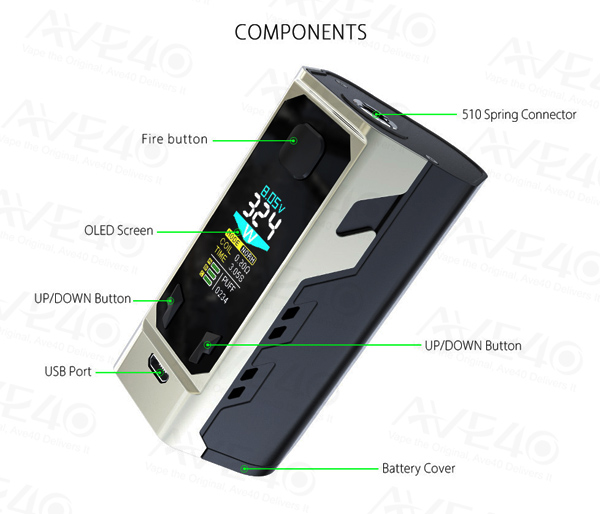 IJoy Captian X3 Mod Order Online
[/caption] IJOY claims its mod can last 5-7 days on a single 9000-mAh charge, which sounds optimistic to us, even with a triple battery that big inside, but it should certainly see you through the best part of five days. Besides, the pack also comes with a
18650-typed adapter
, which is a welcome move and you don't have to toss away your old 18650 batteries. The thread type of this mod is a classic Gold-plated center pin of 510 connectors. There are Four opens around the thread to prevent seizing and galling. [caption id="attachment_5206" align="aligncenter" width="600"]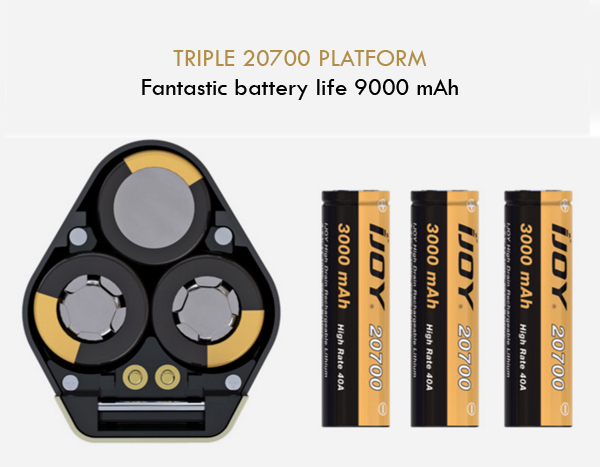 IJoy Captian X3 Mod Order Online
[/caption] The IJOY Captain X3 measures 79mm by 51 mm x 44.6 mm - that's much wider and thicker than the IJOY Captain PD270. On the other hand, the X3 is 10mm shorter than the latter. From the outside, IJOY Captain X3 feels like nothing short of a well-made device. It has a simple yet fashion accents of its design. The artistic-designed plates are surrounded by delicate slopes and edges and the curves on the edges gives a soft feel working in to pair with the high-grade leather stickers. Captain X3 released
6 color options
– Green, Purple, Rose, Red, Silver, Blue, and Black. The Captain X3 features a
high-powered 324 watts
output. The OLED display is big enough to gives most of the commands. It is sufficient bright and you won't have any issue reading the screen even under the bright lighting. Also, the interface with battery status, resistance value, power output etc. are easy to read. IJOY Captain X3 is loaded with most of the necessary modes. Press the fire button 3 times then you will enter into the main menu with 5 setting modes – Power mode,TC mode,TCR mode,Standby time set and Puff reset. [caption id="attachment_5218" align="aligncenter" width="600"]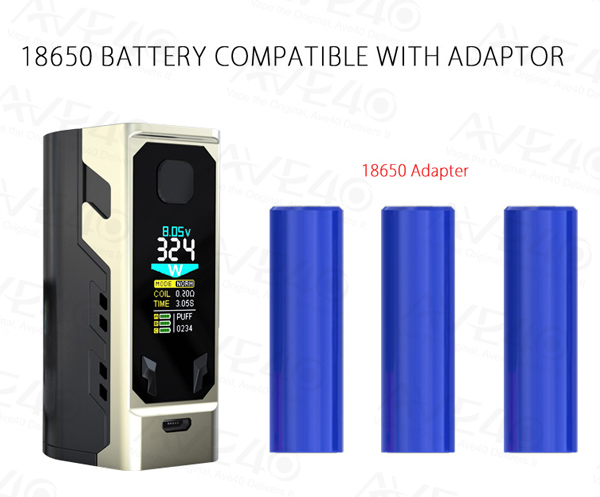 IJoy Captian X3 Mod Order Online
[/caption]
Wrapping it up
Innovation takes time. Just like the li-ion batteries have taken over thirty years to enter the mainstream market by featuring in iPhones, since their invention in the 1980s. We constantly hear about battery breakthroughs from IJOY and the new Captain X3 is special in several ways. The new generation. The first with the triple-20700 battery. The incredible 324 watts power output. It is an innovative 20700 box mod that looks outstanding and performs excellent. It has the huge potential to be a well-selling device aimed at seasoned vaper seeking a bigger battery capacity. If you're out looking for a budget-friendly device, keep an eye out for this.