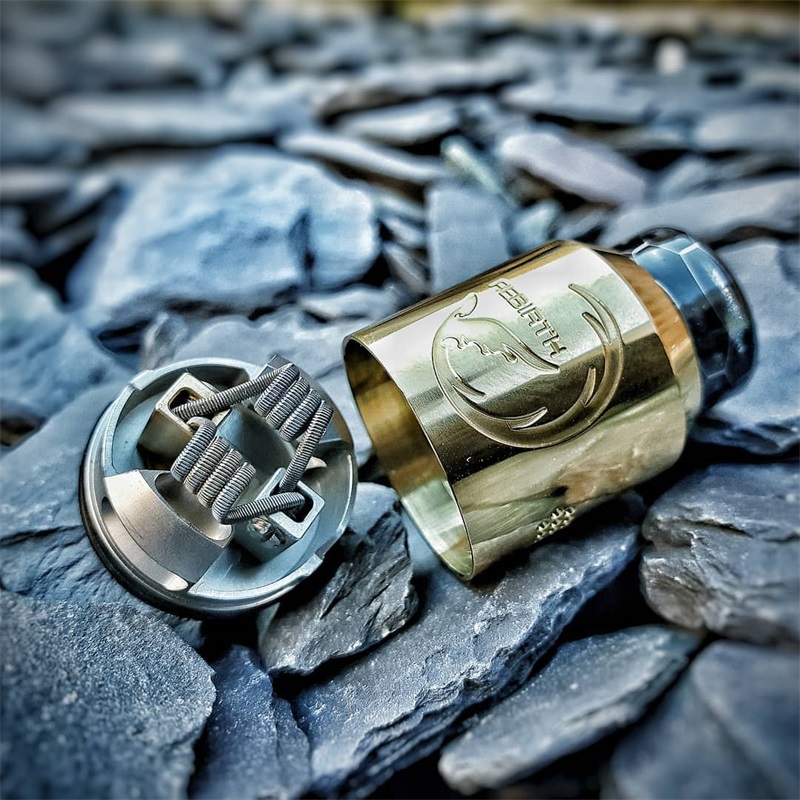 The Hellvape Rebirth RDA is a joint project with the prolific US YouTube reviewer/vape designer Mike Vapes. Hellvape has teamed up before with a well known reviewer – Heathen for the Dead Rabbit RDA and the RTA version Dead Rabbit and has a good track record of producing popular vape devices.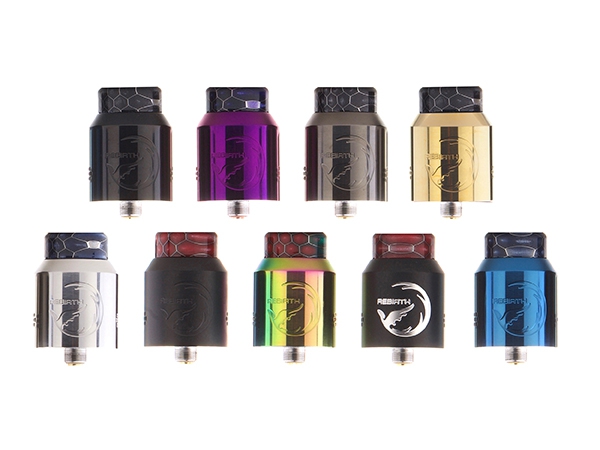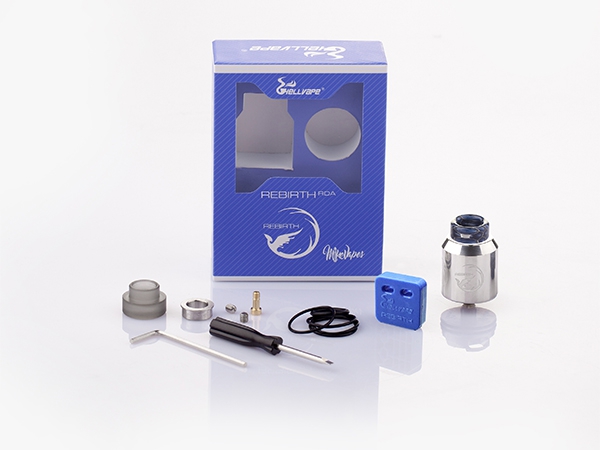 Features
Diameter: 24mm
Stainless steel construction
2 post build deck with gold plated positive post
2.5 by 3.5mm post holes
16 x 1.2mm bottom adjustable honeycomb airflow for each side
Top cap locking system with adjustable airflow
6mm deep juice well with raised bottom airflow to prevent leaking
Flat head screws
810 Cobra drip tip and 810 frosted drip tip included
Comes with gold plated squonk pin
Contents
1 x Rebirth RDA
1 x Spare 810 Drip Tip
1 x Stainless Steel 510 Adapter
1 x Accessories Bag
1 x Rebirth RDA Sticker
1 x Positioning Tool
1 x User Manual
Rebirth RDA Key Features
As you can see this is a 24mm dripper with a clever bottom airflow as in raised air intakes on the deck. That means whilst not 100% leak proof you'll have to really over drip or squonk to get it to leak! Those air intakes are bloody huge however the clever locking honeycomb airflow system means you can open or shut it down to your preferred setting.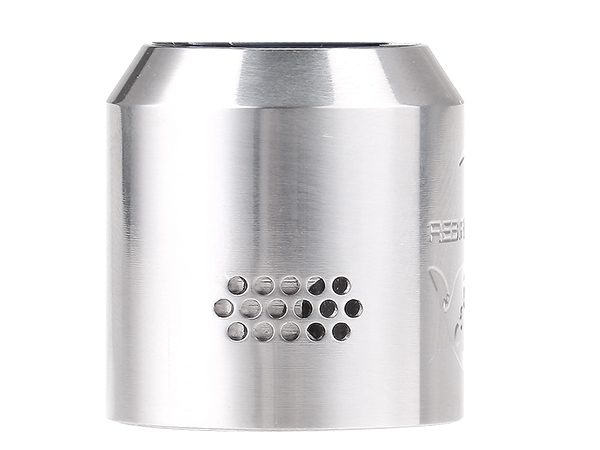 In his introduction video designer Mike Vapes says this is pretty much the follow up to the Iconic RDA – hence the name Rebirth! – which even he admits was not the best dripper ever made. It's a dual post design with extremely large post holes making this an absolute builders dream. You can of course dual coil and have the option of a single larger coil or indeed a triple…like I said, the perfect playground for those of you who love building with those fancy exotic coils.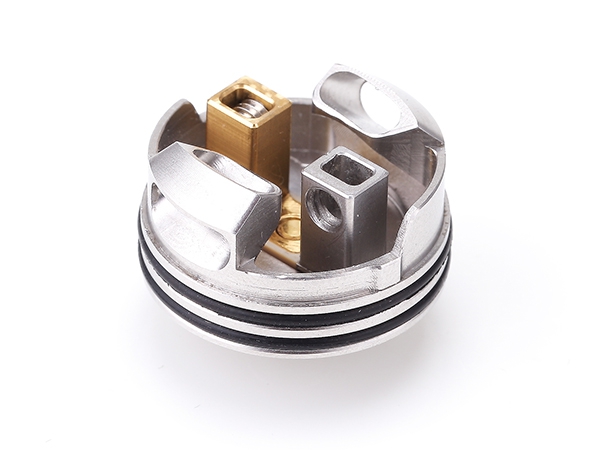 There's a gold plated squonk pin included too as well as a simple Coily type tool – though Mike has graciously tipped a nod to the Coily Tool 'peeps' by adding the 6.5mm leg length to the back of the box…nice touch. The top cap is very well domed suggesting this should be a flavour chasers dripper as to if that's the case we'll see shortly.
Design and Build Quality
Anyone who's used a HellVape product such as the
Dead Rabbit RDA
will know they really do use good quality materials and the Rebirth RDA is no different. Out of the box mine was clean with wonderful machining with even dry just enough tension on the O rings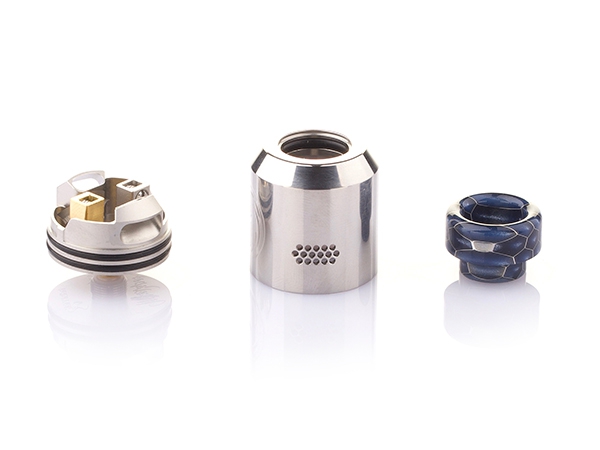 Design wise it's very much to my taste – clean lines – unfussy logo [I chose the blacked out version] and a no frills down to business kind of look. The deck is designed beautifully with plenty of room in there to work and wick and that 6mm juice well means it can hold as much e-liquid as most tanks and RTAs. So built well – designed well – how does it vape?
How Does the HellVape Rebirth RDA Perform
OK the flavour off the Rebirth RDA is extremely good indeed – for me not quite as good as the Augvape BTFC RD – but certainly giving it a run for its money! I have tried a few different builds – a pair of aliens at .2ohm and a couple of bog standard coils at 0.25ohm between 70 and 100w – but I wasn't able to eke out that extra bit of flavour I get from the BTFC…could be my builds of course… So yeah it's certainly flavoursome but I might have been spoiled by that BTFC which is awesome – BTW the clouds off the Rebirth are as you might expect very good indeed.
Another good point is even at the higher temperatures neither the barrel nor the top became too hot – even with the airflow closed right off.
Airflow
Speaking of the airflow – it's a very smooth quiet vape down to the honeycomb I guess and wide open its very airy indeed. I like an airy vape but even for me this was a little too much air – I found closing it off slightly gave me the perfect vape – so restrictive this certainly isn't!
Pros
Easy build deck
Versatile build deck
Great flavour
Smart design
Clever airflow
Squonks well
Locking system works well
Plenty of goodies in the box
Cons
Not really a con but not keen on the cobra drip tip
Final Review Verdict
In answer to the question does the Hellvape Rebirth RDA deliver,hmm,there's no doubting this is a very good RDA delivering superb flavour and clouds. It looks great – not sure about that cobra drip tip though – and even the logo on the none murdered out ones actually looks very cool indeed. I like it a lot and it's definitely staying in rotation. Now you can order it on our web store, Click here to find it:
Hellvape Rebirth In Ave40