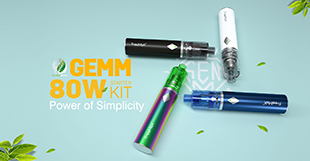 Freemax Gemm Kit is an extraordinary vape kit which is consisted of Freemax Gemm 80w Mod and Freemax Gemm Disposable Tank. After the great success that Freemax Twister Kit has achieved, Freemax finally released their new upcoming vape device, let's check it out!
Parameters:
Gemm 80W Mod

Size: 85(L)*25(D)mm

Battery Capacity: 2900mAh

Output Wattage level: 40W, 60W, 80W

Output Current Range: 0-42A

Resistance Range: 0.1ohm-3.0ohm

Output Voltage Range: 0-4.2V

Power Efficiency: 95%

Gemm Disposable Tank

Size: 51.35(L)*25(D)mm

Capacity: (G1 Mesh Coil: 5ml) (G2/G3/G4 Mesh Coil:4ml)

Material: Steel/Pyrex/PCTG

Thread: 510
Package Included:
Gemm 80W VM Mod

2x Gemm Disposable Tank(built-in G1 mesh coil 0.15ohm; built-in G2 mesh coil 0.2ohm)

USB Charger

User Manual

Warning Card

Warranty Card
The Mod
The battery capacity of Freemax Gemm Mod has increased up to 2900mAh which is much larger than Freemax Twister Kit. And the power efficiency of this mod also reaches up to 95% which means there's less electricity will be wasted to ensure maximizing utilization of the battery capacity!
Differ from Freemax Twister Kit, there's no knob on this Gemm Mod you can twist to adjust the output wattage. But you can press three times on the fire button to switch through 3 output types. 40w, 60w, and 80w. With different tanks you install, the wattage maybe a little bit different.
Also, different color indicators will flash to tell you the battery status. When you adjust the wattage, it'll flash as well.
The Tank
Freemax Gemm Disposable Tank also comes with some great features.
The most important is the new 'cotton' inside which is a mixture of 90% tea fiber and 10% organic cotton. Compare to the traditional single organic cotton material, this kind of new 'cotton' will improve the capacity of liquid absorption and liquid conductivity to a new level. Of course, the flavor will be more original.
On the other hand, Freemax also makes some improvements to the mesh coil inside. The new diamond-mesh structure will make the coil be fast and evenly heated, so the liquid the new 'cotton' absorbed will be fully vaporized!
Moreover, Freemax also designed and produced several types of new mesh coils. You can choose the normal single coil, dual coil, triple coil, and quad coil. Whichever you like, you can order it separately!
Now you can find it in our store.
Click here to see: https://www.ave40.com/freemax-gemm-80w-starter-kit-2900mah-with-gemm-disposable-tank.html
Vape Wholesale & buy Electronic Cigarettes online in Bulk.
Quality Vape Products, Trusted Vape Wholesale Supply by Vape Shops Owners.
Wholesale Inquiry: https://www.ave40.com/wholesale-service.html
Thanks for Reading!