Justfog G14 1.8ml Clearomizer
Notice:Prohibition of sale South Korea; Russia; China; France, German, Italy, Spain, Netherlands and Belgium; Israel, Bahrain, The United Arab Emirates, Saudi Arabia.
Justfog G14 1.8ml Clearomizer
Product Information
Justfog G14 1.8ml Clearomizer is the world's smallest clearomizer using Japanese organic cotton coils, it offers perfect compatibility with most batteries offered in the market, regardless of the connection types or voltage values. This lets users avoid the trouble of finding the right batteries with the precise voltage values for their clearomizers. Justfog G14 shows similar performance as S14, and is polished by the highest grade chrome.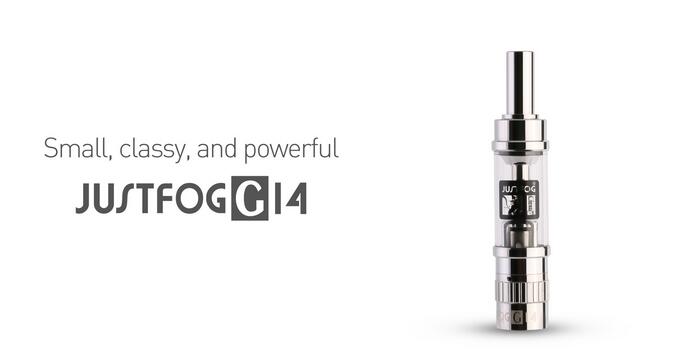 Features
§ 100% Organic Japanese Cotton coils
§ Chrome coated, Pyrex glass materials used
§ Double protection system for coil short
§ Clean taste without dry hits from low to high voltages
§ Perfect battery compatibility from low voltage to high voltage
§ Double Anti Leakage System
Parameters
| | |
| --- | --- |
| Brand | Justfog |
| Tank Dimensions | 14mm x 77mm |
| Tank Material | Brass+Chrome Coated/ Pyrex Glass |
| Capacity | 1.8 ml |
| Resistance | 1.6ohm |
| Thread Type | 510 |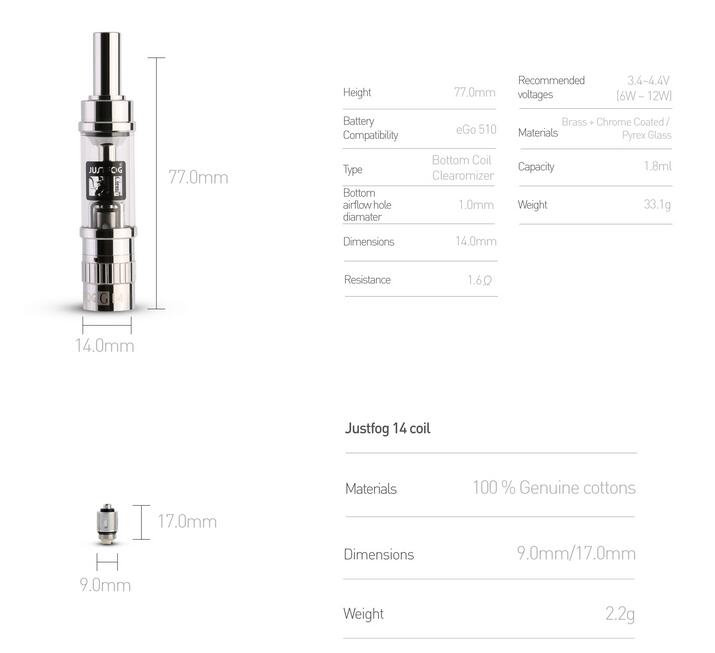 Package Included
§ 1 x Justfog G14 tank