Geekvape Zeus Sub-ohm Tank
Regular Price
$29.99
Regular Price
$35.66
Dear Customers,
We are sorry that we have to suspend our retail function temporarily as we have been encountering with payment collection issue and logistic challenges.
Despite of this partial functional shutdown, other functions of our website remains intact.
For wholesale inquiry, please contact [email protected]
Again, our sincere apologies for any inconveniences that this may cause you.
And thank you for your support for Ave40.
Sincerely,
Team Ave40
Notice: Prohibition of sale to Germany till December 22, 2019.

The long-awaited leak-proof Sub-Ohm tank was presented by Geekvape- Zeus. It retains the structural design concept of the original Zeus series with an upgraded quick-change prebuilt coil system. Utilizing the latest technology of the GV Mesh coil system to optimize flavor and vapor production. A combination of both direct top airflow and the top-to-bottom airflow creates massive flavor and vapor boost while preserving its leakproof protection element. Besides, the quick slide coil design provides you convenient coil replacement. Plug the latest mesh coil utilizing the use of high-grade KA1, with 0.4Ω Mesh Z1 KA1 coil and 0.2Ω Mesh Z2 KA1 coil. The innovative combination gives Zeus Sub-ohm Tank excellent property. Moreover, the Zeus implements upgraded fill port design to minimize liquid spillage, which also brings you better user experience. As for the capacity, it's up to 5ml, and there are available in a spare glass tube with 3.5ml. What's more, there are seven kinds of colors for your selections. Overall, all of these are excellent integration to offer you optimal vaping life. The Zeus Sub-Ohm Tank is easily an unbeatable tank to date.
We also recommend:

Both direct top airflow and the top-to-bottom airflow
Quick slide coil design for convenient coil replacement
Latest Mesh coil utilizes the use of high grade KA1
Upgraded fill port design to minimize liquid spillage
Massive capacity up to 5ml with easy top fill design
Available in 7 colors for your selections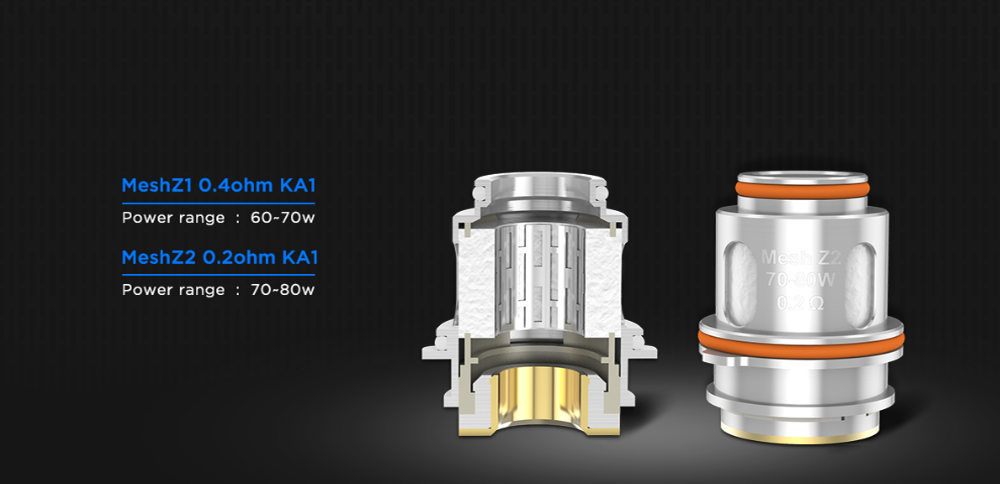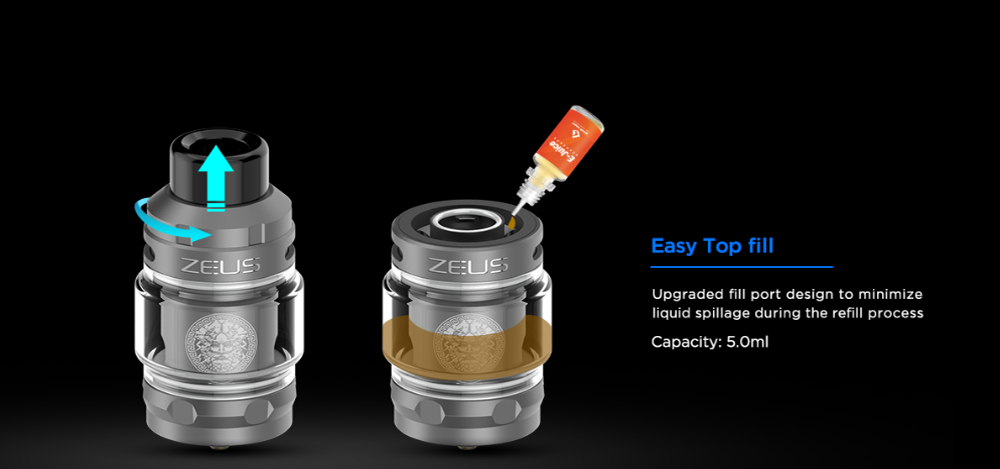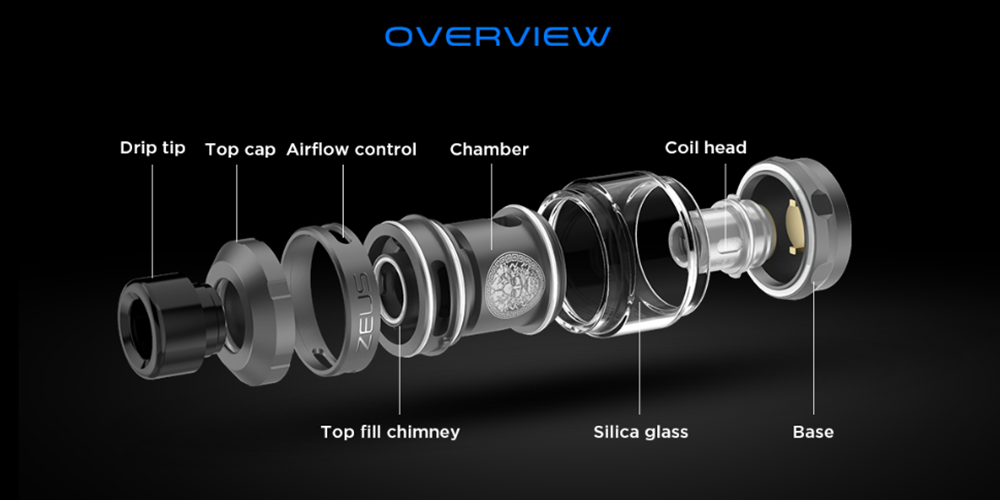 Size: 26* 42.5mm(no drip tip)
Capacity: 5ml(Spare glass tube 3.5ml)
Drip tip: 810 drip tip
Filling Method: Top fill
Mesh Z1 KA1 Coil 0.4Ω(60-70W)
Mesh Z2 KA1 Coil 0.2Ω(70-80W)(Pre-installed)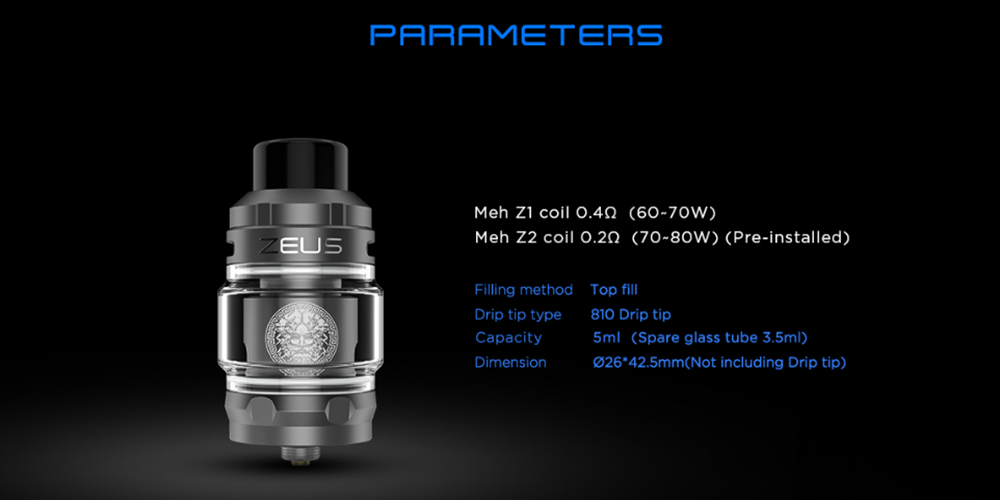 1 * Zeus Sub-ohm Tank(Pre-installed mesh Z2 coil, 0.2Ω, 70-80W)
1 * Mesh Z1 coil(0.4ohm, 60-70W)
1 * Spare glass tube
1 * Coil tool
1 * User manual
1 * Spare parts pack
1 * Promotion card & warranty card

3 Months warranty for our products from the date of delivery. We will not take responsibility if any damage is caused by false use or man-made sabotage. Read the User Manual carefully before you start to use it.