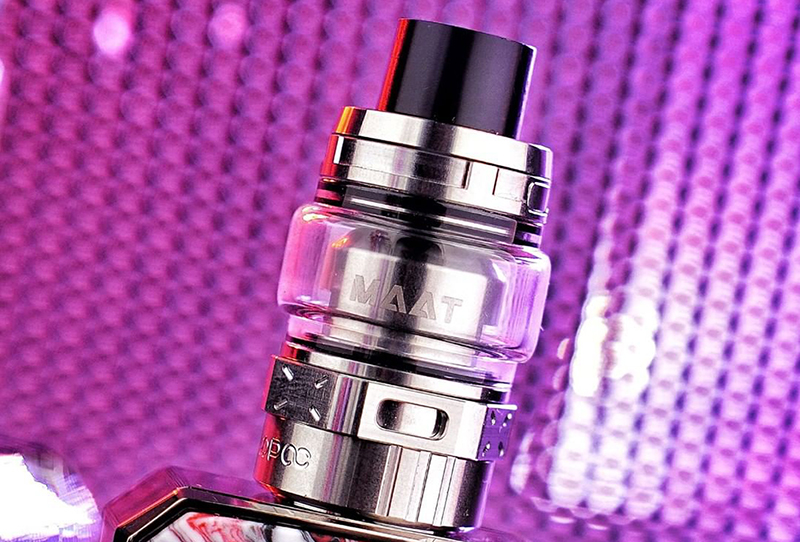 We get something special. For sure, Voopoo MAAT Tank is a new way for tank industry in vape market today! For all that time till now, Innovations and creations all bring something totally new with failure in the way. I'm not sure whether Voopoo will succeed in this way or not but I can bet on that this is a revolution.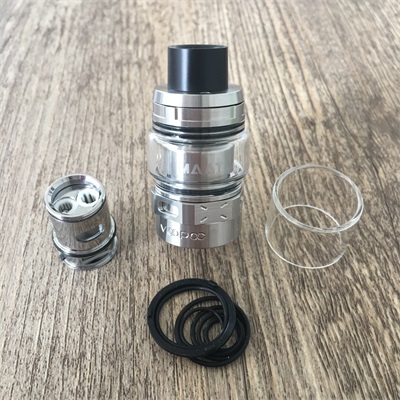 Parameters:
Size: 56 × 28 mm
Material: Stainless Steel & Glass
Weight: 76(±0.5)g
Capacity: 4ml
Coil Resistance: Single Mesh Coil MT-T1 0.13Ω (60-85W)
Dual Mesh Coils MT-T2 0.2Ω (50-80W)
Refill Way: Top fill with automatical gap
Airflow Adjusted Way: Middle Triple Holes Adjustable
Package Included:
Voopoo MAAT(4ml)
MT-M2(Pre-installed)
MT-M1
1X Glass Tube 2ml
6X Sealing O-Ring
1X User Manual
The Structure Design
The traditional tank structure is widely known and used. Drip tip and top cap, glass tube and atomizer coil inside, top/bottom airflow adjustment part and bottom cap. What's more, all the tanks come with screw design to assemble all the parts together. Although there're more and more, newer and newer vape tanks released in vape market. But the structure design still remains the same. Well, actually since Freemax mesh tanks launched, we have not seen anything new in tank market for a long time. Plus vape tanks can not bring us too much vaping fun as RDA or RTA does. That's the reason why there're less and less new vape tanks released except for come with mod kit together.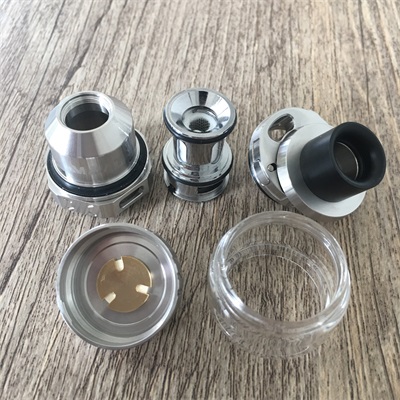 Talking about the structure on Voopoo MAAT Tank. We can make a simple summary like new airhole design, new coil design with new bottom cap design.
The Airhole Design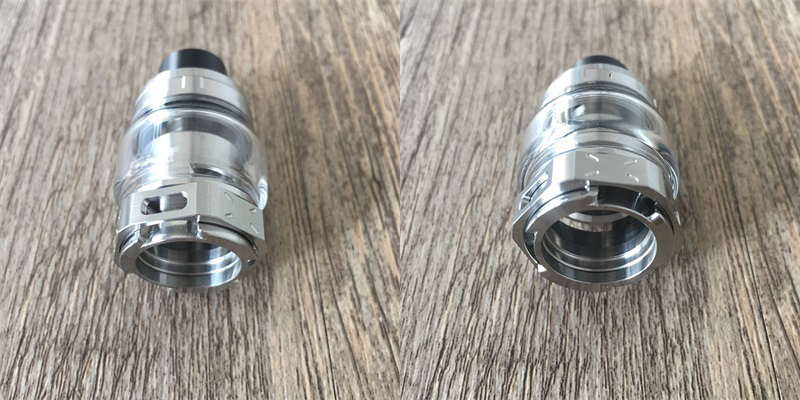 The new airhole has changed its position on this Voopoo MAAT Tank. Not at the bottom together with the bottom cap but in the middle. There're two airflow adjustment ways in all vape tanks, top airhole and bottom airhole, which both come with mature solution in air control. The top airflow adjustment obtains its advantage for better leakage control and the advantage of bottom airflow adjustment is more directly liquid atomizing. As for the airflow adjustment on Voopoo MAAT Tank, Middle airflow adjustment. It's hard to tell if it's the first vape tank with bottom airhole design. Actually the way air flows into the inner chamber is still the same to bottom airflow adjustment. On the other hand, triple airholes structure also ensures the air supply. And check the bottom cap in the picture above, you can also find there's a special component with three gaps. Without any doubt, that's for replenishing more airflow.
The Coil Design

The coils we get on Voopoo MAAT Tank is another innovative thing. Abandoning the screw structure and adopting the plug design. That's similar to something we have seen, right? It's the same coil installation design to smok nord. First of all, I want to say this kind coil installation design is a great change and improvement. Then let's talk about the disadvantage of this design. The most important you concern about all the time is the leakage, no matter on the atomizer tank or the pod cartridge. No matter the common screw structure or the plug installation. I have used this tank for three days and I filled it up every time. The truth is that leakage problem seems to fade away. Though there're just few rubber rings on the coil to minimize the gap between the tank and the coil. But keep this in mind the lifespan of the rubber rings won't make sure there'll not be any leakage problem if you don't change it.
The Bottom Cap Design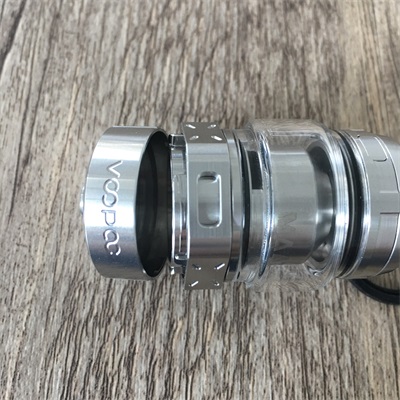 The new assemble procedure becomes simpler. Just put on the bottom cap and a slight twist. It can not be much easier. Of course, this simple structure also make assemble tightly. Actually this simple structure is not worse than the traditional screw structure. By the way, It's much more efficient to detach it.
Something Interesting!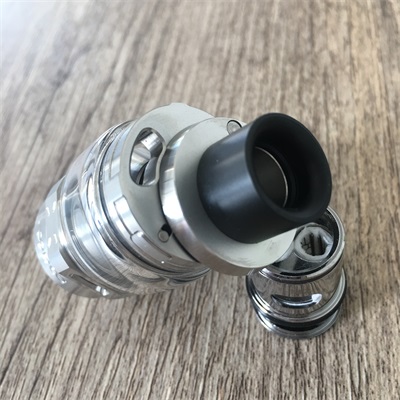 There's an interesting gear on the top cap. Press the button then the cap will flick automatically. No more pulls and pushes on the cap when you need to refill the juice. That's really user-friendly for vapers. I don't know if you guys have used this structure vape tanks before while honestly I love this design and addicted to refill juice into this tank now. Well, I'm also concerned about the lifespan of this special structure. I hope it could service as long as possible.
The Verdict
You may wonder how does it perform on earth? The answer is absolutely awesome. Single mesh coil MT-T1 0.13 Ω and dual mesh coils MT-T2 0.2 Ω. Quick fire respond and ultimate clouds and flavor. It'll be never too much to praise the mesh coil tank and you guys know the reason. With the mesh coil tank came out, regular coil tank has perfectly exited from the tank market which you can only see on pod system kit. As for the special structure mesh coils on Voopoo MAAT Tank, It doesn't disappoint me. On the contrary, It satisfies me a lot bit. Absolutely I will recommend it to you. Click here to find it: https://www.ave40.com/voopoo-maat-sub-ohm-tank-4ml.html
Thanks for Reading!