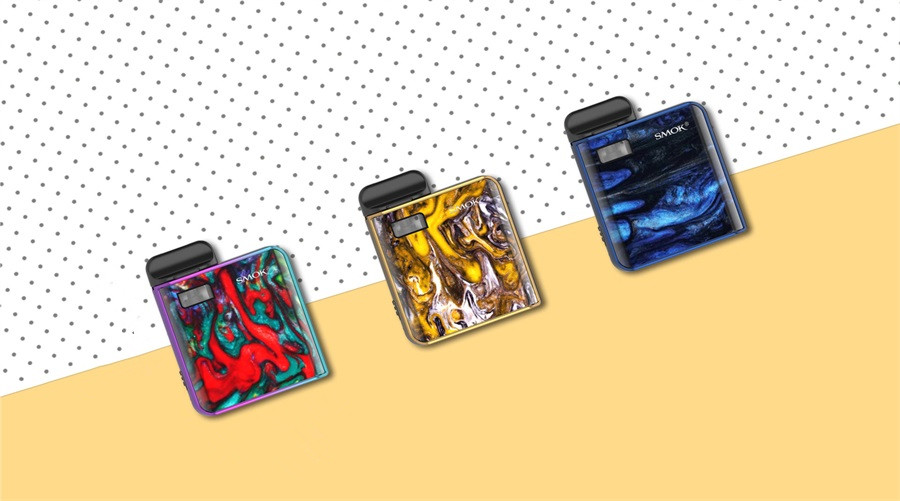 It seems like that Smok wants to expand their influence in pod system kit market this time. Although nord kit has made such a great success, Smok still doesn't want to stop keeping releasing new pod system kits. Well what we will see this time is, Smok Mico kit.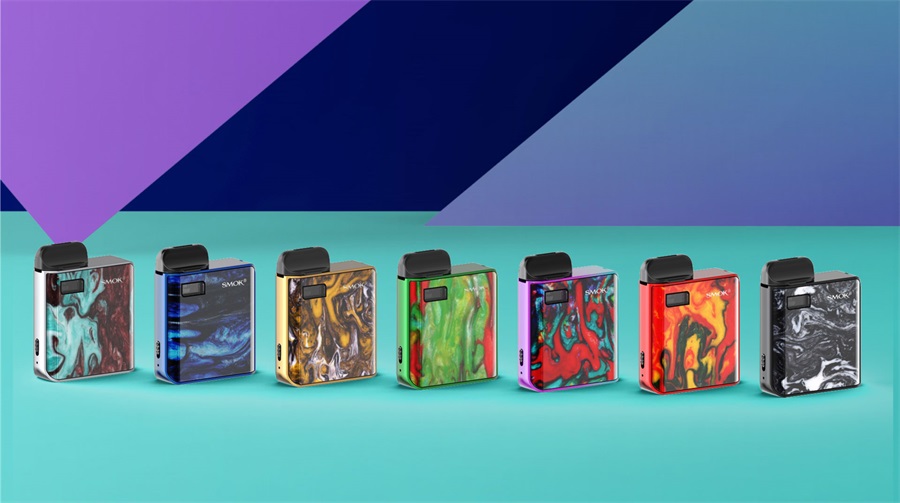 Parameters Size: 56.3 x 46.5 x 14.8 mm Capacity: 1.7ml Battery: Built-in 700mAh Material: Zinc Alloy Resistance: 0.6-2ohm Output Power: 10-26W output Voltage: 3.3V-4.2V Charging: 5V/0.37A It comes with
SMOK Mico Device
Mico Pod (0.8ohm Mesh coil)
Mico Pod (1.0ohm regular coil)
1 x Lanyard
1 x User Manual
Made of zinc alloy material to make the whole kit really light which is just 65g. And what's different from novo kit or nord kit is the mico comes with a square shape. 56.3 * 46.5 * 14.8 mm compact dimension also makes it easy to carry with.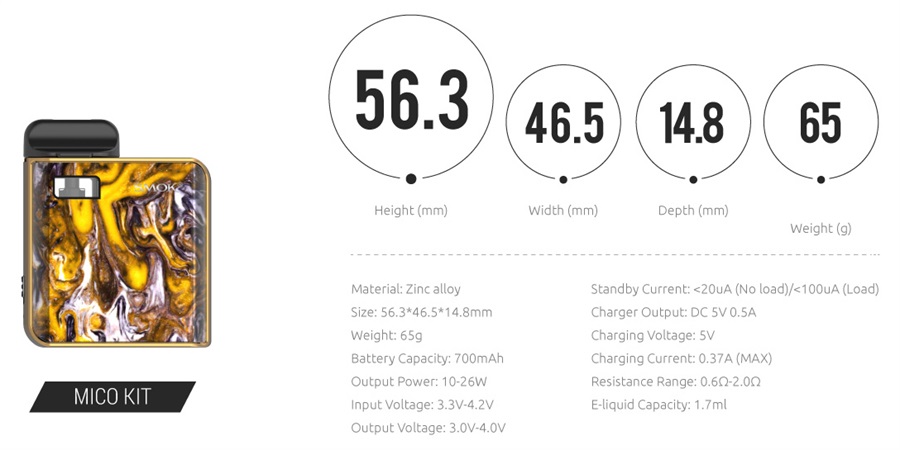 Compare to smok nord, the pod cartridge of mico kit also shrunk in a comfortable size. Flat drip tip also applied to fit various lip type for the customers of different regions. Conical design inside to decrease the uncomfortable feelings by preventing the entering of smoke condensation. And there're two replacements pod cartridges in the package for different vaping needs. 0.8 ohm mesh coil really offers great flavor and clouds. While the 1.0 ohm regular coil is designed for MTL vaping to give you strong throat hit feeling. What's more, there's also an optional ceramic coil for you to choose, hmm, why not?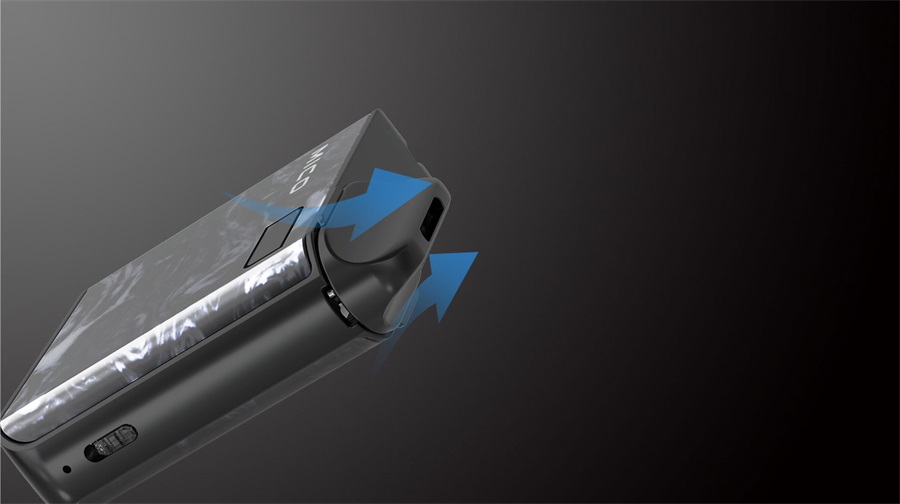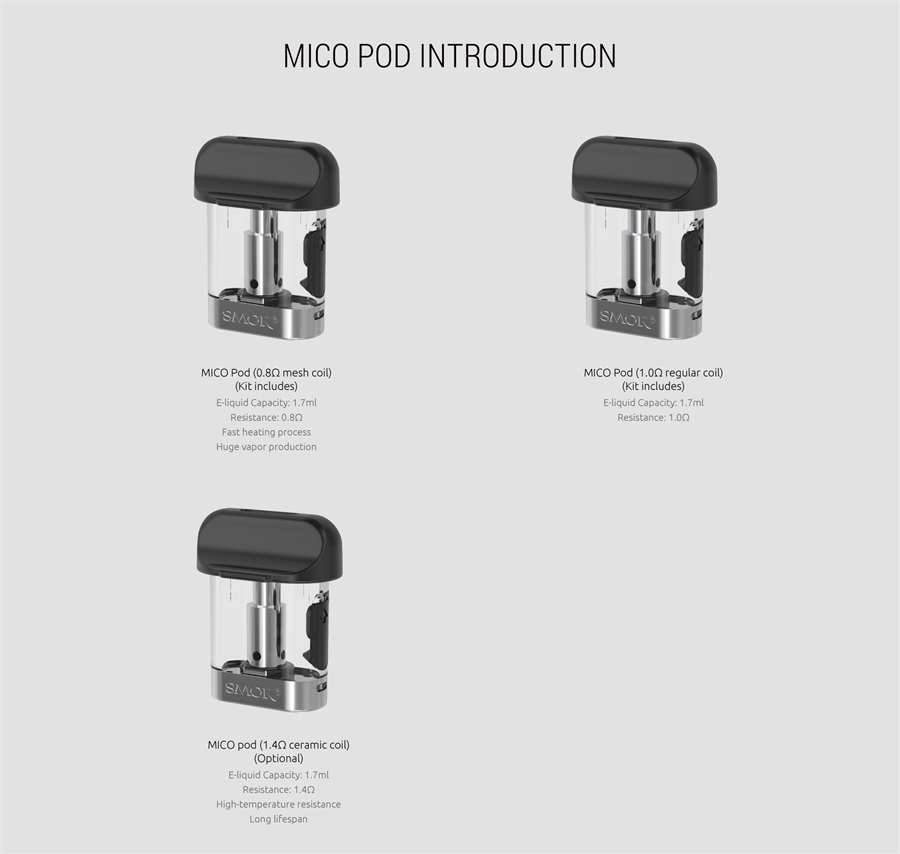 Different from the most pod system kits, there's a toggle switch on the side of the mico battery mod. Personally i prefer air-driven switch for easy operations. And the press button design for more adjustable functions like change the voltage. But this toggle switch is just for power on/off. Hmm... The three colors indicator will remind you the power capacity and charging information which is beside the switch.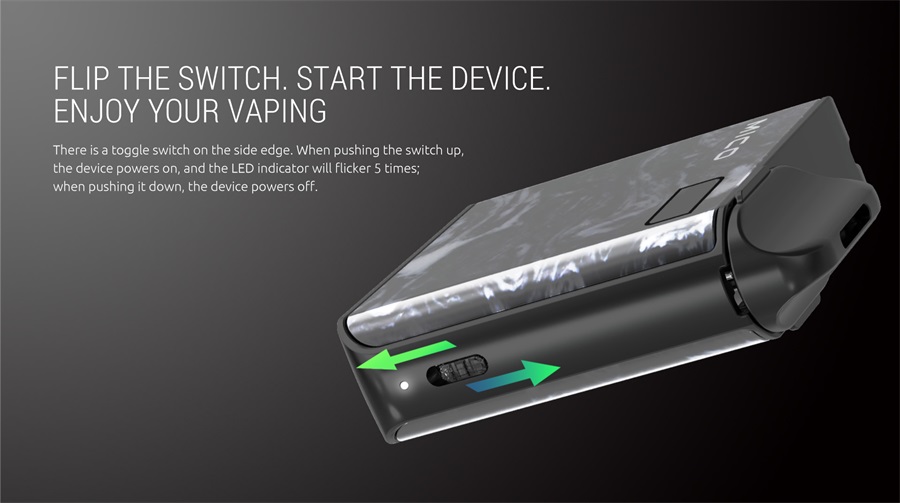 Considering of the size of mico kit, the 700mAh battery is not so hard to accept. But the output range of this kit is 10w-26w. So I'm a little worry about the using time on this kit. What you should know is the battery of smok nord kit is 1100mAh while its output range is 10w-15w.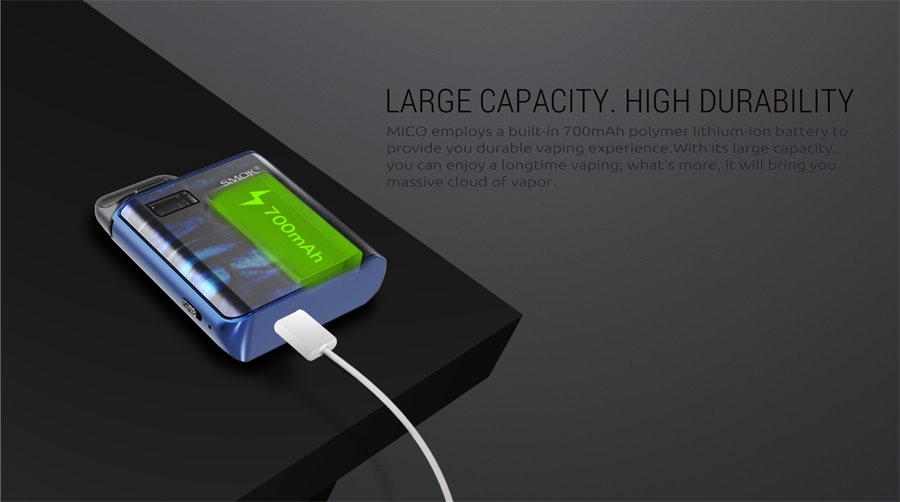 You can just regard this mico kit as a lite version of smok nord. Or a colorful 'Mi' pod system kit. The only one difference is the new appearance design. So the price is a little lower than smok nord. But max 26 w output, mesh coil and regular coil cartridge all tell you that the experience on this kit is not lite at all. Click here to find it: Smok Mico Kit In Ave40
Thanks for Reading!