The big screens have only recently started to make their way to mid-rangers, though, and on that front Smoant was among the first to deliver, with the Ranker. The mod features a 1.3-inch TFT color screen – one that's bigger than traditional 0.96-inch screens we used to see on virtually every new device until about last year. It is built of solid metal and it runs on Smoant's own UI interface on top of Ant218 V2 chip. The Smoant Ranker also has a dual operating system as VW mode and TC mode that brings you a customized vaping experience.
The Smoant Ranker is a mid-range 218W TC box mod sold across the globe. It is the more affordable sibling to the high-end Smoant Charon TS 218. We spent a few days using the Smoant Ranker 218W to find out how good of a box mod it really is. Read on for our experience with Smoant's new mid-ranger.
[caption id="attachment_12245" align="aligncenter" width="702"]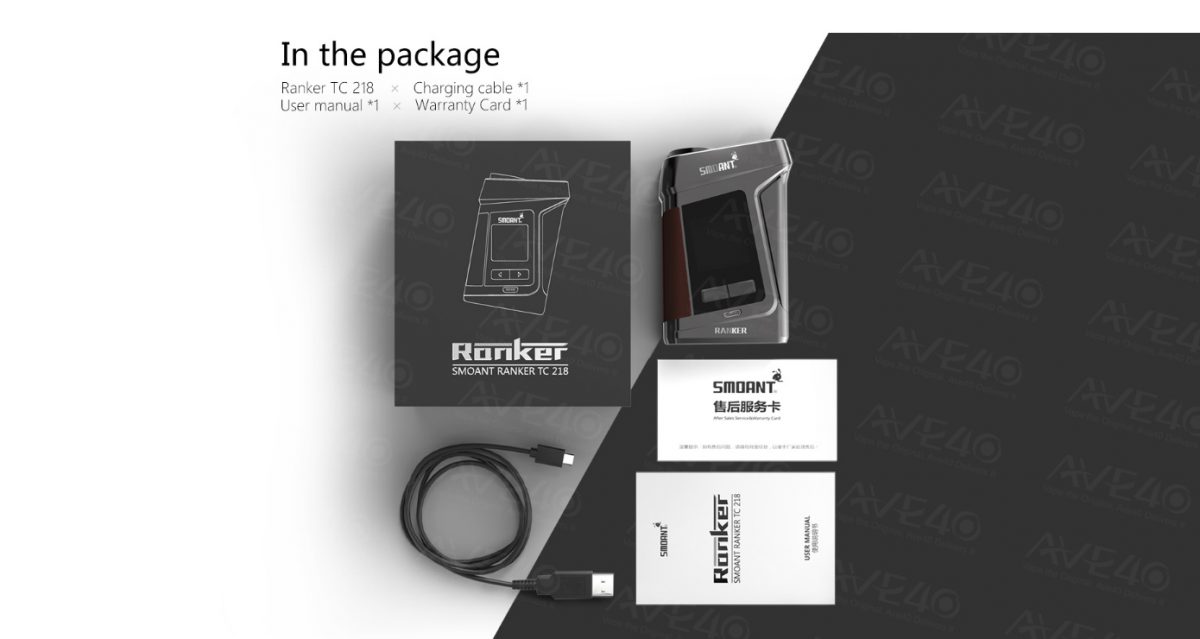 Smoant Ranker Order Online
[/caption]
- PARAMETER AND SPECIFICATION -
Size: 31.5mm x 60mm x 92mm Output Range: 1W - 218W Display: 1.35-inch TFT color screen Temperature Control: 100°C – 315°C / 200°F – 600°F Batteries: 2 x 18650 battery (Batteries not included) Output Modes: VW / VW Curves / Temp (Ni, Ti, SS) / TCR / TC Curves Resistance Range: 0.05 – 2.0 Ohm for Temp / TCR mode / TC Curves 0.1-5.0 Ohm for VW / VW Curves: Colors: Black, Tarnish, Camo
- IN THE BOX -
1 x Smoant ranker Mod (Batteries not included) 1 x USB charge & Update cable 1 x User manual 1 x Warning card
The first thing to notice about the Smoant ranker is that it really does not feel as big as you would expect a bigger-screen mod to be. Measuring only 31.5mm by 60mm by 92mm, this compact and ergonomic design fits comfortably in the hand, which is easy hold and to carry around. And you can conveniently operate with one hand because but the weight is manageably. Besides, it is available in your choice of 3 colors —— Black, Tarnish, Camo, match your own personal preference.
Smoant ranker is built of aluminum and feels sturdy, substantial, and made to last. It is slightly curved around its sides, aesthetically pleasing and comfortable to hold. In addition, it has new painting finish and leather cover that is more durable, adds a shiny look and soft feel, and provides more eye-catching colors for you to show your style.
[caption id="attachment_12241" align="aligncenter" width="702"]
Smoant Ranker Order Online
[/caption]
The front on the Smoant ranker box mod holds a chunky TFT screen and two -/+buttons. The huge power button is nested on the right side of the box. The power button is huge, and we are pretty sure your fingers have no trouble finding it. Besides, it feels nice and clicky. Underneath the golden veil, there's some serious hardware too.
The 1.3-inch of the screen on the Smoant ranker is certainly pleasing to gives most of the commands. The OLED display is big enough to It is sufficient bright and you won't have any issue reading the screen even under the bright lighting. Brightness gets to around 500 nits and with no excessive reflections, the screen is not too hard to see even outdoors on a sunny day. It produces sharp content like vaping effect, voltage, battery life, resistance value etc. – making it incredibly easy to make any setting changes or adjustment.
[caption id="attachment_12237" align="aligncenter" width="702"]
Smoant Ranker Order Online
[/caption]
The Smoant ranker implements a 218-watt power output. It is an average spec nowadays, but the High Quality Ant218 V2 Chip works efficiently making it a high-powered mods to produce excellent vapor for days. Smoant ranker is loaded with most of the necessary modes.
Press the fire button 3 times then you will enter into the main menu with various setting modes – VW mode,VW Curves, TC mode, TC Curves, TCR mode. The minimum atomizer resistance allowed is 0.1 ohm in VW mode and 0.05 ohm in TC mode. Besides, Smoant ranker features two different UI options to choose between. Also, the wallpaper is customizable in the setting menu.
[caption id="attachment_12233" align="aligncenter" width="702"]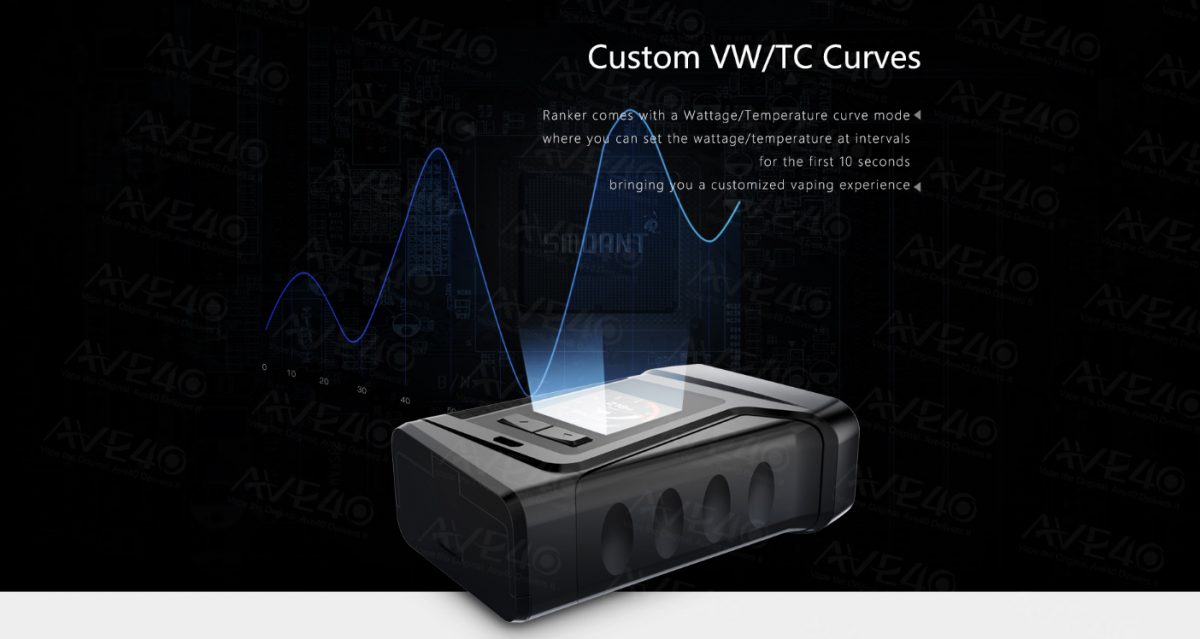 Smoant Ranker Order Online
[/caption]
Under the temperature mode, there are several advanced temperature settings on Smoant ranker such as Ni, SS, Ti, etc. You can press right button (when "W" is flashing) to adjust wattage or left button (when "F" is flashing) to adjust temperature value. Also, after entering to "TCR" mode, you can press fire button to choose between TCR m1 and TCR m2. For many people nowadays, a smart TC/VW chipset is just the starting point for a serious vape hit. After all, you need a precise temperature adjustment for better flavor satisfaction, and chances are you also want a decent DL Cloudage play. The Smoant Ranker combines these must-haves with other forward-looking technologies that vapers and other enthusiasts will appreciate.
One thing we like about most Smoant box mod is that they run very smoothly in the daily grind. Thanks to the updated Ant218 V2 chipset, the Smoant ranker is no exception as it moves fluently throughout the home screen, and various vaping modes is fairly swift, with very rare slowdowns. The Ant218 V2 chip can fire virtually instantly in only 0.015 seconds and it is also upgradable. Other much more expensive e-cigs box could learn a few tricks from Smoant's devices.
[caption id="attachment_12229" align="aligncenter" width="702"]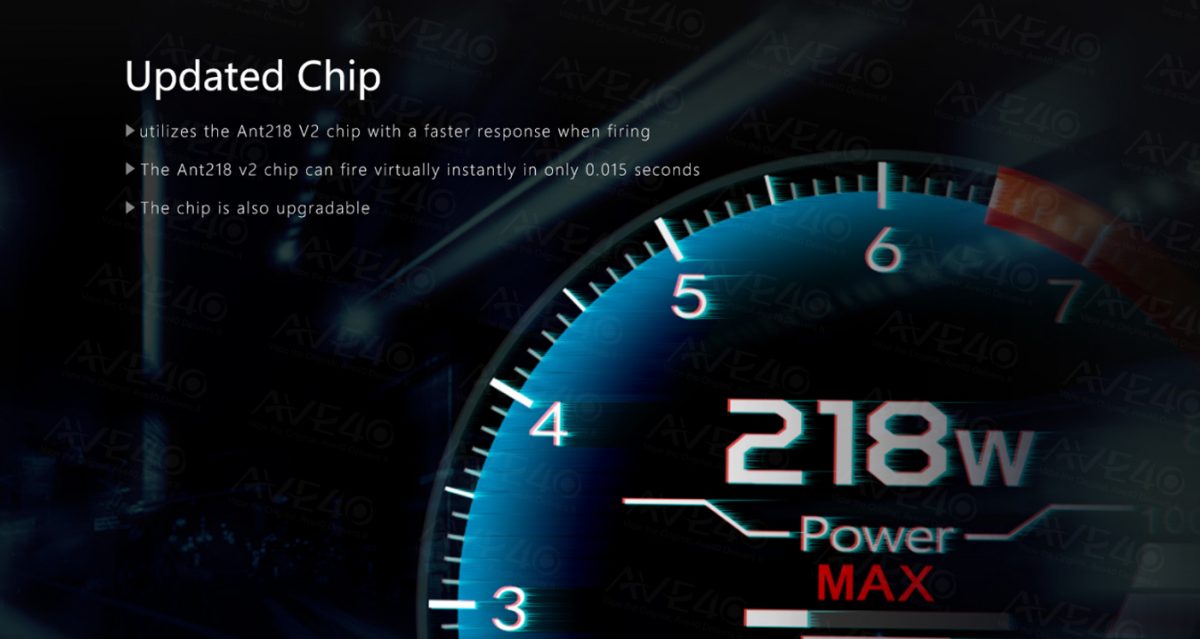 Smoant Ranker Order Online
[/caption]
The Smoant ranker is powered by dual 18650 battery. We did not have any problems getting through a full day, but not much more. More intense use might drain the battery even before the end of a longer day. Unlike some other mod at a similar price from this month (mostly 20700 battery devices), the Smoant ranker does not break any battery life records. But then, Dual 18650 batteries tend to be more convenient, but single battery may be fine for you, and whether or not portability outweighs a larger battery capacity is a matter of personal preference. On the very bottom, you have a microUSB port for charging the Smoant ranker. The battery compartment door on Smoant ranker is activated by a grooved latch and springs open. It is secure and won't swing open easily.
[caption id="attachment_12225" align="aligncenter" width="702"]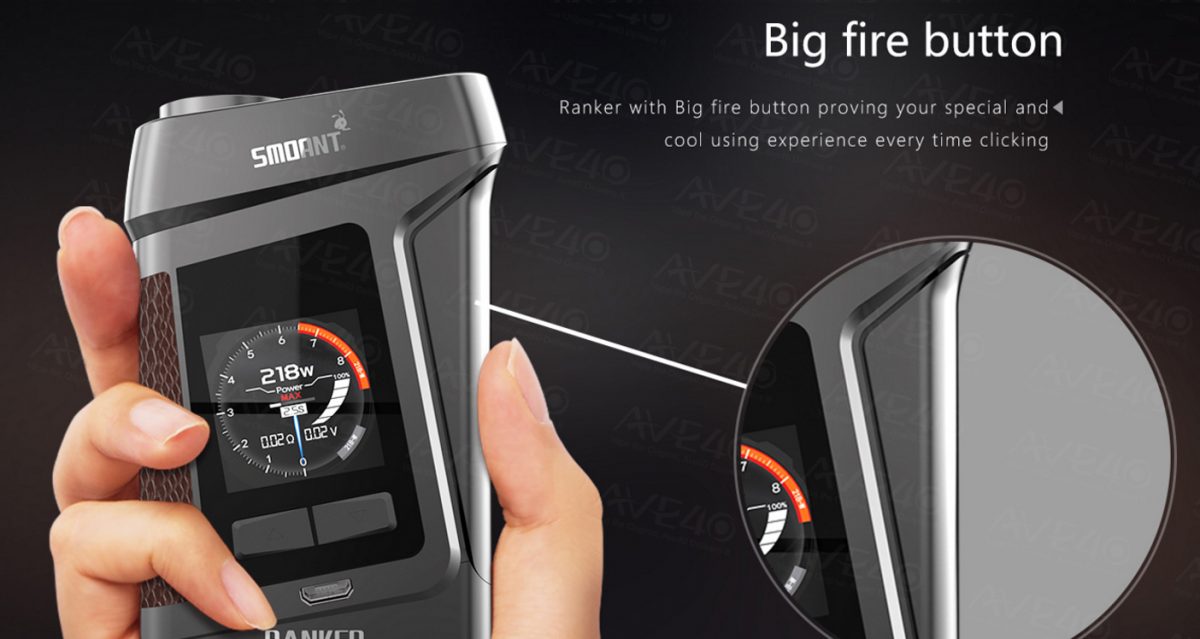 Smoant Ranker Order Online
[/caption]
After using the Smoant ranker for a while, we are left with mostly positive impressions. The Smoant ranker is a mid-range box mod. More specifically, it is priced at around $59 on ave40. The box mod has a great price. It is built very solidly, it has a cool 1.3-inch high grade screen and we are particularly impressed with the premium feel of the box design. The Ant128 upgradable chip runs smoothly in the daily grind, and with a few tweaks, its UI is offering certain customization but without offering too much and becoming overwhelming. The TC control, VW adjustment and other vape modes is blazingly fast and accurate, too. In a word, the Smoant ranker is actually quite a good box mod. Ultimately, it is a safe recommendation if you are looking for a well-rounded E-cigs device that does not break the bank.