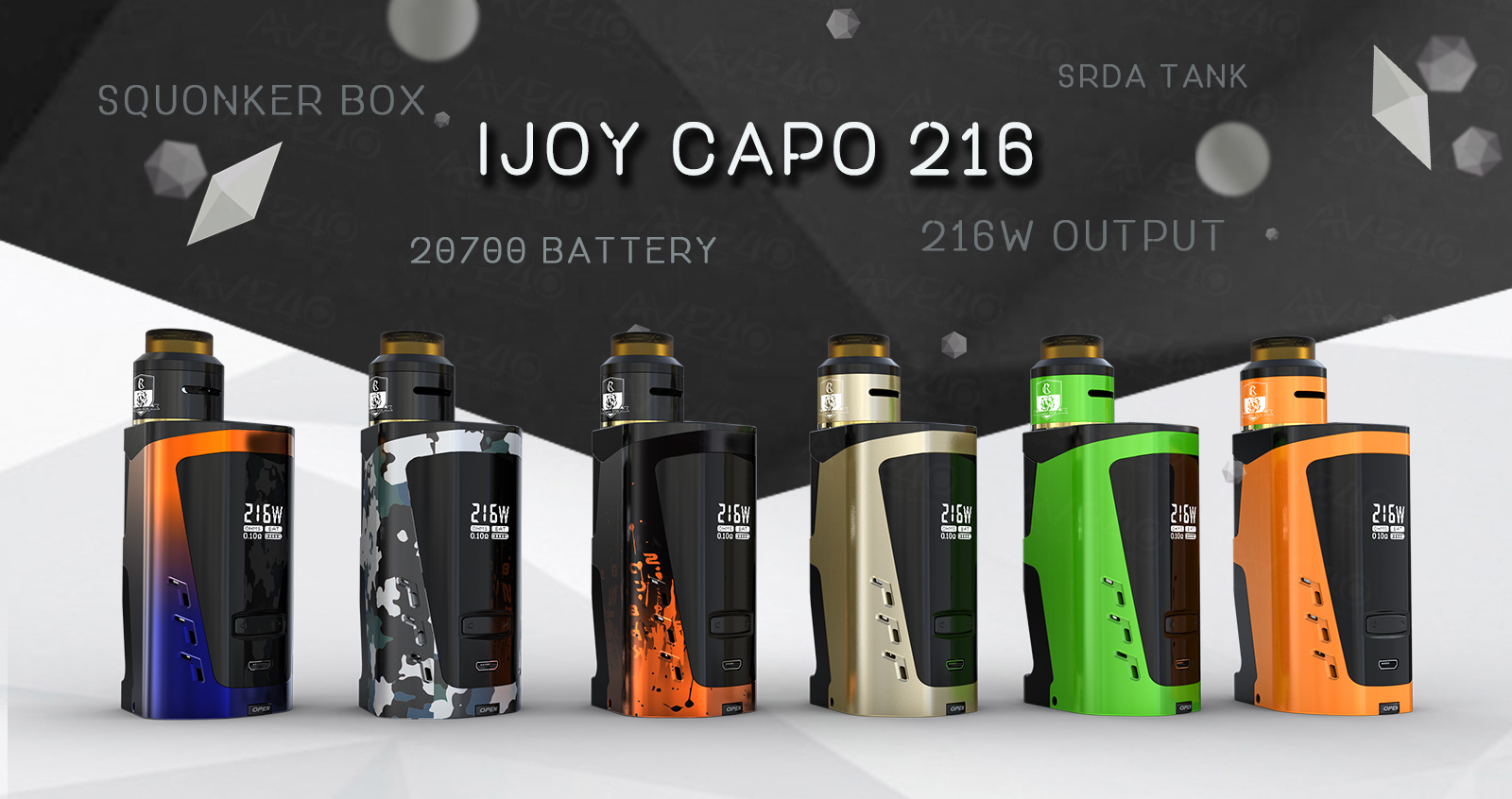 CAPO, reimagined. IJOY is stepping into the new year with a brand new yet recognizably Squonker designs for its CAPO-series of flagships, now into their second generation.
IJOY CAPO 216 kit (2018) is an upgraded Squonker kit of IJOY CAPO SRDA 100W kit(2018) with higher wattage output (216W). But the latter's real predecessor - it's the IJOY CAPO Squonker kit back in 2017. It's more of a trimmed IJOY CAPO Squonker kit for the masses with a more advanced chipset, a more sophisticated SRDA tank, and 20700 battery compatibility. The IJOY CAPO 216 kit seems like a thoughtful alternative to the headliner without losing much of the 200W's charm. And if the price is right, then IJOY may have done an excellent 'SRDA pro' model. Let's take a look.
[caption id="attachment_11488" align="aligncenter" width="700"]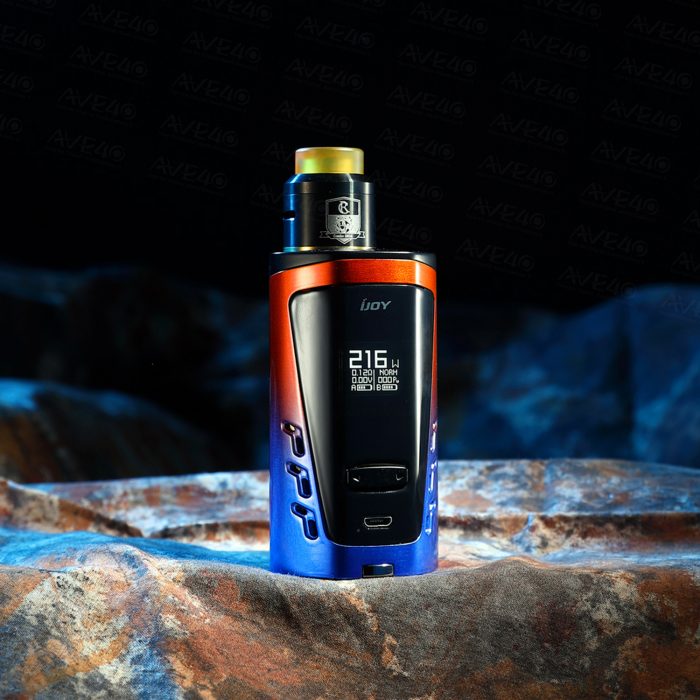 Ijoy Capo216 SRDA kit Order Online
[/caption]
- SPECIFICATION & PARAMETER -
【IJOY CAPO 216 MOD】 Size: 45mm x 51mm x 83mm Squonk Bottle Capacity: 10ml Wattage Range: 5W – 216W Material: Kanthal Wire Thread: 510 Thread Suitable Tank: No overhang with 25mm tanks Battery Type: High-rate 20700 battery & High-rate 18650 battery with adapter Color: Orange &Blue, Camouflage, Black &Orange, Mirror Gold, Matte Green, Matte Orange
【IJOY COMBO SRDA】 Size: 25mm x 33.3mm Thread: 510 Thread Drip Tip: 810 Ultem drip tip Color: Gold, Matte Black, Mirror SS, Matte Green, Mirror Rainbow, Gun metal, Matte Orange
- IN THE BOX -
1x IJOY CAPO 216 SQUONK BOX MOD 2x IJOY 20700 Batteries & 1 x 18650 adapter 1x COMBO SRDA (SRDA-CE Coil 0.13ohm Pre-installed) 1x Tool Pack (O-rings, special wrench, Japanese organic cotton) 1x Warranty Card & 1 x Manual
- DESIGN -
While CAPO models like the CAPO100 and more recent CAPO SRDA have featured some very unconventional designs, the CAPO216 would find itself much more at home with the rest of the box mods. Visually, the CAPO216 features a brand-new design, with completely different shapes, colors and styles from other CAPO devices. For starters, it's grown a little. It's much taller than CAPO SRD and a lot wider, but still a compact size as a dual battery device.
[caption id="attachment_11492" align="aligncenter" width="700"]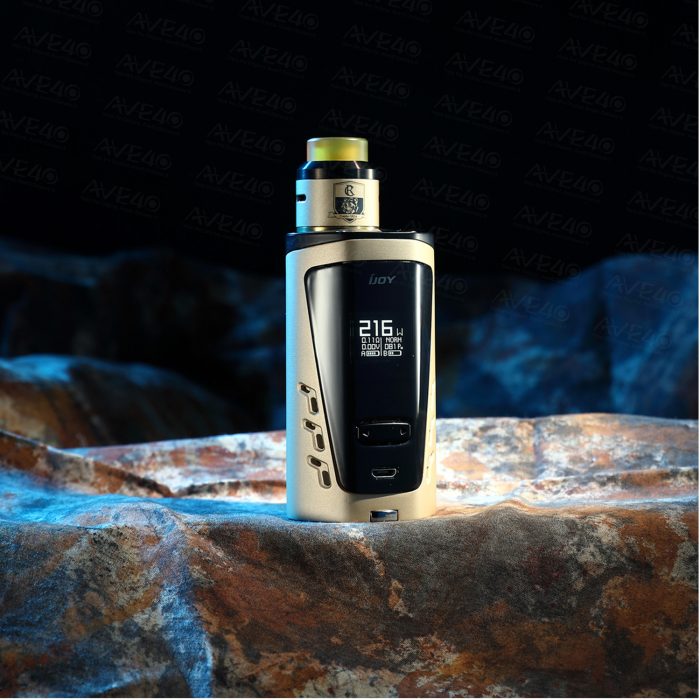 Ijoy Capo216 SRDA kit Order Online
[/caption]
Metal and glass have become the prevailing choice of materials for most e-cig devices, and the CAPO216 thankfully joins that trend. Opting for an all-aluminum body, the CAPO216 is encased in either Black-Orange, Orange-Blue, Camouflage, Green, Orange, or Gold which makes the whole body look clean, refined, and sturdy. In back, the aluminum body is interrupted only by the fire key and the Squonker setup. We love the huge fire button and the squonk location seems to be well-sited for ergonomics. Also, we're glad the back looks so casual, yet classy. as flipping the device over reveals a similarly handsome face.
A HD OLED screen takes up the majority of the CAPO216's front. The slightly curved OLED display is one of the biggest treats – it has the same round corners as seen on the current flagship models. Above that sits the SRDA tank, and below it up/down button, USB port and battery lock. Upper back we've got the main fire key.
[caption id="attachment_11496" align="aligncenter" width="700"]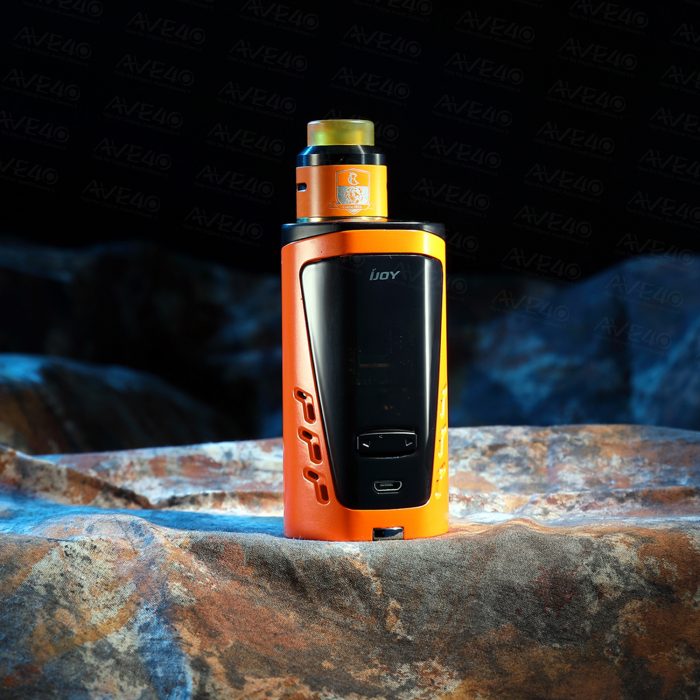 Ijoy Capo216 SRDA kit Order Online
[/caption]
- PERFORMANCE & FUNCTIONALITY -
Turn on the screen, it's easy to see that you're holding a flagship device. The size of the screen is certainly pleasing, producing sharp content like vaping effect, voltage, battery life, resistance value etc. - making it incredibly easy to make any setting changes or adjustment. Brightness is similarly good – you may do just fine indoors as well as outdoor. The readability has no potential to be problematic.
[caption id="attachment_11500" align="aligncenter" width="700"]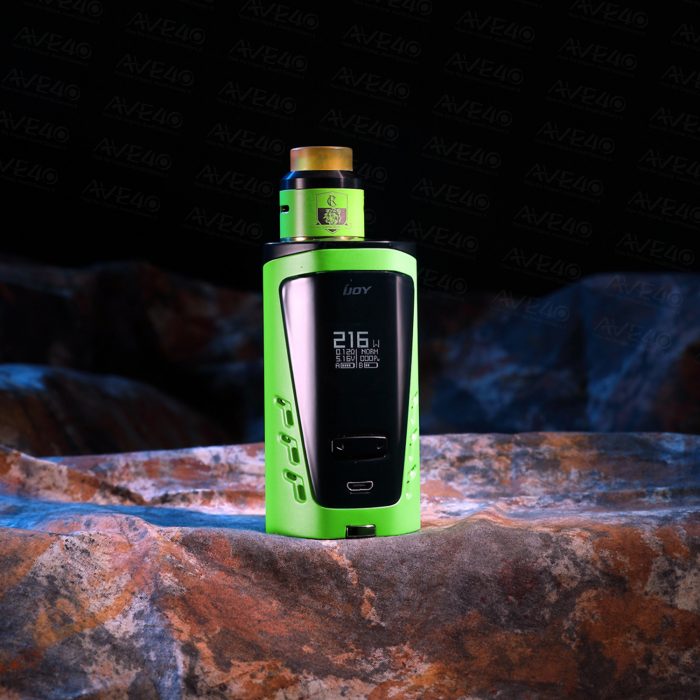 Ijoy Capo216 SRDA kit Order Online
[/caption]
Much of IWEPAL's user interface on the CAPO216 is stuff we've seen before. Much like other IWEPAL chipset, the CAPO216 isn't trying to win too many functionality awards, it's actually in the mid-range spectrum. That said, IJOY's mid-range can still be hella powerful. The maximum 216W power output still holds up well as the go-to specification. We tested this device on the CAPO SRDA tank. We used the 0.2ohm coil with 60% – 80% VG e-juice and set the wattage in 200W. The CAPO216 has a very short ramp-up time and felt accurate for this wattage range. Flavor is consistently good, not quite intense, but rich and dense especially when the airflow is semi-closed with less air inlet. Vapor production is excellent for this wattage level, which feels like a good match for this cloud machine.
[caption id="attachment_11504" align="aligncenter" width="700"]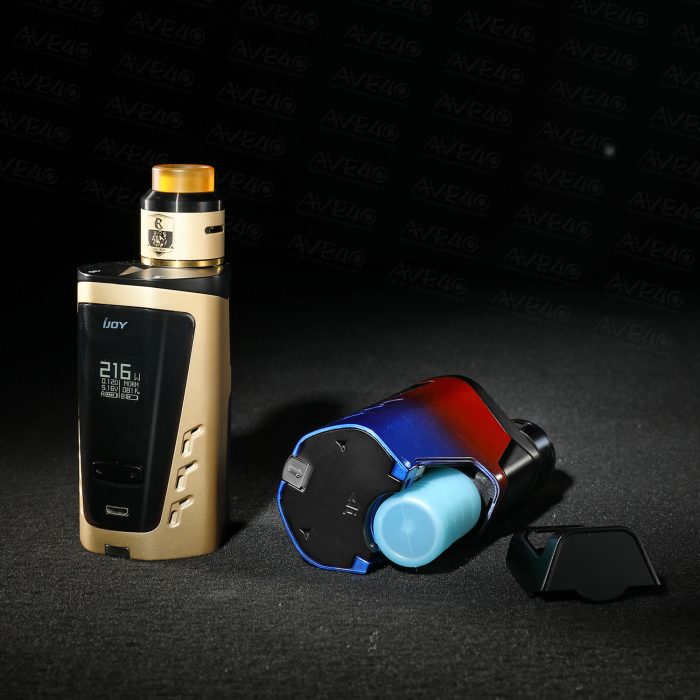 Ijoy Capo216 SRDA kit Order Online
[/caption]
CAPO216 is powered by dual 20700 batteries. IJOY promises 6000mah of battery capacity and by the average use of it, there's no reason to doubt that claim. With CAPO box mods, 
we may have initially picked the device up due to its Squonk setup, or to check out its unusual form factor, but we kept using it because of IJOY's incredible battery compatibility. The combination of a good-sized 6000mAh battery and low hardware power requirements gave this e-cig device the ability to stretch its operating life north of 36 hours. While your particular usage patterns will impact just how good this battery convenience is, this feels very much like a charge-every-other-day-device. Besides, recharge times with fast charge technology aren't bad either, taking right around three hours to fully power back up.
[caption id="attachment_11508" align="aligncenter" width="700"]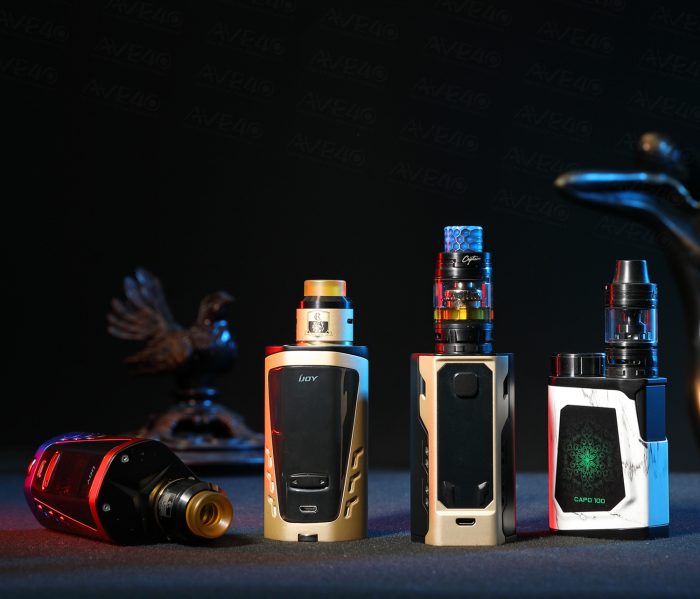 Ijoy Capo216 SRDA kit Order Online
[/caption]
CAPO216 feature a 10ml squonk reservoir. The bottle is accessible through a small window in the battery door that allows you to easily squeeze e-juice through to its bottom feed CAPO SRDA tank and coat your wicks with juice. All these are done without removing the top cap. Then all you need to do is just hit the fire button and take a puff. To clean or refill the CAPO216 Squonker, you can easily remove it by opening the magnetic door and unscrew the bottle from the feeder.
[caption id="attachment_11512" align="aligncenter" width="700"]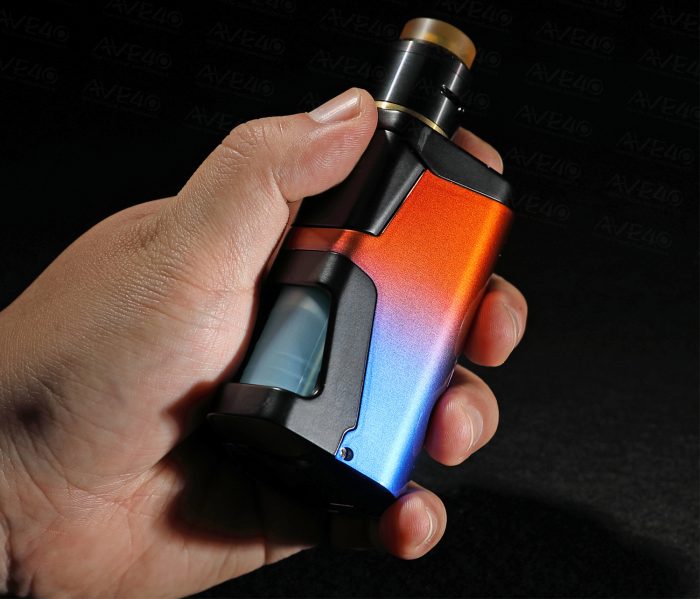 Ijoy Capo216 SRDA kit Order Online
[/caption]
CAPO216 enable you to fit an atomizer up to 25 mm diameter on it without overhang. The positive 510 pin is gold-plated and spring-mounted. We haven't encounter any connectivity problems yet.
Rebuildable tanks from Ijoy are not new to the vaping world and their first SRDA tank looks like the type innovation drippers have been waiting for. Available in 7 finished colors (SS, Black, Gold, Green, Rainbow, Gunmetal, and Orange), this SRDA tank could make a name for IJOY right off the bat.
[caption id="attachment_11516" align="aligncenter" width="700"]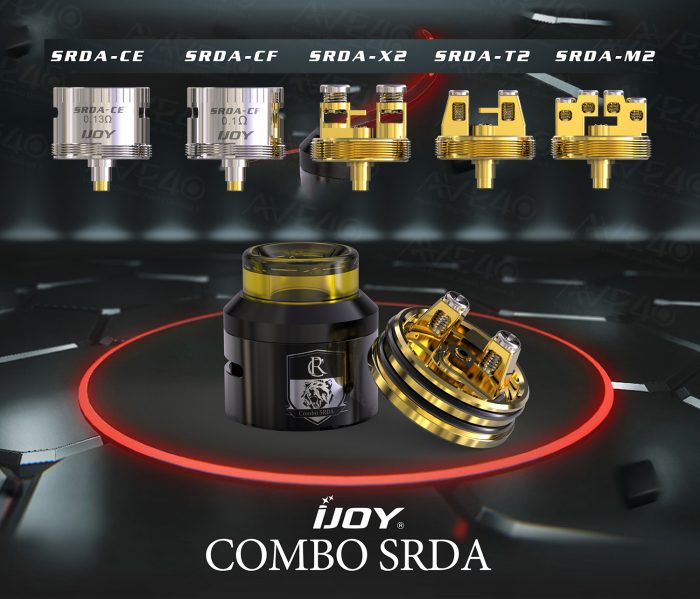 Ijoy Capo216 SRDA kit Order Online
[/caption]
This tank features a semi-rebuildable system allowing vapers to change between pre-made coil and rebuildable decks and Ave40 is selling other types of rebuildable decks for vaper to swap out and use on this tank. Personally, this is the kind of innovation vape have been waiting for. Once you unscrew the bottom deck with a special wrench, the whole deck pops out, and you can change out your cotton. You take out the cotton and take the coiling apart, you will see the ceramic deck, an overheat protection board, where your coils are soldered to and connects on the center of the positive pin. Besides, this tank features an 810 wide-bored Ultem drip tip. Perfect for mouth-to-lungers.