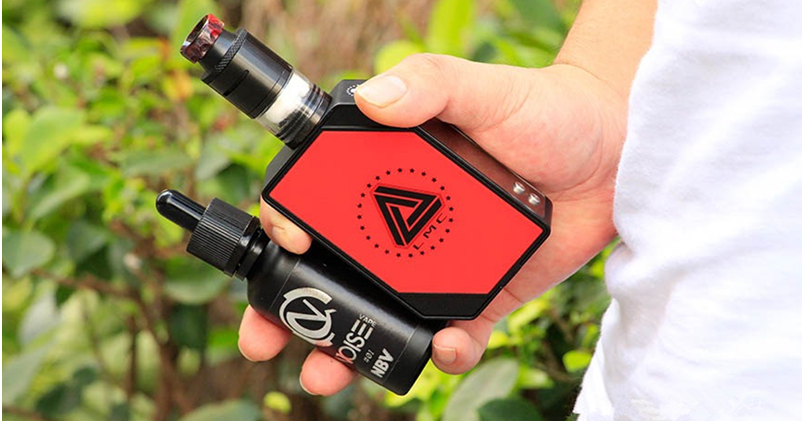 Limitless LMC 200W Box Mod
is designed to give vaping its new meaning. Vaping is now being accepted as a more healthy alternative to smoking. However, just like smoking, it's not just about inhaling the vapor, it's also about the vaping lifestyle. That is why the Limitless Mod includes awesome graffiti on its LMC 200W mod. Holding it in your hands allows you to make a statement that you appreciate an artistic masterpiece. Which is why we decided to write this Limitless LMC 200W Box Mod review and discuss all the features and benefits you can expect from this mod? Find if it is what you are after, or if it is something that will gather dust your least favorite collection.
Graffiti
The
Limitless LMC Box Mod
is among the best mods that you can get at its price. The Graffiti 3 painting on the battery plate is inspired by "mural" is one of the outstanding things about its outer design. The graffiti combines Pink, Magenta, Yellow, and several tonalities of blue, along with spray paints, surfaces, materials, and other artistic techniques to deliver special image effects. The overall illuminated effects are truly a remarkable sight when looked at closely. I simply love the unique appearance of this graffiti. The graffiti brings back the 1980s memories of Synthpop music, brightly colored typography, as well the famous SMPTE color bars on your TV. The graffiti combines the effects of 2D and 3D to bring a deep feeling of passing time, from the present to the future digitized world. The effects of different cool but fluorescent colors, heavy outlines, special lighting effects and shadows, and heavy outlines give the LMC 200w mod its awesome Cloud-age appearance. If you need an ice breakable during a casual meeting, this is the mod to buy.
Packaging
Just like every other item that needs transportation, packaging determines how safely and intact the
LMC Box Mod
will arrive. Which is I was happy to receive it in a rectangular plastic box that fits snugly and protects it from damage during transportation. The top cover is a transparent, which means that this "bad boy" will stare at you the moment you open the shipping box. Finally, the box's rear side is covered with the Limitless logo, as well as the Instagram and Facebook pages. The social page links allow you to celebrate your Mod with the rest of the community when you upload your cool vaping pictures.
Quality Construction
You will be happy to know that you can drop the
LMC mod
while standing and it will remain intact. To me, that is not being careless, but a sign that I am human and I bought a quality mod. It gets no scratch from the drop, which means that you will not be losing the beautiful graffiti anytime soon. The whole design is meant to outlast its useful lifespan. That sturdy construction is the reason that this mod will feel slightly heavier than most of your collection. The premium materials used do not just give it additional strength; they also add some weight, which is expected. Its outer casing is made of polished black stainless steel, while the magnetic plates' design makes use of a special plastic that resists physical damage from bruises and bumps. The flush design of this mod makes it easy to transport and store. The buttons do not make rattling noises, the plates do not bulge outwards, and the screen blends with the rest of the body seamlessly.
Battery Life
The batteries will fit securely in the battery chambers and the pins will not damage their wrapping. The dual battery performance is very impressive; they allow you to vape for 5 to 6 hours while the mod draws 80W. While that's definitely and impressive achievement, the battery life of this mod just like any other mod is determined by how long you vape and the setting you use. Higher settings and long hours drain the battery faster. Overall, you will be happy with its battery life.
Operation
This mod will go as high as 185W when you set the coils to 0.2Ohns. If you increase the coil resistance to say 0.5ohms, the maximum power you will be able to draw is just over 150W. That was not an issue for me because I casually vape at lower temperatures. On the other hand, you vape at extreme temperatures such as 200W, it's somwthing you should be aware of. Otherwise, for those of us who enjoy vaping at ranges between 120W to 140W, this mod will deliver an excellent performance.
Functionality and Screen
The OLED screen is small in size and located in the side. The rest of the side has a mirror-like surface due to the polished black stainless steel used to make this mod's body. It's actually so shiny that you can use it as a secondary mirror. On this screen, you will be able to view details such as mode, temperature, memory slot being used, battery life, and resistance. While the display is quite small, you will have all the parameters you need to operate properly this
Limitless mod
. If you need to power it up or down, you will need to click the fire button five times in quick succession. Clicking it a slower rate will look the device once you hit the third click. Once you hit the five clicks, click the "+" next to the OLED display. Overall, the buttons give you total control over its functionality and it comes with a manual for quick reference.
Verdict
The
Limitless LMC 200W Box Mod
graffiti 3 is one of the best I have seen on mods. The quality of its build is clear from the moment you open it. It's clear that it was designed to last and become a collectable. If you enjoy having functional artistic pieces, then you will definitely love this Limitless Mod. I personally enjoy suing this mod, and while that may not be the case for you, if you are looking for design and functionality, you will want to try it.