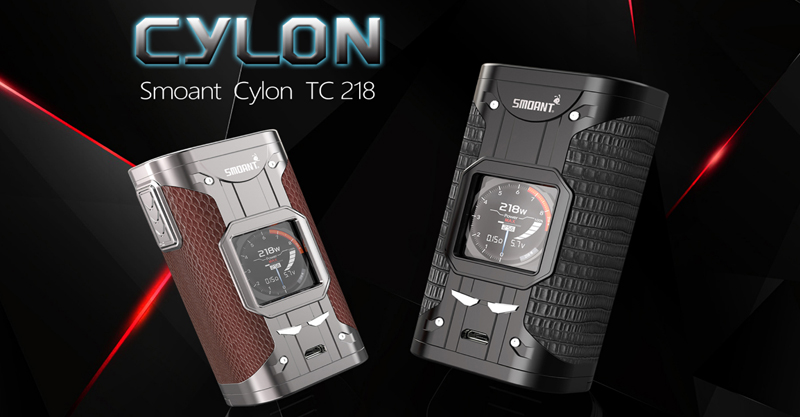 Best Deal

:$59.90 from

AVE40
Smoant Cylon 218W TC Box MOD runs up to the maximum output of 218W,powered by dual 18650 cells.
With the material of zinc alloy and leather side-mounted, it has achieved the strong durability and skid resistance.
Presented by the 1.3-inch TFT color display, it delivers a better visual effect with clear parameters, bringing an easy way for operation.
There are nine switchable wallpapers.
Recommended store: Top-notch E-cigarette Shop ---AVE40
---


Prima Facie Impression
Compared to the Battlestar series products of Smoant, Smoant Cylon TC218 maintains a low profile, designed to be functional rather than beautiful or attractive. Obviously, it is reflected in the technical improvement in the screen display. Besides, it follows the current trend of e-cigarette making - leather appearance.


Smoant Battlestar Nano RDA Kit Smoant Battlestar Mini 80W TC Box Smoant Cylon 218W TC Box

Design and Appearance
Smoant Cylon is a rectangular shape like the traditional e-cigarettes while it is ergonomic, handy and feels quite lightweight, measuring 90mm(h) by 47mm(w) by 32mm(d). As we mentioned above, it follows the current trend of e-cigarette making - leather appearance. Not only that, but on this basis, it adds the neat and gradual grooves to the leather, making the whole feel more linear. That action also improves the durability of daily use and especially the skid resistance.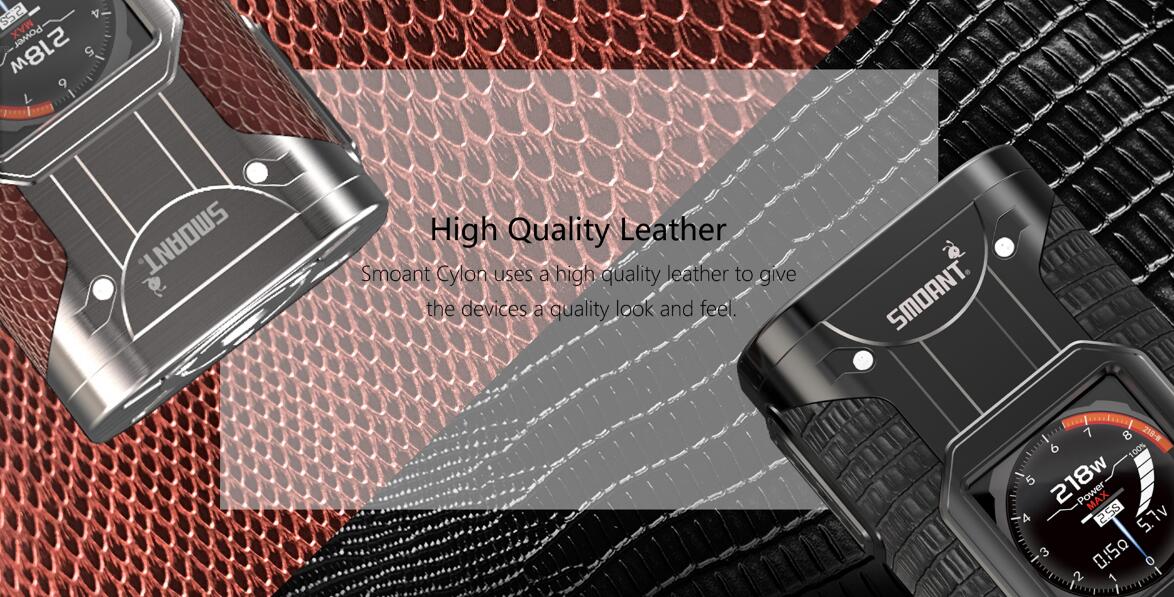 The device is available in two colors---tarnish and black, totally matches your personal preferences. The mod is of matte surface painted and dirt-resistant because of its Zinic Alloy coating.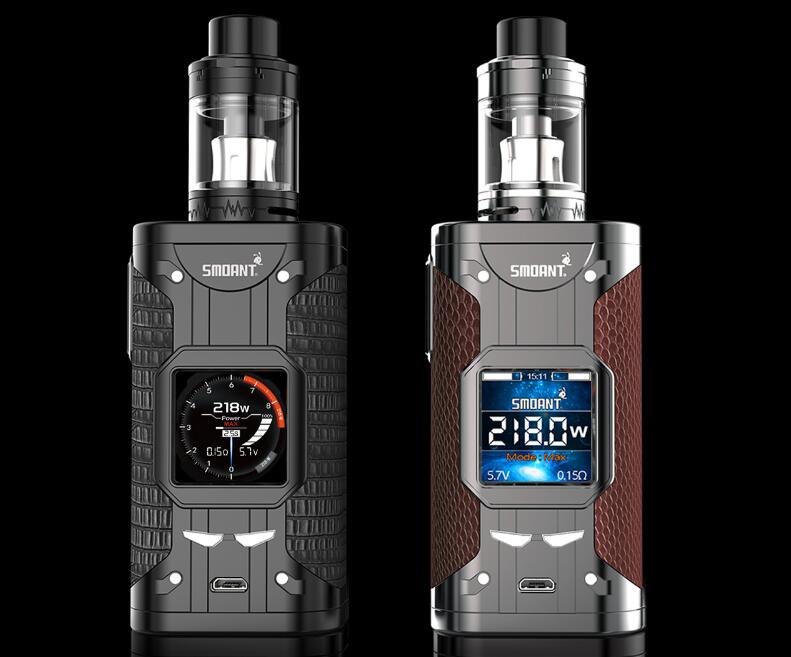 You don't have to worry about it being drowned out in the crowd because it has a special mark that you never expect. It seems that it's not uncommon to see names printed on the body, not to mention that there's such a cool circular sign in a prominent place. I don't know the designer's design inspiration, but I guess the vortex-shaped logo represents one of its outstanding features---vaping with blazing-fast speed.
Let's move our eyes to the screen. Smoant Cylon features a 1.3-inch color TFT screen so that everything is easy to see. Two different UI options to choose between. The concept of the user interface is derived from LEXUS LS SPORT to be visually appealing and informative. Honestly speaking, the design really better the user experience. The wallpapers(9) are user customizable in the settings menu.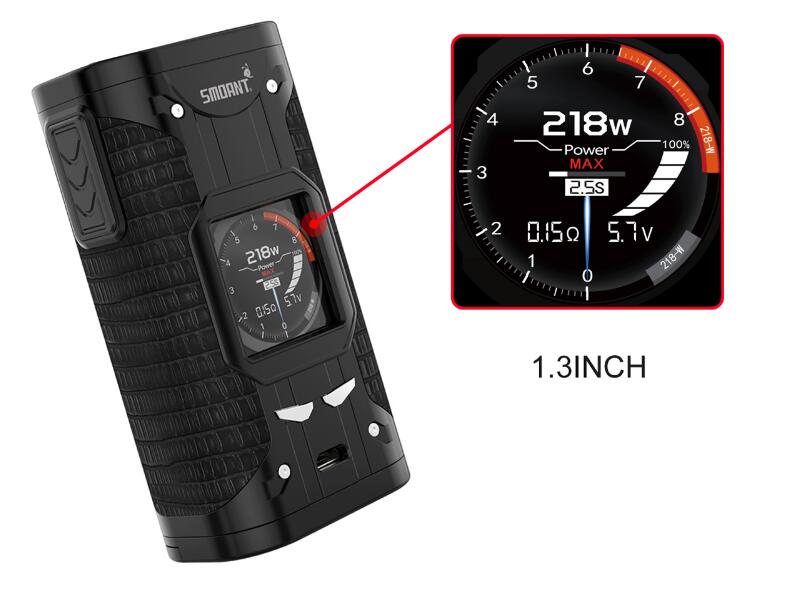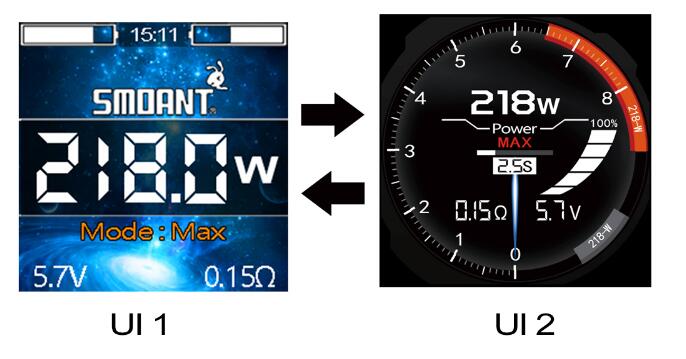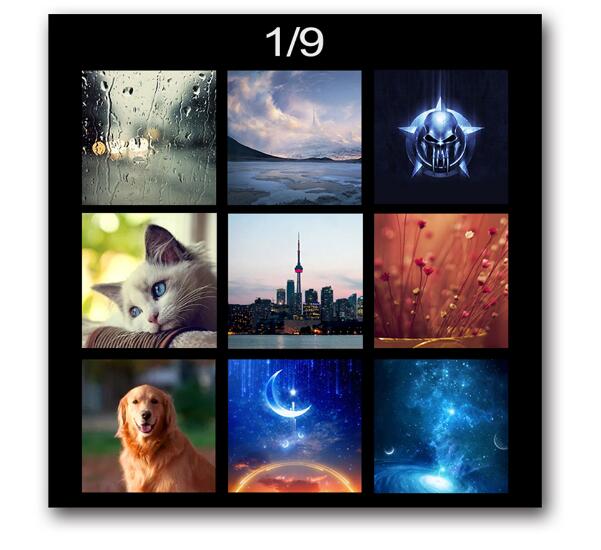 By the way, there is screen prompts as follow. No atomizer: If atomizer didn't connect well or coil with poor connect, press the fire button, it will display NO ATOMIZER. Shorted: The atomizer shorted or the resistance lower than 0.1ohm in TC mode/lower than 0.05ohm in vwmode, the screen will display SHORTED. Temperature Control: Once the output temperature higher than the setting, the device will display TEMPERATURE CONTROL. Check Battery: If the battery lower than 6.4V, the device will display CHECK BATTERY. Too Hot: If the PCB temperature over 60 °C, the device will go to sleep mode and display TOO HOT. Perhaps, a good product is just about user experience, not just looking good.

Ease of Use
This kit is easy to use. In my opinion, Smoant did a good job with making the menu functions and corresponding button presses relatively intuitive – or at least not hard to remember. As with most vapes, this shouldn't take more than a few minutes to get the hang of using. Even complete beginners should be able to pick this up and be able to use it with minimal difficulties.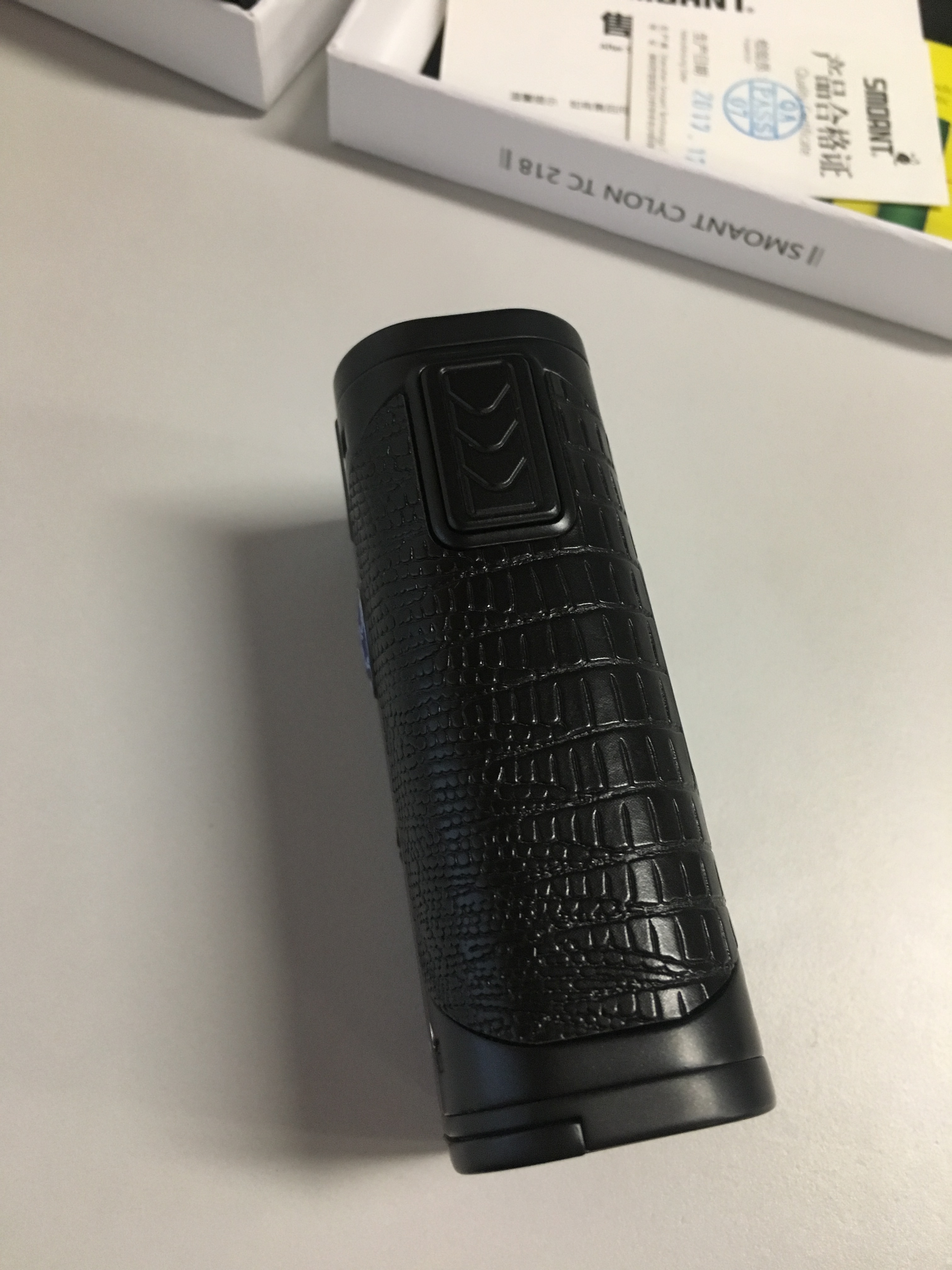 I'm a big fan of side-mounted or all-in-one designs when it comes to portability ( such as Shan Laan, Smpo 650 KIT, Smpo MT, Mango and Sigelei Fuchai from AVE 40.) The photo was taken after I used it. The big fire button, without exception, is placed in the upper left corner, which is very convenient to use. Five consecutive clicks on fire button to power ON/OFF. It also features Smart mode, so if the tank is installed correctly, a menu option will prompt which then gives two choices, "+" on the right is to set up a new resistance for the tank and "-" on the left to set up the original resistance.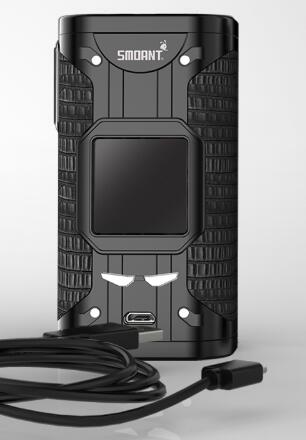 There's a USB port under the two buttons, and you can charge it anywhere and anytime.Only to charge it via a battery bank or your computer.Never mind that there's no power to be cool. Slide and open the battery cover as the picture shows. Place 2X 18650 batteries into the device according to the correct directions. close the battery cover.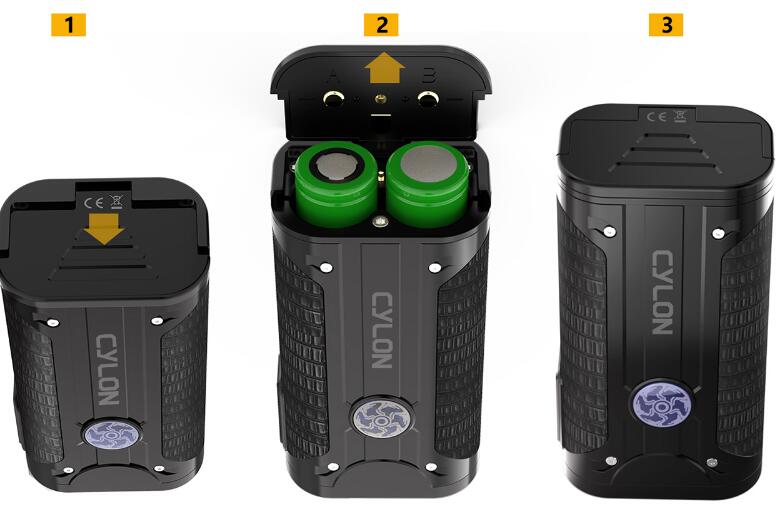 Performance
Here are the features and parameters from ave40, you can unfold to check it out. [accordions] [accordion title="Features" load="hide"]Dual 18650 cells with 218W Updated Ant218 V2 chipset Customized VW/TC Curve mode 1.3-inch TFT color display 2 optional user interface 9 switchable wallpapers Chargeable with USB cable Upgradable firmware[/accordion] [accordion title="Parameters" load="hide"]Brand: Smoant Size: 90mm x 47mm x 32mm Material: Zinc Alloy/ Leather Voltage: 6.4-8.4V Power Range: 1-218W Screen: 1.3-inch Colorful Screen Temperature Range: 200℉--600℉/100℃--300℃ Thread: 510 Battery Using: Dual 18650(Not Included)[/accordion] [/accordions] Tank: With compact size, Smoant Cylon can still accommodate up to a 30mm Tank/RDTA/RTA/RDA.
I should remind you that the tank is not included in the box. That is also what I really complain about.
Output: Smoant Cylon has a power range from 1-218W and you can adjust it according to your practical demand. New vapers are supposed to carefully read through the specification.
Chip: The chip is also upgradable. Smoant Cylon TC 218 utilizes the Ant218 V2 chip with a faster response when firing. The Ant218 V2 can fire virtually instantly in only 0.015 seconds. Keep in mind, that most of the box mods nowadays have this kind of issue – especially firing on wattages over 100W, the chipset takes some time to execute accurately. Honestly speaking, this is the official data, so we still have to try to find out the truth.
Resistance: The minimum atomizer resistance allowed is 0.1 ohm in VW mode and 0.05 ohm in TC mode.
If you are curious about the Ohm's calculation methods, you can check the video from AVE40---''Ohm's Law Tutorial: Vape Safety"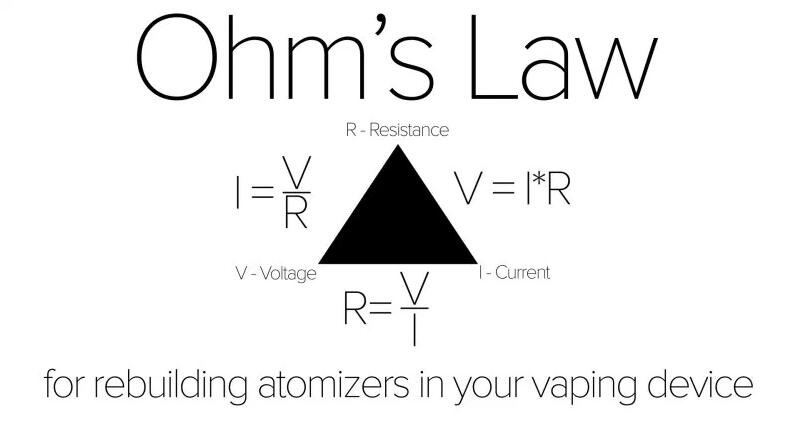 Mode: It supports a Wattage/Temperature curve mode where you can set the w/t at intervals for the first 10 seconds, bringing you a customized vaping experience. I found that the coils' heat-up speed is fast, the output is continuous and there is no apparent impulse.
★Reminder: As a vaping enthusiast, you may have learned some news of e-cigarette explosion. However, the risk of this sort of thing happening on a regulated mod is tiny. Sometimes testing the devices limits, understanding how ohms law works and never acting "careless" are of great importance to vape, especially for new beginners.

The adaptive atomizer resistance data from the Smoant Cylon user manual: 0.1ohm-5.0ohm for VW (0.3ohm is the best) TC Ni200: 0.1ohm-2.0ohm (0.15ohm is the best) TC Ti: 0.1ohm-2.0ohm(0.5ohm is the best) TC SS: 0.1ohm-2.0ohm(0.5ohm is the best) TCR: 0.1ohm-2.0ohm(0.5ohm is the best) 0.05-2.0ohm for TC

What' in the Kit?
Inside the box, there is the Smoant Cylon 218W box mod, a bilingual user card, an after-sales service& warranty card, quality certificate, and an accessory box that contains a USB cable. There are two available color schemes for Smoant Cylon 218W box mod: tarnish and black. Personally, I like the tarnished color for it really has a strong sci-fi movie appearance. For me, it reminds me of the Vikings with helmet and armor.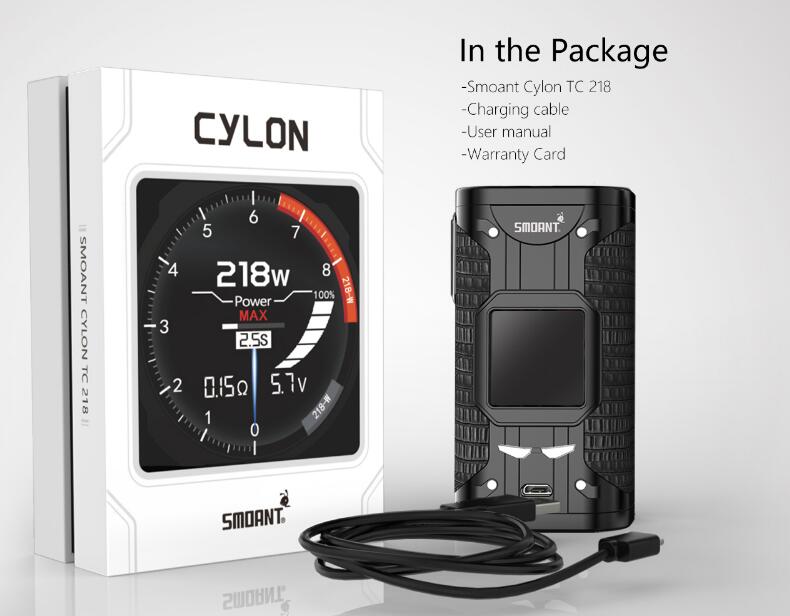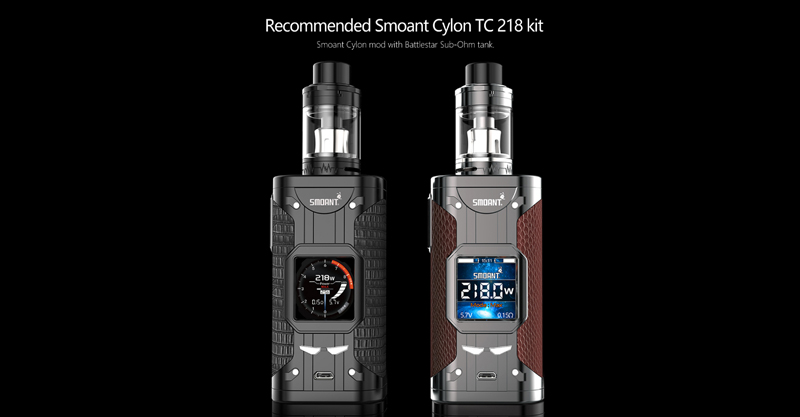 Where to Buy the Smoant Cylon Kit?

Good news!
As Christmas approaches, we are partnering with the brand of

SMOANT

to launch the following preferential activities:
1.The top 100 consumers enjoy a 40% discount, and the coupon is: Cylon40
The Button:

 Wholesale, Buy now



2. Smoant Cylon 218W TC Box Mod Giveaway is a big boon for vapers.  
   The more entries you have, the more chance of winning!