Wismec Divider Tank – 2ml & 4ml
Wismec Divider Tank

–

2ml & 4ml
Product Information
Wismec Divider Tank is another perfect design for WISMEC SINUOUS after Wismec Elabo SW Atomizer. It is an upgraded version and comes in a solid silver color. It is divided into five parts, including mouthpiece, top cap component, glass tube, atomizer head and atomizer base.
The drip tip is made from Polyoxymethylene(POM), characterized by its high strength, hardness and rigidity. By rotating airflow control ring only, you can adjust the airflow by rotating the control ring only.
The Divider Tank features a twist-open top filling design. It's very convenient to fill the juice. Simply slide the top cap, you can finish the refilling quickly and easy. The filling hole on the rubber plug is quite big to avoid excessive juice out of the hole.
Divider Tank packs with spare glass tube made from pyrex for best heat dissipation. It comes with 2ml and 4ml juice capacity for greater e-liquid capacity.
The pre-installed WS01 Triple 0.2ohm head produces huge cloud and intense flavor, providing excellent vaping experience.
For a more silky and unique flavor experience while also providing a fair amount of vapor, Wismec Divider Tank features the WS Coil with traditional cotton and signature CCELL Ceramic in different resistances.
Moreover, Wismec Divider Tank has an advanced adjustable bottom airflow control. The air inlet is large enough for huge vapor production.
Quick Links:
Wismec Sinuous FJ200 TC Box Mod

Features
§ Powerful WS series coils
§ 2ml/4ml options
§ Twist-open top filling design
§ Silky and unique flavor experience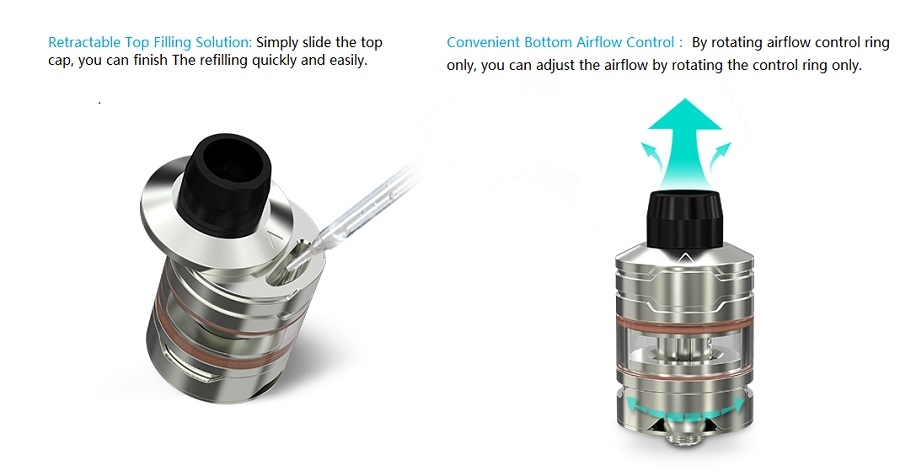 Parameters
| | |
| --- | --- |
| Brand | Wismec |
| Diameter | 25mm |
| Length | 46.9mm |
| Capacity | 2ml, 4ml |
| Thread Type | 510 Spring Loaded Connector |
| Color | Silver |
Package Included
§ 1 x Wismec Divider Tank
§ 1 x WS01 Triple 0.2ohm Head
§ 1 x WS02 Triple 0.25ohm Head
§ 1 x User Manual
§ 1 x Spare Part (2 x seal ring + 1 x glass tube)