Voopoo Drag 157W Box Mod Silver Frame Resin
Notice: Prohibition of sale to Paraguay, Korea.
Voopoo Drag 157W Box Mod Silver Frame
Product Information of Voopoo Drag Box Mod
VOOPOO DRAG 157W TC Box MOD is a compact dual 18650 cell box mod that feature an advanced Gene chipset.
VOOPOO DRAG 157W TC Box MOD measures 90mm x 54mm x 24mm and weighs at around 210g without battery. This device is made from zinc alloy, hefty but sturdy. One side of the mod is inlaid with carbon fiber while and the other is laser etched with the Drag logo. The whole design of this box mod is very modern and chic. The Drag logo is in an appropriate size, not being too distracting.
The battery doors work well to locks dual 18650 cells. This magnetic battery door is quite convenient to open. No rattle when filling the batteries.
In addition to being attractive and eye-pleasing, Voopoo Drag 157W Box Mod boasts a range of high-end functionality as a result of the installed Gene chipset that offers native support a Smart Wattage mode, a Constant Curve of Wattage mode(CCW), and a Constant Curve of Temperature(CCT) mode. The Smart Wattage mode allows vapers to set a wattage value to a recommended level when you put on a new coil builds. The CCW mode enable vapers to have a customized vaping curve for the first nine seconds while the CCT mode is perfectly designed for low ohm vaping.
VOOPOO DRAG 157W TC Box MOD comes in 3 colors, namely Green, Purple and Red.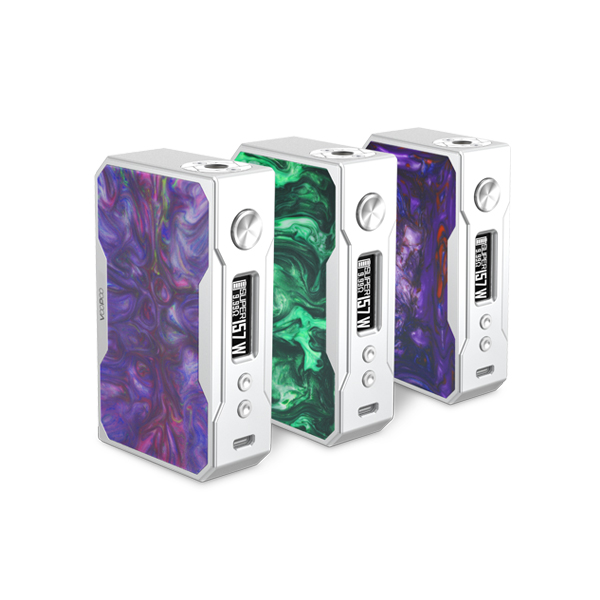 Features of Voopoo Drag Box Mod
§ 32 bit super US gene fun chip
§ Powerful PWM and MOS module
§ Fastest fire speed - 0.025s
§ Max 157W output power
§ Firmware upgradeable
§ Attractive appearance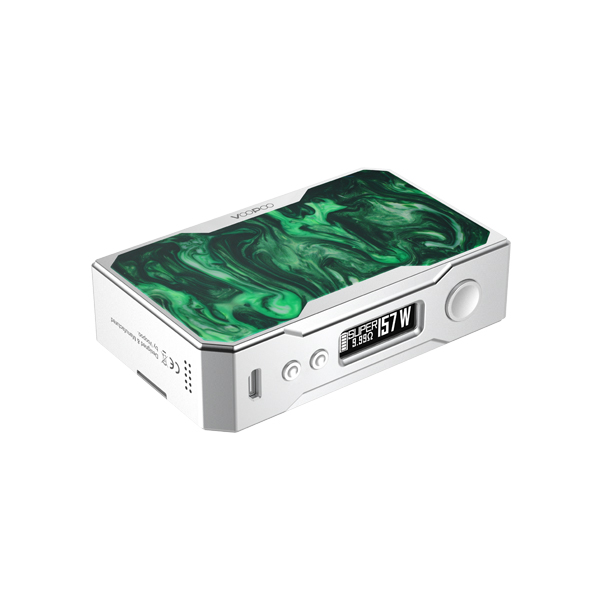 Parameters of Voopoo Drag Box Mod
| | |
| --- | --- |
| Brand | Voopoo |
| Size | 90mm x 54mm x 24mm |
| Working Voltage | 6.4-8.5V |
| Working Current | 1-40A |
| Output Voltage Range | 0-7.5V |
| Resistance Range | 0.05-3.0 (VW); 0.05-1.5 (TC) |
| Output Power | 5-157W |
| Temperature Range | 200-600°F/100-31°C |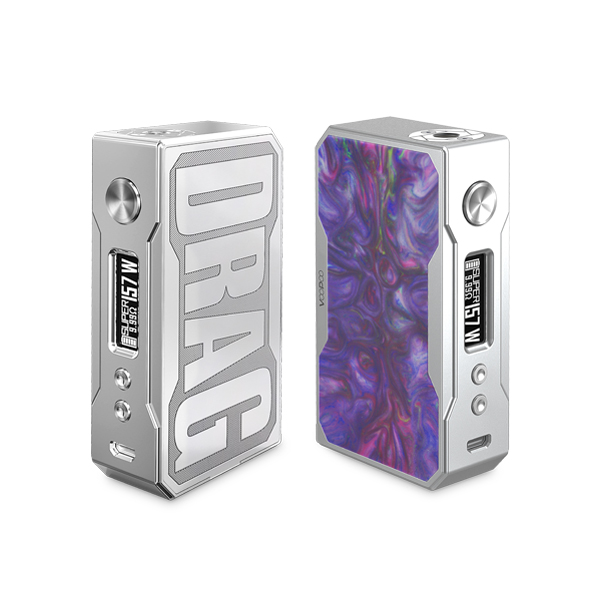 Package of Voopoo Drag Box Mod
n 1 x VOOPOO DRAG MOD (No batteries included)
n 1 x USB Cable
n 1 x User Manual
n 1 x Warranty Card