Vaporesso Transformer 220w with NRG Kit
Notice: This product can't be sold to South Korea.
Vaporesso Switcher 220W with NRG Kit - 5ml/2ml
Product Information
The Vaporesso Switcher Kit comes with a 220W Switcher box MOD and a 5ml NRG tank (or 2ml NRG Mini tank). The Switcher is powered by the most up-to-date OMNI Board 2.6, which features the simplest operation with newly added graphical virtual keys, unlock button, puff number statistics and high power protection. It adopts replaceable all-metal case design so that you can decorate the Switcher with optional cases. And the LE Version (with Lighting Effects) makes your vaping shining and fun. The NRG Tank adopts a slide filling design and adjustable bottom airflow. Together with a variety of GT cores, you can enjoy different vaping tastes. 2ml TPD Edition and 5ml Standard Edition.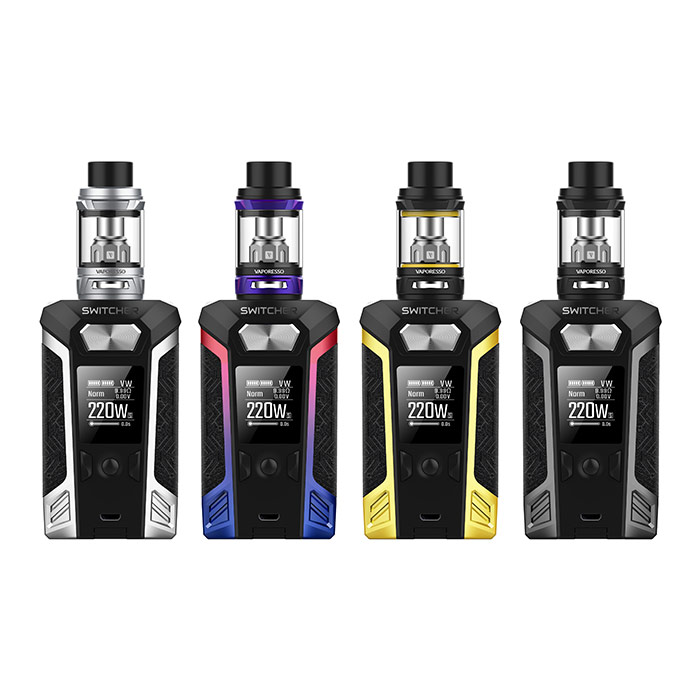 Features
§ Most up-to-date OMNI Board 2.6
§ Revolutionary case replaceable design
§ Optional lighting version
§ Masculine big-510 interface
§ Authentic precision accessories available
§ Improved NRG Tank
§ Slide-n-Fill Design
§ A variety interchangeable GT Cores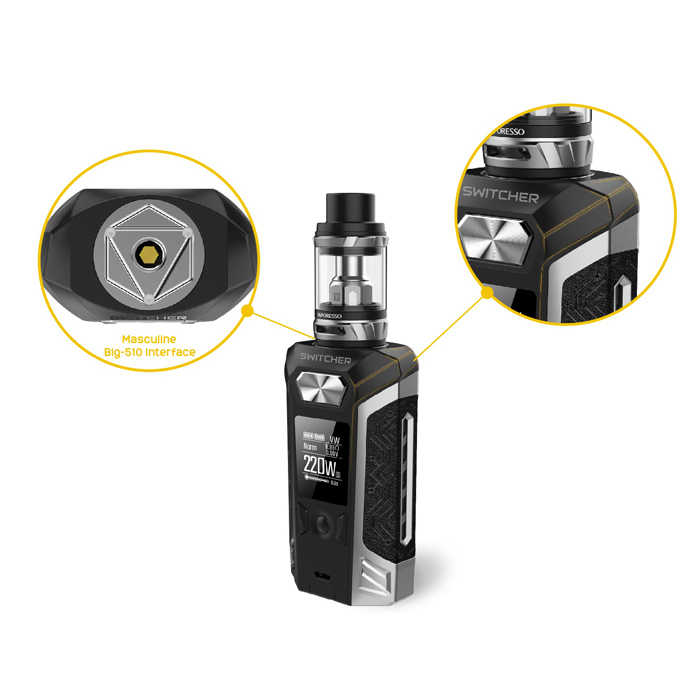 Parameters
Transformer Mod

Brand

Vaporesso

Size

53mm x 89mm x 31mm

Thread Type

510 thread

Output Mode

VW(H/N/S)/CCW/CCT/VT(Ni/Ti/SS)/TCR(M1/M2)/BYPASS

Output Wattage

5-200W

Temperature Range

100-315°C/200-600°F

Resistance Range

0.05-1.5ohm for TC mode 0.1-3.4ohm for VW mode

Color

Red Blue / Iron Grey / Yellow / Silver

NRG Mini Tank

Capacity

5ml/2ml

Size

26.5mm x 56mm x 47mm(2ml TPD Edition)

Material

Stainless Steel + Pyrex Glass

Thread Type

510 thread
Package Included
Standard Edition
§ 1 x Switcher MOD/Switcher MOD (Batteries not included)
§ 1 x NRG Tank (5ml Standard Edition)
§ 1 x GT8 Core (Pre-installed)
§ 1 x GT4 Core
§ 1 x USB Cable
§ 1 x Replacement Glass Tube
§ 1 x User Manual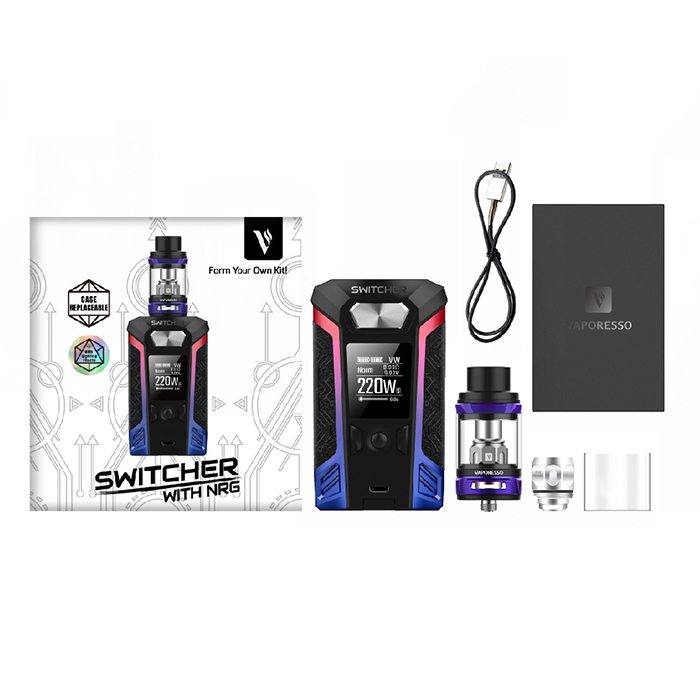 TPD Edition
§ 1 x Switcher MOD/Switcher MOD (Batteries not included)
§ 1 x NRG Mini Tank (2ml TPD Edition)
§ 1 x GT8 Core (Pre-installed)
§ 1 x GT4 Core
§ 1 x USB Cable
§ 1 x Replacement Glass Tube
§ 1 x User Manual