Sigelei SnowWolf Vfeng 230W TC Box Mod with Vfeng Atomizer Full Kit
Sigelei SnowWolf Vfeng 230W TC Box Mod with Vfeng Atomizer Full Kit
Product Information
Obviously, coming with the robotic shape and changeable futuristic LED, SnowWolf Vfeng is a high-spec vape kit that based on a lifetime's appreciation of sci-fi movies - Spaceships, transformers, Battles Axes, robots, gadgets, and everything else in this mix are part of Vfeng inspiration.
Not only about design innovations, SnowWolf Vfeng do cool things on innovation in function too. Featuring the over-sized hexagon fire button where your thumb has easy access to, the 1.3″ TFT display for easy reading and user-friendly operation. Supporting by dual 18650 cells, SnowWolf Vfeng can actually run up to a crazy 230W power output.
Measuring 24mm by 50mm, the Vfeng tank is made of 303 stainless steel and thermostable silica gel (food grade). The Vfeng tank's prebuilt cores options provide a tense vaping experience, and yet each is unique. There're 3 prebuilt cores types and 1 RBA options - the 0.2ohm triple coil head supporting the maximum output of 120W, the 0.15ohm dual coils head supporting 65W, and the 0.4ohm single coil supporting 75W.
Quick Links:
Features
§ Robot shaped form factor
§ Snowwolf logo with changeable LED
§ Over-sized hexagon fire button
§ 1.3″ TFT display with color changeable font
§ Utilizes dual 18650 cells
§ Micro USB charging
§ Mechanical shape with scientific and technological sense.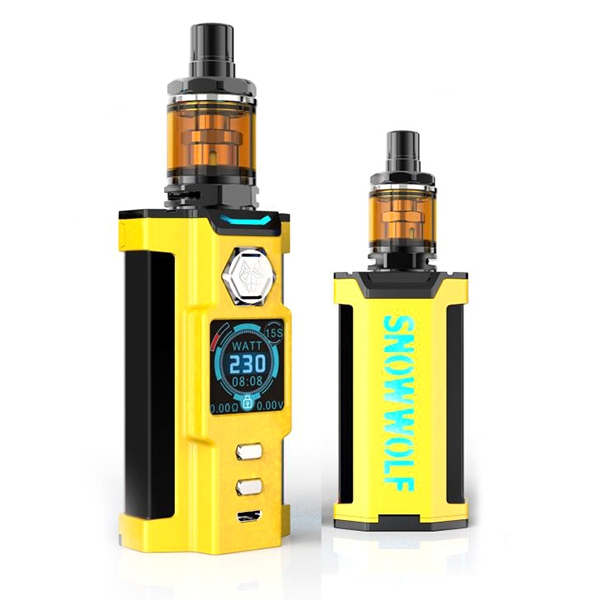 Mod

Brand

SnowWolf

Size

46mm x 34mm x 87mm

Temperature Range

100℃-300℃/200℉-570℉

Wattage Range

10-230W

Main Material

Stainless Steel + Zinc Alloy

Max Output Current

40A

Battery Support

2 x 18650

Charging Support (USB)

DC 5V/2.5A

Support Atomizer Resistance

0.05Ω-3.0Ω

Modes

POWER/SS(304/316/317)/Til/Ni200/TCR

Color

Black, Yellow, Blue

Tank

Brand

SnowWolf

Capacity

3ml

Size

24mm x 50 mm (with drip tip)

Resistance

0.2ohm (40W-120W, BEST 75W-95W)
0.15ohm (30W-65W, BEST 40W-55W)
0.4ohm (40W-75W, BEST 50W-65W)

Coil Supporting

Kanthal/Titanium/Ni200/SS(304/316/317)/TCR

Color

Stainless Steel
Package Included
§ 1 x SnowWolf Vfeng Mod (Battery not included)
§ 1 x SnowWolf Vfeng Atomizer
§ 1 x Glass Tube
§ 1 x RBA Cores
§ 1 x USB Cable
§ 1 x Manual and Warranty Card