Smok Stick V8 3000mAh Kit with TFV8 Big Baby
Smok Stick V8 3000mAh Kit with TFV8 Big Baby
Product Information
Smok Stick V8 3000mAh Kit with TFV8 Big Babyis the latest pen style vaping device from SMOK, the battery has a 3000mAh super high capacity and 20amps continuous discharge capability, while its tank is the famous TFV8 big baby tank which is 5ml and shares all the baby beast coils. Moreover, intelligent battery indicator, adjustable airflow and top filling system will bring much convenience when using. The SMOK Stick V8 is a could beast for daily vaping. Silver colors.
3000mAh Battery Capacity: Stick V8 Kit adopts built-in 3000mAh battery which is powerful and durable; what's more it brings you massive cloud of vapor.
INTELLIGENT BATTERY LIFE INDICATOR: Young men love all intelligent goods; the intelligent battery indicator of Stick V8 battery will show clear prompts. The battery life indicator will blink 4 times each time you take a puff. When it blinks fast with 15 times, it indicates that the voltage is lower than 3.3V, please charge.
MULTIPLE AUTOMATIC-PROTECTIONS: There are multiple protections, such as: 8 seconds protection, low resistance protection, short circuit protection, and low voltage protection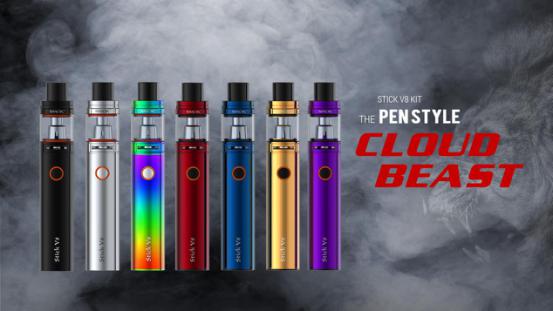 Features
§ 300W Maximum Output with Four 18650 Batteries
§ Intelligent Battery Life Indicator
§ 3000mAh Battery Capacity, Powerful and Durable
§ Multiple automatic- protections
§ TFV8 big baby, Penstyle Cloud beast
Parameters
Tank

Brand

SMOK

Tank Dimensions

24.5mm x 56mm

Capacity

5ml

Thread

510

Battery

Brand

SMOK

Battery Dimensions

24.5mm x 75mm

Thread Type

Capacity

Voltage Range

510

3000mAh

3.4V-4.2V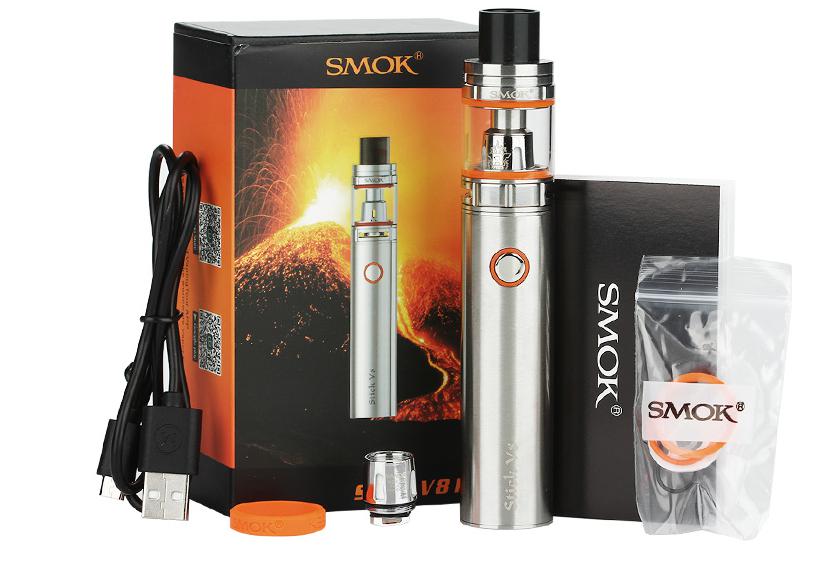 Package Included
§ 1 x Stick V8 Battery - 3000mAh
§ 1 x TFV8 big baby tank - 5ml
§ 1 x V8 Baby M2 0.3ohm dual core(pre-installed)
§ 1 x V8 Baby M2 0.3ohm dual core
§ 1 x USB cable
§ 1 x Manual
§ 1 x Spare parts