SMOK Mag 225W Kit with TFV12 Prince Tank
SMOK Mag 225W Kit with TFV12 Prince Tank
Product Information
The charming SMOK Mag 225W Kit is composed of the SMOK Mag 225W Mod and the SMOK TFV12 Prince Tank. As you see, Mag kit is gun-shaped, lock and load, and you can press the trigger to vape. With a trigger style fire button and ergonomic gun handle design, it seems that very angle tells how exquisite it is.
SMOK Mag 225W Kit features with the new revolutionary TFV12 Prince tank, which has an unprecedented super large capacity by the convex glass --8ml. And that is far from being desired. Cobra resin drip tip is another innovative design of SMOK applying to comport with the perfect body and ensure an excellent seal. There are 7 colors available for your individual preference-gold, green, purple, red, blue, black, and stainless. And the carefully modulated new Q4, X6, T10 cores can bring you intense clouds and accurate flavor.
Then drift the attention to the Smok Mag 225W Box Mod. This bundle runs with the maximum output of 225W with the dual 18650 batteries accessed. Technically, low resistance capability, versatile temperature operation and a flower-shaped button for battery installation results in a versatile device and make it durable. Patented locking mechanism design effectively avoids accidentally opening and leaking of liquid. And its portable advantage thanks to dimensions of just 65mm x 30mm x 92mm.
Quick Links: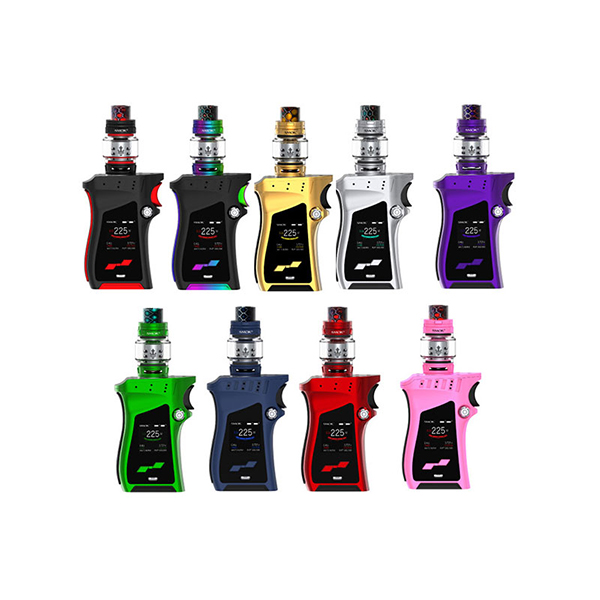 Features
§ 225W maximum output
18+ / 21 +
Are you of legal age at your area to purchase vaping products?
© 2013-2020 Shenzhen AVE40 E-Commerce Co., Ltd. All Rights Reserved.