Smok G-Priv 2 Starter Kit 230W with TFV8 X-Baby Tank
Smok G-Priv 2 Starter Kit 230W with TFV8 X-Baby Tank
Product Information
Smok has taken the vaping community again with a stunning Smok G-Priv 2 Kit that includes a G-Priv 2 mod and a TFV8 X-Baby tank. This Smok G-Priv 2 kit includes Standard edition and EU edition.
Smok G-Priv2 Mod
Made out of zinc alloy, Smok G-Priv 2 mod impresses everyone as it has so many upgraded functions. G-PRIV2 measures a height of 85mm, a width of 52mm and a diameter of 27.3mm as well as a weight of 181g, along with double 18650 Batteries(not included) that are covered by carbon fiber. Smok G-Priv 2 mod adopts a simple and streamlined body, giving users a comfortable experience. This mod is equipped with a big and responsive 2.0-inch touch screen that can display 6 colors and present so many information (including vaping effect, battery life, voltage, resistance value, etc). Additionally, the mod features an easy- to –read menu containing two regular modes (VW, TC mode). Puffing setting is a new function that sets limited puff number and puff counter clearing function. On the top of this screen, there are battery life indicators checking the battery status.
The kit can be fired as low as 1W and can reach up to 230W. Its temperature is range from 200 ºF to 600 ºF(100℃-315℃). With regards to its fire key, it is simplified and easy for users to operate in comparison to G-PRIV1. You only press this button for 2s and the screen will be locked but you still can fire this device. If you press this button quickly for three times, you cannot use this locked device, and you will do the same operations to lock it. Furthermore, it also provides various protection systems to prevent potential risks. It features 510 connector that meets various tanks. 7 colors available.
SMOK TFV8 X-Baby Tank
Smok TFV8 X-Baby Tank is perfectly suitable for Smok G-PRIV2 mod. Made out of stainless steel, the Smok TFV8 X-Baby Tank mainly includes two types (they can accommodate 4ml or 2ml capacity of e-juice respectively). The tank mainly includes tube, glass tube, coil system, ect. As for its coil head, it is classified as the V8X-baby Q2(pre-installed)and V8X-baby T6(kit includes) that both can deliver different and rich taste. Smok is still continue to use the top-fill cap design, and you only move the top cap counter clockwise to add the e-cig Juice to the tank easily without removing the delrin top cap. In order to experience a good flavor, you can turn the airflow ring control and two 2 large adjustable air slots. The newly product - Smok G-Priv 2 Kit will stand out among the other similar products in the market.
Quick links:
SMOK ProColor Kit with TFV8 Big Baby Tank 2ml & 5ml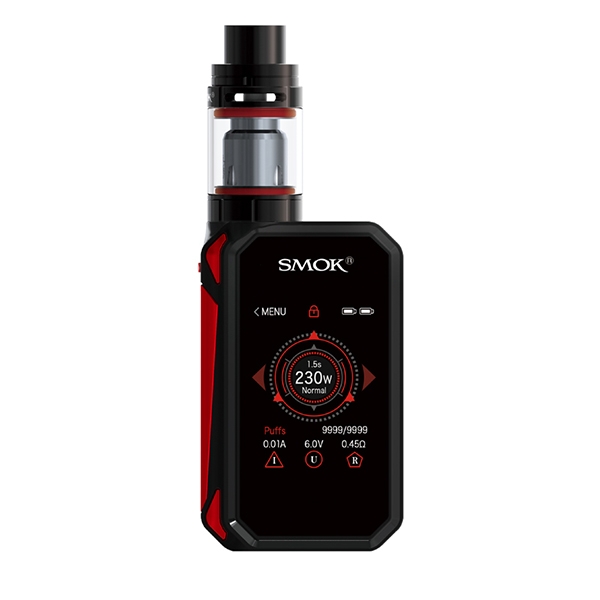 Features
§ Die Cast Zinc Alloy Body
§ Delrin drip tip
§ Adjustable top airflow system
§ Optional coil head - V8 Baby X Q2/ V8 Baby X M2
§ Classical swivel top cap for easy filling
§ 4ml Standard Edition and 2ml EU Edition
§ Feataures interactive software and changeable high definition screen colors
§ Easy-to-read graphical UI interface
§ The mod can generate up to 230W of power, supports various output modes
§ Comes with 7 colors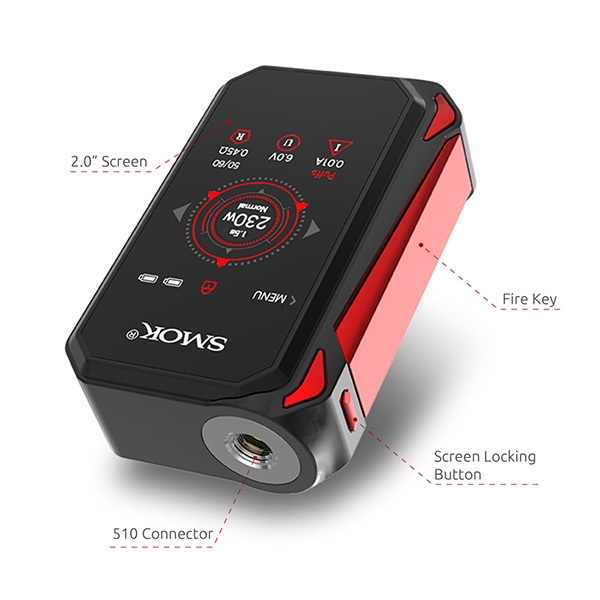 Parameters
| | |
| --- | --- |
| Smok G-Priv 2 Mod | |
| | Smok |
| Size | 52mm x 27.5mm x 85mm |
| Battery | 2 x 18650 |
| Wattage Output Range | 1W – 230W |
| Material | Zinc alloy |
| Resistance Range | 0.1Ω-2.5Ω (VW) / 0.05Ω-2Ω (TC) |
| Temperature Range | 200℉ - 600℉/100℃ - 315℃ |
| Touch Screen | 2.0 Inch |
| Standby Current | <500uA |
| Voltage Range | 0.5V-9.0V |
| Connection Thread | 510 |
| Color | Black Red, White Red, Gold Red, Blue Red, Silver Black, Rainbow, Purple Black, Full Black |
| | |
| Smok TFV8 X-Baby Tank | |
| Brand | Smok |
| Size | 24.5mm x 59mm (Standard Edition) / 24.5mm x 57mm (EU Edition) |
| Capacity | 4ml (Standard Edition), 2ml (EU Edition) |
| Coil | X Baby Q2 dual coil - 0.4ohm (40-80W)/ X Baby M2 dual coil - 0.25ohm (3.7V MECH MOD) |
| Material | Stainless Steel |
| Connection Thread | 510 |
| Color | Gold, Green, Purple, Silver, Red, Blue, Black, Rainbow |
Package Included
Smok TFV8 X-Baby Tank Standard Edition
§ 1 x G-Priv 2 Mod (Batteries not included)
§ 1 x TFV8 X-Baby Tank(4ml)
§ 1 x TFV8 X-Baby Q2 0.4ohm Dual Coil (Pre-installed)
§ 1 x TFV8 X-Baby M2 0.25ohm Dual Coils
§ 1 x Replacement Glass Tube
§ 1 x USB Cable
§ 1 x User Manual
§ 1 x Spare Parts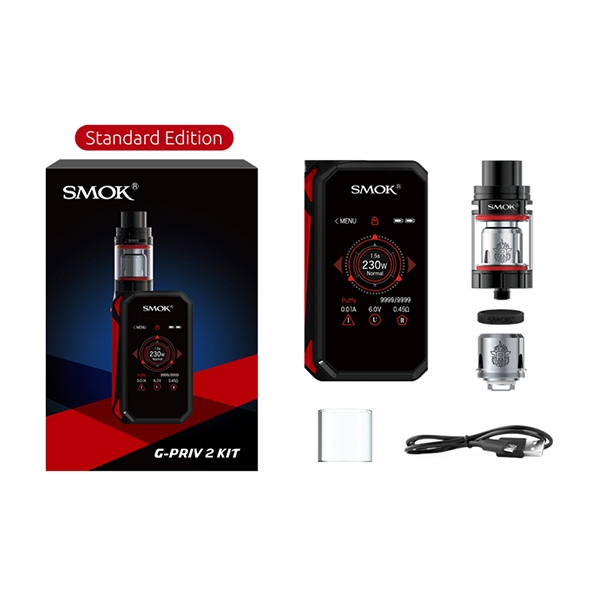 Smok TFV8 X-Baby Tank EU Edition
§ 1 x G-Priv 2 Mod (Batteries not included)
§ 1 x TFV8 X-Baby Tank(2ml)
§ 1 x TFV8 X-Baby Q2 0.4ohm Dual Coil (Pre-installed)
§ 1 x TFV8 X-Baby M2 0.25ohm Dual Coils
§ 1 x Replacement Glass Tube
§ 1 x USB Cable
§ 1 x User Manual
§ 1 x Spare Parts