Sigelei Kaos Z 200W Box Mod
Product Information
Sigelei Kaos Z 200 Box Mod is the latest flagship device to be released by Sigelei. Powered by dual high-rate 18650 batteries to run up to 200W and Maximum current 38A. Kaos has everything you love about Sigelei, support software upgrade and changeable LED lights as well as the breathing LED lights. All of these features contribute a lot to your awesome daily vaping experience.
Sigelei has recently released its masterpiece after Sigelei Kaos Spectrum 230W Mod-Sigelei Kaos Z 200W Box Mod that is a perfect combination of cutting-edge technology and premium materials. From the perspective of design, the Sigelei Kaos Z 200W Box Mod has firstly attracted people's attention thanks to its transparent chassis which makes the changeable and breathing LED light, chipset and other small devices visible.
Thanks to its materials made out of alloy zinc, the Sigelei Kaos Z 200W Box Mod has a high corrosion/rust resistance which makes box mod cost-effective. Internally, the Sigelei Kaos Z 200W Box Mod can enable users to adjust precisely the wattage and resistance value according to personal style. You can set the wattage as high as 200W and as low as 10W. When paired with atomizer coils containing Kanthal/ SS(304/ 316/ 317)/ Titanium/ Ni200, you can personalize your own style via controlling the temperature of coils.
The mod also has a 0.96-inch TFT Color Screen displaying a wealth of information, via which you can often monitor the battery level, wattage and Voltage Input/output. Sigelei Kaos Z 200W Box Mod is powered by dual 18650 batteries which are easily removed and installed. At mod's top, it is a gold-plated 510 threaded connector, increasing the conductivity and making the solid connection between tanks and mod. With DC 5V/2.5A supporting charging, Sigelei has designed an upgraded USB port to match this mod, and you can link the device to any devices, such as a laptop, phone, and computer.
Vape Tools -18650 Battery
Sigelei Kaos Spectrum 230W Mod
Features
§ 200W maximum output with dual 18650 batteries
§ Support USB software upgrade
§ Changeable LED lights and also the breathing LED lights
§ 4 colors for your selection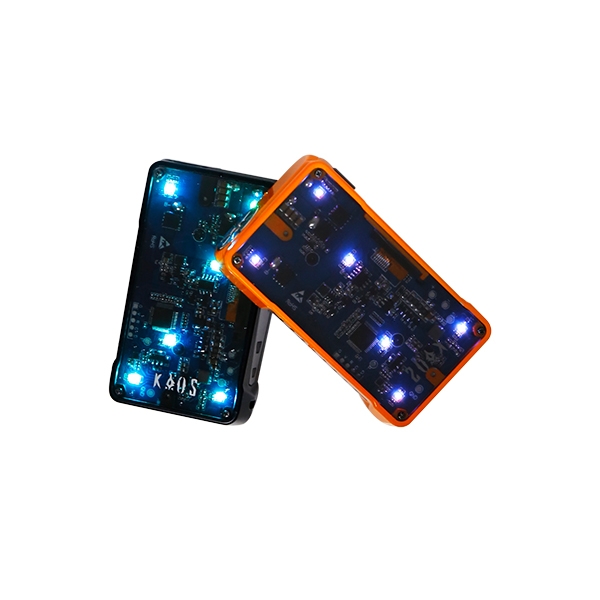 Parameters
| | |
| --- | --- |
| Mod | |
| Brand | Sigelei |
| Size | 86.7mm x 51.4mm x 26.8mm |
| Main Material | Zinc Alloy |
| Display | 0.96-Inch TFT Color Screen |
| Wattage Range | 10W - 200W |
| Temp Range | 200℉- 570℉/ 100℃- 300℃ |
| Resistance Range | 0.05ohm - 3.00ohm |
| Voltage Input | 6.4V - 8.4V |
| Voltage Output | 1.0V - 7.5V |
| Max Output Current | 38A |
| Battery Support | Dual 18650 Batteries |
| Modes | POWER/SS/Ti1/Ni200/TCR |
| Coil Supporting | Kanthal/SS(304/316/317)/Titanium/Ni200/TCR |
| Charging Support | DC 5V/2.5A |
| Color | Black, Orange, Red, Yellow |

Package Included
§ 1 x Sigelei Kaos Z 200W Box Mod
§ 1 x Warranty Card
§ 1 x USB Cable

§ 1 x Manual