REV Nitro V2 200W TC Kit with Drift Tank
REV Nitro V2 200W TC Kit with Drift Tank
Product Information
REV Nitro V2 200W TC Kit is one of the series products with dashboard screen after REV GTS V2 230W TC Kit and REV SPORT TC Box Mod. REV Nitro V2 200W Mod Kit is composed of REV NITRO TC Box Mod 200W and REV Drift Sub Ohm Tank Atomizer, act as a light and compact device thanks to its size of 86mm x 57mm x 32mm.
REV Drift Sub Ohm Tank Atomizer is the first sub ohm tank of REV, specially designed for great flavors and cloud chasing. REV Drift Tank comes with avant-garde drift coils which include R1(single core), R2(dual cores), R3(triple cores), R4(quad cores), supporting wattage range from 30W to 90W and the resistance range from 0.15Ω to 0.6Ω, offering you different vaping experience and satisfy various requirements. Apart from edition of 2.0ml and 4.5ml for choices, it has an array of colors---red, blue and black---totally matching your personal preference. Drift Tank features slide & refilling system and adjustable bottom airflow system makes refilling much convenient and mess free. High- quality material and precise design provide you precious e-juice taste.
Running with Drift Sub Ohm Tank, REV NITRO TC Box Mod has an advanced performance to make it a perfect combination of Nitro Kit. Supporting 5W-200W, it is powered by dual 18650 batteries. Rev really make a landmark innovation in the screen. The mod features an avant-garde display recemble the dashboard of grand tourer. Furthermore, it is rich in 11 clolor selections---Grey, Red, Blue, Yellow, Black, White, Pink, Orange, Nardo Grey, Light Blue, Lime Green, via which you can check parameter status quos when adjusting data to meet personal requirements. What makes a distinction between the REV NITRO TC Box Mod 200W and other similar mods is REV straightforward menu system which can assist vapers in adjusting data quickly. Given the inspiration from the sports car, REV applys the corresponding elements to the appearance, which is reflected in the fire button and the right, left button of the menu.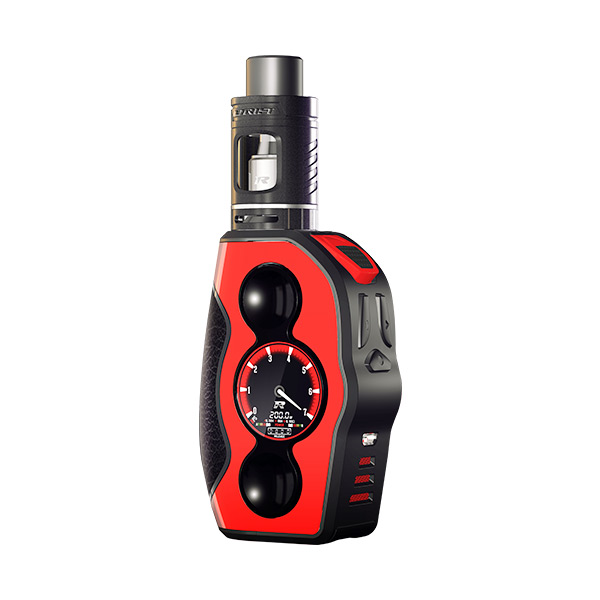 Features
§ Powered by dual 18650 batteries with a maximum output power of 200W
§ Constructed of light-weight components, portable to carry around
§ Unique REV menu system to help navigate the fastest tracks
§ Equipped with a special button for quick switch whenever you need it
§ Equipped with Drift tank, 2.0ml and 4.5ml options available to choose
§ Avant-garde drift coils
§ Slide & refilling system
§ Adjustable bottom airflow system
§ High quality material
Parameters
| | |
| --- | --- |
| REV Nitro TC Box Mod | |
| Brand | REV |
| Size | 86mm x 57mm x 32mm |
| Battery | 2 × 18650 Batteries(Batteries not included) |
| Wattage Range | 5W - 200W |
| Voltage Range | 0V - 8.5V |
| Output Mode | POWER/VT(NI200,SS,TI),TCR(M1,M2,M3,M4,M5,M6) / BYPASS / PREHEAT |
| Resistance | 0.08ohm - 3.0ohm |
| Color | Black, White, Red, Brown, Yellow |
| | |
| REV Drift Sub Ohm Tank | |
| Size | 24.5mm x 57mm |
| Capacity | 4.5ml (Standard Edition) / 2.0ml (EU Edition) |
| Material | Stainless Steel |
| Thread | 510 |
| Color | Black |
Package Included
REV Nitro Kit 4.5ml version
n 1 x REV Nitro Mod (Batteries not included)
n 1 x Drift Tank
n 1 x 4.5ml Glass Tube
n 1 x Drift R2 Coil 0.15Ω(pre-installed)
n 1 x Drift R4 Coil 0.15Ω
n 1 x USB Cable
n 1 x User Manual
REV Nitro Kit 2.0ml version
n 1 x REV Nitro Mod (Batteries not included)
n 1 x Drift Tank
n 1 x Drift R2 Coil 0.15Ω(pre-installed)
n 1 x Drift R4 Coil 0.15Ω
n 1 x USB Cable
n 1 x User Manual