Regular Price
$7.40
-24%
Regular Price
$9.69
Muspeltech Coil
Product Information
Muspeltech Coil, 10pcs per pack, increase the surface of area, will produce large cloud of vapor and flavor. Those fit for most of RDA, RDTA, RTA tanks. There are deverse kinds of coils for your options.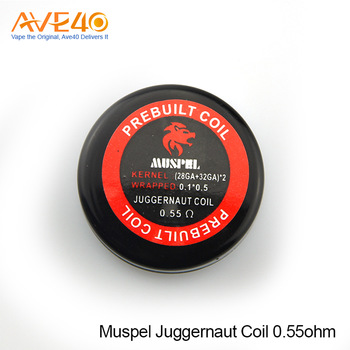 Parameters
Brand: Muspeltech
Coils' Types:
Muspeltech Birds nest coil (24GA*3+26GA)+32GA
Muspeltech Clapton coil 26GA+30GA
Muspeltech Flat twisted coil 0.2*0.8*2
Muspeltech Hive coil (30GA+30GA)*2
Muspeltech Juggemaut coil (28GA+32GA)*2+0.1*0.5
Muspeltech Panzer clapton coil 24GA*3+32GA
Muspeltech Panzer clapton coil 26GA*3+32GA
Muspeltech Super clapton coil (26GA+32GA)+0.14*1.0
Muspeltech Mix twisted coil 0.2*0.8+26GA
Muspeltech Taiji coil (28GA+38GA)+26GA
Material: Kanthal
For Model: RTA/RDA/RBA
Quantity: 10pcs/Pack
Package Included
1 * Muspeltech Coil(10pcs/pack)
Gurantee
3 Months warranty for our products from the date of delivery. We will not take the responsibility if any damage is caused by false use or man-made sabotage. Read the User Manual carefully before you start to use it.