Joyetech Cuboid Lite 80W TC Box Mod - 3000mAh
Joyetech Cuboid Lite 80W TC Box Mod - 3000mAh
Product Information
Here comes the Joyetech Cuboid Lite TC Box Mod, powered by a built-in 3000mAh 18650 battery, which fires up to 80W as maximum power, bringing you amazing vaping experience. With 2A maximum charging current, the mod can be fully charged quicker than normal ones. It works perfectly with Exceed D22 tank. At the top, there's a premium 510 connector with a spring-loaded center pin for flush installs of atomizers up to 25mm wide and 5.5mm deep. Not only the high-quality 1.45-inch TFT color screen presenting all parameters clearly, what attracts most is the real-time clock, preheat and nicotine intake calculation and temperature protect for charging. Under the VW/VT(Ni, Ti, SS316)/TCR(M1, M2, M3) Mode, its temperature range is 200℉- 600℉/ 100℃- 315℃(TC Modes). The resistance range is 0.05ohm - 1.5ohm(TC/TCR Modes) and 0.1-3.5ohm(Power/Bypass Mode). It also features power limit protection.
The flip-open bottom cover with ventilation holes is better for heat dissipation. It is fabricated using the finest stainless steel. This austenite metallic is exceptionally strong, durable, and resilient, making it able to endure the strains of heavy use with 4 colors available - Black, Silver, Red, Yellow, Purple. Compact yet intelligent, the mod with ergonomically designed shape is easy to grip and carry.
Note: you get stuck while upgrading, simply click "+" button and insert into the reset hole with a needle to restart. Whilst the battery has been drained and is in need of a recharge, this will be effortlessly accomplished the use of the blanketed charging cable. Simply attach the USB side of the cable into computer or power bank, and then it will rapidly charge to full capacity.
Joyetech Cuboid Lite 80W TC Box Mod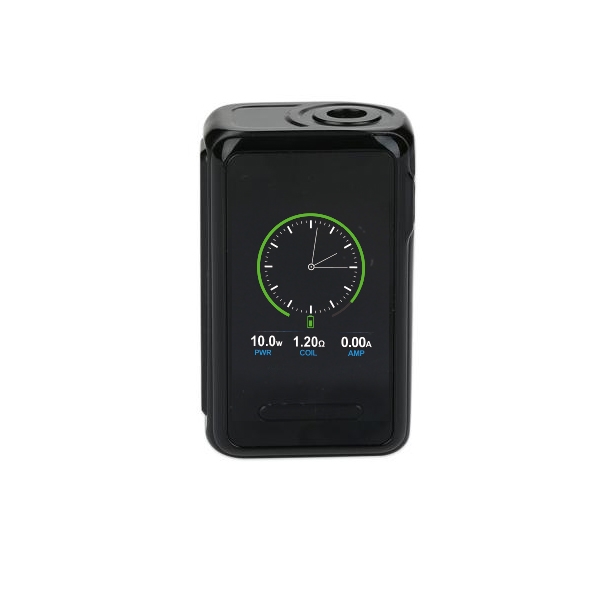 Features
§ 80w maximum output with built-in 3000mAh battery
§ Advanced vaping system
§ High-quality 1.45-inch TFT color screen
§ 2A quick charging
§ Real-time clock
Parameters
| | |
| --- | --- |
| Brand | Joyetech |
| Size | 67mm x 42mm x 26mm |
| Battery Capacity | 3000mAh |
| Screen Type | 1.45-Inch TFT Color Screen |
| Output Wattage | 1W - 80W |
| Temp Range | 200℉- 600℉/ 100℃- 315℃ |
| Resistance Range | 0.05 - 1.5 ohm (TC/TCR mode)/ 0.1 - 3.5ohm (Power/Bypass mode) |
| Max Output Voltage | 9V |
| Max Output Current | 30A |
| Max Charging Current | 2A |
| Output Mode | VW/VT(Ni, Ti, SS316)/TCR(M1, M2, M3) Mode |
| Thread | 510 Thread |
| Depth of 510 pins applicable | 4.0mm - 5.5mm |
| Color | Black, Silver, Red, Yellow, Purple |
Package Included
§ 1 x Joyetech CUBOID Lite Mod (Built-in 3000mAh)
§ 1 x QC USB Cable
§ 1 x Manual