Golisi S43 IMR 26650 Battery 35A 4300mAh
Golisi S43 IMR 26650 Battery 35A 4300mAh
Product Information
Golisi S43 IMR 26650 Battery is an IMR 26650 high drain battery used for e-cig mods and other electrical devices, such as flashlights, toys, measuring Dia16mm by H65mm. It features 35A in the max constant discharging current, 4.20V max charge voltage as well as 4300mAh nominal capacity, along with a long service life.
Golisi S43 IMR 26650 Battery can be as low as 0~45℃ when charging while -20~ 60℃ when discharging.By using GOLISI charger, the fully charging time is down to 1.5 hours. In addition, it has been tested extensively and has shown to provide safe, steady current levels to meet all your vaping/electrical device needs.
Based on the UL1642 standard, there is no leaking or explosion in extreme tests of overcharging, short circuit, over discharging, high temperature. Golisi IMR 26650 Battery 35A 4300mAh quality product from Golisi, good choice for your vaping mods that working with 26650 batteries!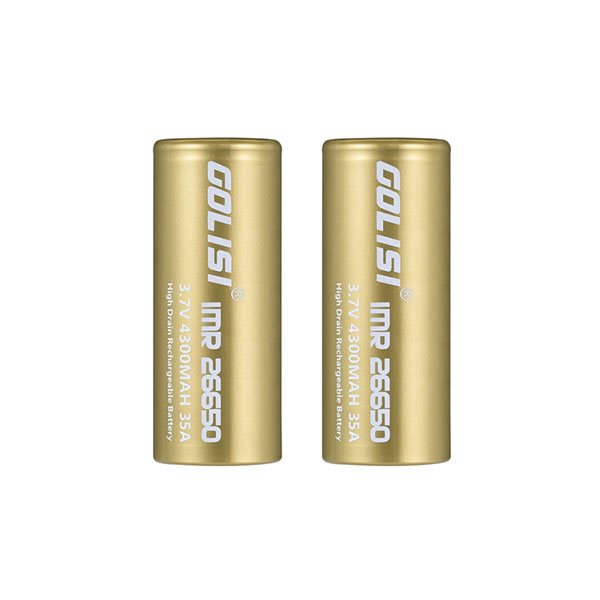 Parameters
| | |
| --- | --- |
| Brand | Golisi |
| Size | 26(Dia) x 65(H)mm |
| Battery Type | IMR 26650 High Capacity, High Power |
| Suit For | E-cig Mods |
| Nominal Capacity | 4300mAh |
| Constant Discharging Current | 35A |
| Nominal Voltage | 3.7V |
| Discharging Cut-off Voltage | 2.75V |
| Charging cut-off Voltage | 4.20±0.05V |
| Internal Resitance | 30mΩ |
| Safety Protection | Based on UL1642 standard, no leaking or explosion in extreme tests of overcharging, short circuit, over discharging, high temperature |
| Standard Charging Current | cc/cv(<=2A) |
| Fully Charged Time | Down To 2 Hours(by using GOLISI charger) |
| Cycle Times | >800 |
| Operate Temperature | Charging(0 ~ 45°C), Discharging (-20 ~ 60°C) |
| Certificates | CE, ROHS, FCC, MSDS, UN38.3, IEC62133, Drop test, sea shipping safety report, air shipping safety report |
| Storage Temperature | Room Temperature, Dry Place |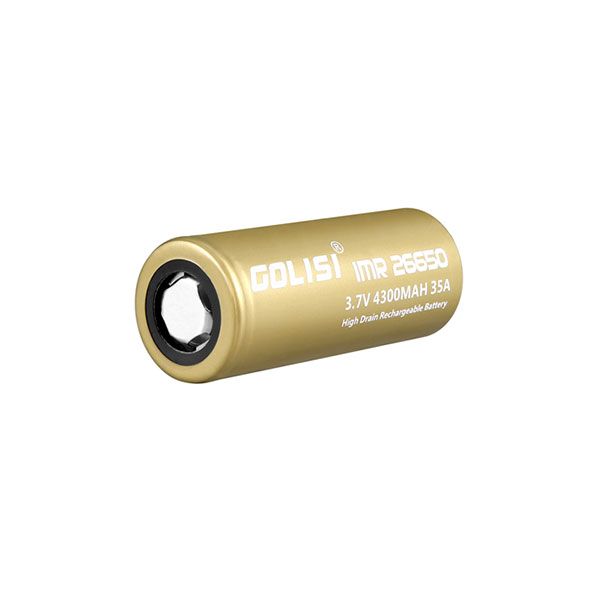 Package Included
§ 1 x Golisi S43 IMR 26650 Battery 35A 4300mAh