Eleaf iStick Tria Kit 300W with ELLO S Tank
Eleaf iStick Tria Kit 300W with ELLO S Tank
Product Information
Eleaf iStick Tria Kit includes an iStick Tria Box Mod with maximum 300W watts of output and an ELLO S tank. Eleaf iStick Tria Kit is a modern and stylish version of iStick series. iStick Tria Kit is portable with dimensions of just 114mm x 41mm x 41mm and a weight of only 177g. The 0.91- inch screen is located on the front of the device, making it really recognizable. The menu is easy to read. With this menu, you can read much useful information, including battery level, wattage and voltage value. In addition to, this screen has one preheating function to heat up coils quickly, as well as three switchable interfaces(including puff interface, second interface and current interface).
Underneath the clear screen, this Eleaf iStick Tria Box Mod has two buttons that can be used to change settings. The Eleaf iStick Tria is powered by high-rate triple 18650 batteries at the bottom of this device, offering users huge vapor clouds.
Eleaf iStick Tria Box Mod is also equipped with a 510 connector which is suitable for 25mm tanks without overhang. Also, this connector features reverse charging capacity, indicating that it can be changed into USB port for power bank mode, offering power to your cell phones and other e-cig devices. This mod also adopts highly-advanced technology(such as Dual Circuit Protection and Reverse Polarity Protection), which is mainly intended to guarantee a safe use of these batteries.
Eleaf ELLO S TanK still attracts people's attention. The detachable and reassemble Eleaf ELLO S Tank measures a diameter of 25mm and a height of 44.5mm, made of stainless steel with pyrex glass, has 4 head coils option(HW1, HW2, HW3 Triple-Cylinder 0.2ohm Head and HW4 Quad-Cylinder 0.3ohm Head for cloud chasing). Eleaf ELLO S Tank also features retractable top fill system to add e-juice into a 2ml tank. The tank can be extended to 4ml when replacing the pre-installed tank. At this system, there is an adjustable airflow slot.
Quick Links:
Vaporesso SWAG 80W Starter Kit with NRG SE Tank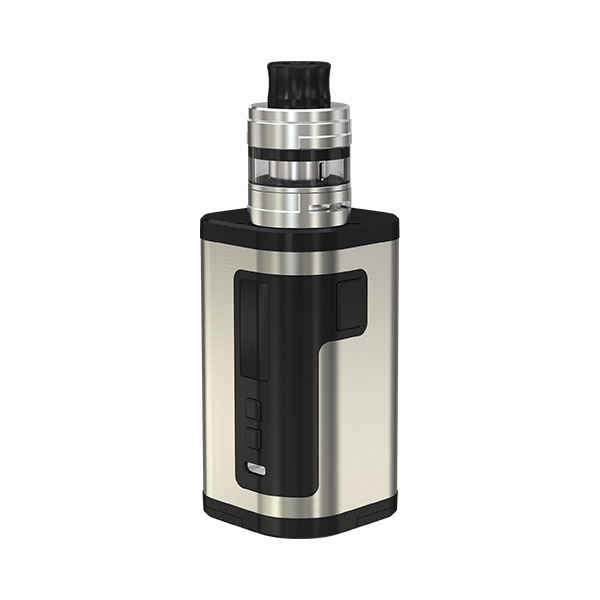 Features
§ Powerful output of 300W
§ 0.91-Inch screen with triple battery bars
§ Stay stylish and modern
§ ELLO S tank can be detached and reassembled
§ Convenient retractable top fill
§ Battery balancing trickle charge system
§ 2A Maximum charging current for quick charge
Parameters
| | |
| --- | --- |
| Mod | |
| Brand | Eleaf |
| Size | 41mm x 41mm x 114mm |
| Battery Type | High-rate 18650 Battery (Continuous discharge current should be above 25A) |
| Output Wattage | 1-300W |
| Maximum Charging Current | 2A |
| Maximum Output Current | 50A |
| Resistance Range | 0.05ohm - 1.5ohm(TC Modes), 0.1-3.5ohm(VW Mode) |
| Output Mode | VW/TC(Ni,Ti,SS,TCR-M1,M2,M3) |
| Temperature Range | 100-315℃/200-600℉(TC modes) |
| Color | Black, Silver, Greenery |
| | |
| Tank | |
| Brand | Eleaf |
| Diameter | 25mm |
| Height | 44.5mm |
| Capacity | 2ml (Extendable to 4ml) |
| Thread Type | 510 thread |
| Color | Black, Silver, Greenery |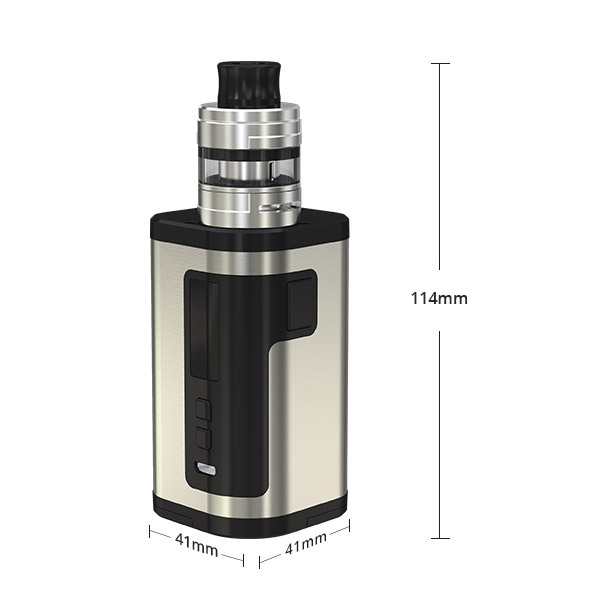 Package Included
§ 1 x iStick Tria (Batteries not included)
§ 1 x ELLO S Atomizer
§ 1 x HW3 Triple-Cylinder 0.2ohm Head
§ 1 x HW4 Quad-Cylinder 0.3ohm Head
§ 1 x QC USB Cable
§ 2 x User Manuals
§ 1 x Spare Part