Teslacigs focuses on high quality, technologically advanced vape devices, and innovative designs. After Tesla Nano 120W TC Box Mod, Tesla Punk 85W Box Mod, produced by Teslacigs with the design of punk style, makes a brilliant appearance to provide you with premium touch feeling.
 

Tesla Punk 85W Box Mod    $99.00    
[button link="https://www.ave40.com/tesla-punk-85w-box-mod.html" size="large" target="new" text_color="#ffffff" color="#b55d08"]On Sales ![/button]
Appearance
Presenting a retro style, it is made of zinc alloy, ABS, and PC, with the distressed red bronze paint coat, leading the faded effect. This punk style is different from the feel of leather. (such as the Vapeman STEAM ENGINE DNA75 Box Mod) It retains metallic texture, line feels and polish. You can check the pictures below for the similarity and difference from the appearance.

Even the running gears, tiny decorative tubes are shown clearly via the transparent panels. It seems that the stamp of the times is exquisitely carved on the body. The proper decorations and sharp lines are perfectly combined.

There is no heavy and complicated components but the traditional layout with one big fire button and the regulatory button. With the size of 30mm by 44mm by 86mm, it is light and portable. Never worry about its convenience to carry in your pocket.

The most striking thing is that when you long press the button and are ready to inhale, there are three colors ( red, green and blue )on the reticulate surface that switch between flashing lights intermittently. That is also the most distinctive feature to match your preference. This punk box surely light your face up with its shiny new appearance!
https://youtu.be/tQNDJR9sNQc
In my opinion, different from the leather appeal of steam engine DNA, it retains the distinct metallic line feeling and adds the lighting decoration on the basis of punk.
Given its lightness and portability, so long as you are pursuing convenience and lightness, it must be your solid choice.
Performance:
Powered by the high-rate cells of 18650, it runs up with the maximum output of 85W. Note: Before using, please adjust the wattage to a proper range to match the atomizer you use.
Frankly speaking, there is not much innovation in the bottom mounted cell equipment. Even though the slide open, the battery cover is separated, which caused some inconvenience in installing the battery. While STEAM ENGINE DNA75 Box Mod is powered by dual 18650 batteries, easily installed via a hinged battery door with a secure locking tab.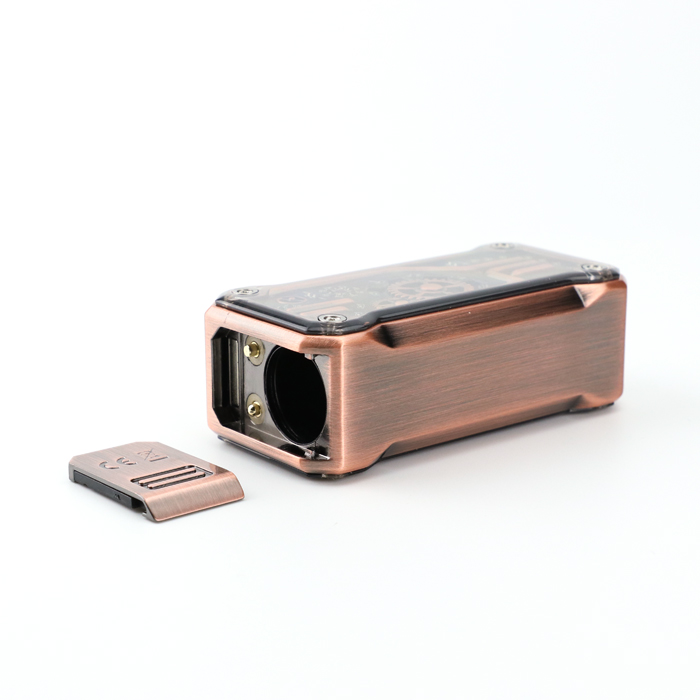 [columns] [column size="1/3"]Parameters Brand: Tesla Size: 30mm x 44mm 86mm Output Wattage: 7W - 85W(in 0.5W increments) Resistance Range: 0.1 - 3.0ohm for KA/0.05-1.0ohm for Ti/Ni 200/SS316/TCR mode Temperature Range 100℃ - 300℃/200℉ - 600℉ Max Output Voltage: 8.5V Max Output Current: 30A Output Mode: KA/TC-SS316/TC-Ni200/TC-Ti/TCR mode Material: zinc alloy+ABS+PC Cell Type: One hi-rate 18650 cell(discharge current should be above 35A) Color: Red Bronze [/column] [column size="1/3"]Features Punk style design with transparent panels Powered by dual 18650 batteries with a maximum output of 85W Made of zinc alloy, ABS and PC material, providing premium touch feeling[/column] [column size="1/3"]Package Included 1 x Tesla Punk 85W Box Mod (Battery not included) 1 x USB Cable 1 x User Manual[/column] [/columns]
No one is perfect. Its advantages outweigh disadvantages. Reverse Connection Protection: If batteries are inserted incorrectly, the device will not power on and will prevent any damage to the chipset.
Atomizer Short Protection: The device has internal controls to protect against atomizer shorts. With KA coil, resistance below 0.lohm. Wit TNi200/SS3 16 coil,resistance below 0.05ohm.