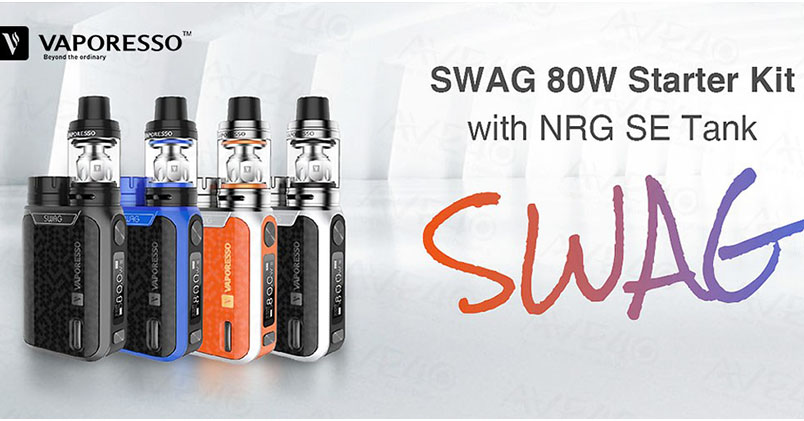 THE VAPORESSO SWAG KIT comes with one lithium 18650 battery that is long-lasting and can serve you for 48 hours running on a single charge. You can buy this battery separately along with its charger. Remember that a replaceable battery is a better option than having to replace the entire MOD, for example, if you choose to buy an integrated device.
§ Palm size design, fits your pocket comfortably
§ Smooth Adjustable Bottom Airflow
§ Twist Open Design
§ Top Battery Cap Design
Parameters
Mod
Brand: Vaporesso
Size: 48mm x 25mm x 75mm
Battery: 1 x Lithium 18650
Max Wattage: 80W
Temp Range: 200℉- 600℉/ 100℃- 315℃
Resistance: 0.05ohm - 5.0 ohm
Voltage Range: 0V - 8.5V
Output Mode: VW(H/N/S), CCW, CCT, VT(NI,TI,SS), TCR(M1,M2), RTC, BYPASS
Thread: 510 spring thread
Material: Aluminum Alloy
Color: Sliver, Orange, Blue, Black
Tank
Brand: Vaporesso
Diameter: 22mm
Height: 46mm(NRG SE Mini Tank), 48.5mm(NRG SE Tank)
Capacity: 2ml(NRG SE Mini Tank), 3.5ml (NRG SE Tank)
Thread Type: 510 thread
Material: Stainless Steel Color: Sliver, Orange, Blue, Black
Package Included
§ 1 X SWAG Mod (Battery not inlcuded) § 1 X NRG SE Tank/ NRG SE Mini Tank (EU version) § 1 X GT CCELL (Extra) § 1 X GT2 Core (Pre-installed)
§ 1 X Replacement Glass Tube
§ 1 X User Manual
§ 1 X Vaporesso USB Cable
It means that you can use this vape mod without worrying about its power running out, for instance, while in activities such as camping or hiking or when you're in entertainment joints such as bars. It offers you the highest power output of 80W and an excellent quality 0.91-inch OLED screen while running.
The Vaporesso Kit uses a chipset, which is like a Vaporesso Revenger chip (Omni 2.0) and supports many functional modes, for instance, VT (NI, TI, SS), CCT, CCW, VW (H/N/S, TCR (M1, M2), RTC AND BYPASS mode. Bear in mind that when buying your vape mod, you should check its coil resistance to ensure that it's compatible with other devices. Remember that you want a compatible device, which will enable you to pair it with any of these modes mentioned. On its top, the NRG SE measures 48 by 25 by 75mm, a weight of 99g for the entire plastic injecting. The Vaporesso Kit is very ergonomic and compact, which means that you will find it easy to carry by hand as you move around. When going out, for example in social places such as bars, you don't want your kit spitting out clouds. The Vaporesso Kit ensures that you enjoy using it, meaning its one good option to consider buying. Keep in mind that you want a portable vape mod, since you may want to use it as you travel or during your outdoor activities.
Place an orderIts design, which is IML injection coating, ensures that it can withstand wear resistance when you compare it to pad-printing or spray painting. It means that by buying this vape mod, what you get is the best value for your money. That's because it's perfect fingerprint-proof in addition to having better graphics. Unlike other products that Vaporesso offers, the VAPORESSO SWAG KIT has a unique and appealing top battery. You can screw off this battery cap (top) in a counterclockwise way, which enables you to replace its 18650 battery. This product comes in a range of colors-Orange, Black, Blue and Silver, providing you with the option of choosing your taste.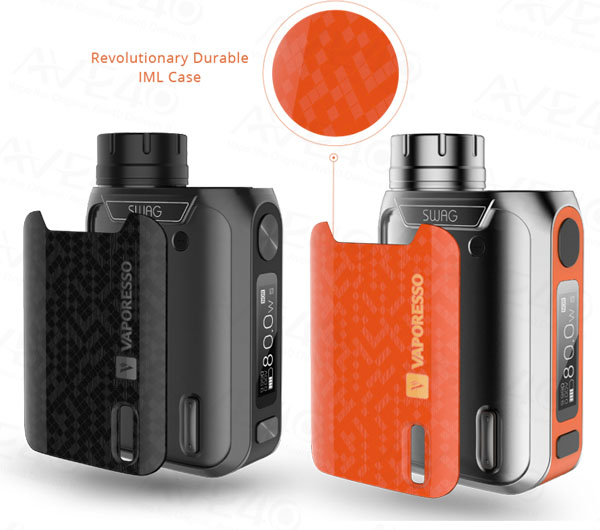 The TC mode has a temperature range of around 100-315 (600F) and a resistance range of around 0.05-5ohm. Its highest charging current is 2a, which enables it to have a faster charging rate. Keep in mind that if you choose high wattage devices, setting the power to high may make your coils to burn and of course get ruined. Another feature of this product is its 510 thread that lets you match it up with other diameter tank 27mm, without having overhang issues.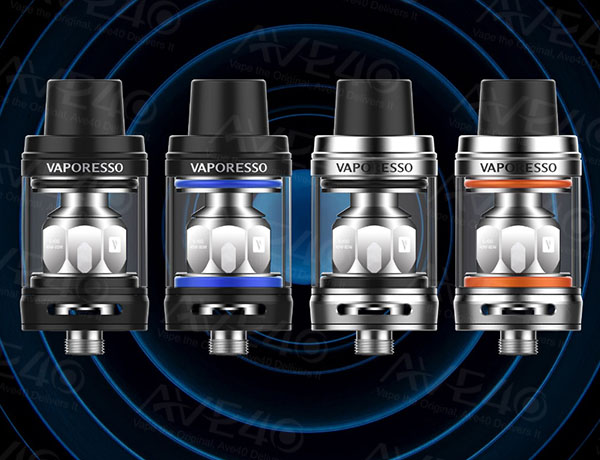 This Kit comes with an upgraded tank, which is of Stainless-Steel NRG SE that competes with TFV8, meaning that this package gives you the best value for your money. This 3.5ml Stainless-Steel tank comes in a straightforward and easy screw-open design and uses the new core coil design GT. Its atomizer NRG SE, which is paired, follows the EU's TPD rules by coming in a 2ML liquid capacity, which means that the Vaporesso Kit is a standard device. Its fill system, which is the twist and fill, offers you the best possible maximum simplicity in addition to giving you a non-leaking solution. [caption id="attachment_855" align="aligncenter" width="600"]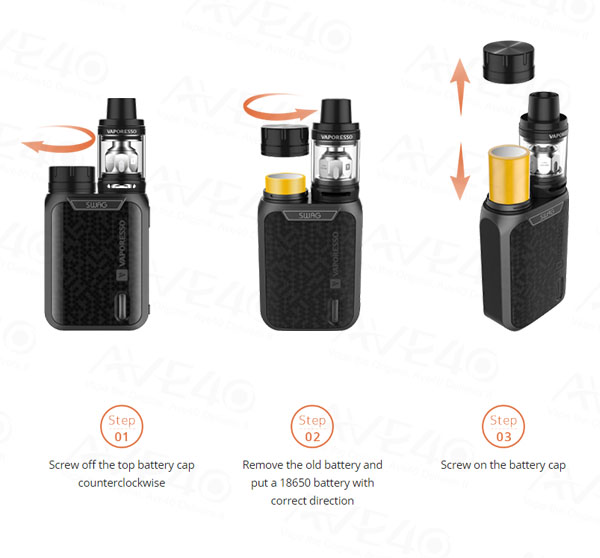 Vaporesso SWAG 80W Starter Kit with NRG SE TankFor you to fill its atomizers, the first step for you is to unscrew its top cap. You should then proceed to inject its e-liquid into its side holes. Remember that the VAPORESSO SWAG KIT'S NRG tank uses the slide-and fill make, which means that you don't need to unscrew any parts if you want to refill its e-Liquid. The Vaporesso Kit offers you the best, simple and convenient design, ensuring that you've an easy time while using it. Remember that the build quality, power output and battery life should be your key considerations when buying your vape mod, meaning that you should narrow down on these three points when shopping for a kit. The VAPORESSO KIT delivers on these three points. This review recommends the VAPORESSO kit if what you want is a kit that will serve you for long.
Register as Ave40 member and get a 10% off!