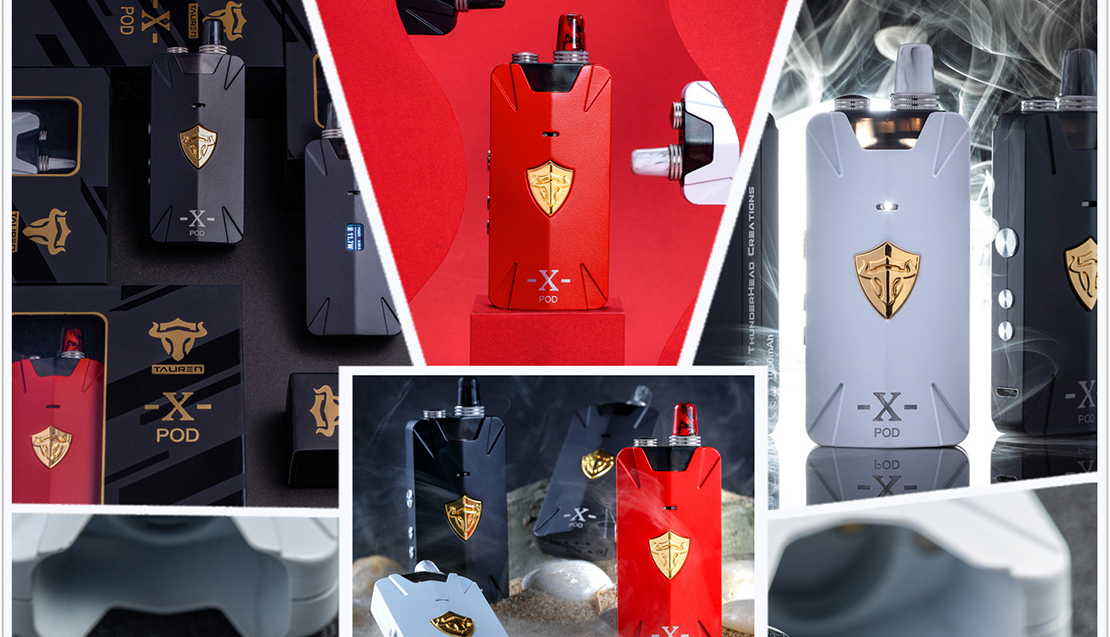 If I'm not mistaken, RBA will be the next form of future pod kit. As a matter of fact, the meaning of the emergence of pod kits is to make vape become simple and easy. But someone likes it and someone hates it! Simplicity can not always make sense. So RBA is a better solution to make a combination between simplicity and complexity! Today we will have a new but a little different RBA pod kit to see, the THC Tauren X RBA Pod Kit(

)!
Check the unboxing video and building video below at first!
The Details
From the perspective of the appearance design concept, it still brings to us the original visual effect of THC brand. Tough and Solid.
The outer shell is constructed from aluminum alloy material. And there's one ventilation on each side. The capacity of the internal battery is 1000mAh and you can charge it via the USB port at the lower left. On the backside of the battery mod, you can see some current details of your device via the small piece of 0.42-inch OLED screen display.
Look up at the pod cartridge, 510 drip tip and screw structure refill port are both designed in the right way. Inside the pod, you can see the RBA coil.
The size of the RBA coil is bigger than the coil on Smoant Pasito Pod Kit. Take off the top cap and you can see two posts. Of course, you can also see the honeycomb air holes. Twist the ring on the bottom to choose air inlet of different diameters.
Inside the package, you can also get an extra tool which is more like a platform to build your RBA. You can put your RBA coil head inside and build your coil, and burn it, and wick it! That's all about it!
The Gallery
Specifications:
Dimensions : 97x40x20(mm)
Material : Aluminium Alloy/PCTG Cartridge
Gross Weight: 205g(Mesh Version)/223g(RBA Version)
Battery: 1000mAh
Capacity: 2ML
Power Range:5-25w
Screen:0.42"OLED
Charging Current: 1A
Resistance: 0.3 - 3.0Ω
Port: Micro USB
Fill Type: Top Fill
Airflow: Adjustable
Coil Type: RBA; Mesh Coil 1.0Ω(MTL) / 0.6Ω(DTL)
Kit Includes:
RBA Version
Tauren-X-Pod * 1
RBA Coil * 1
Build deck * 1
USB Cable * 1
Lanyard * 1
User Manual & Warranty Card * 1
Spare Parts * 1
Mesh Coil Version
Tauren-X-Pod * 1
USB Cable * 1
Lanyard * 1
0.6 Ohm Mesh Coil * 1
1.0 Ohm Mesh Coil * 1
User Manual & Warranty Card * 1
Spare Parts * 1
ThunderHead Creations Tauren X-Pod System Kit:(

)
Now you can find it in our store.
Click here to see: https://www.ave40.com/thunderhead-creations-tauren-x-pod-system-kit-1000mah.html
Vape Wholesale & buy Electronic Cigarettes online in Bulk.
Quality Vape Products, Trusted Vape Wholesale Supply by Vape Shops Owners.
Wholesale Inquiry: https://www.ave40.com/wholesale-service.html
Thanks for Reading!