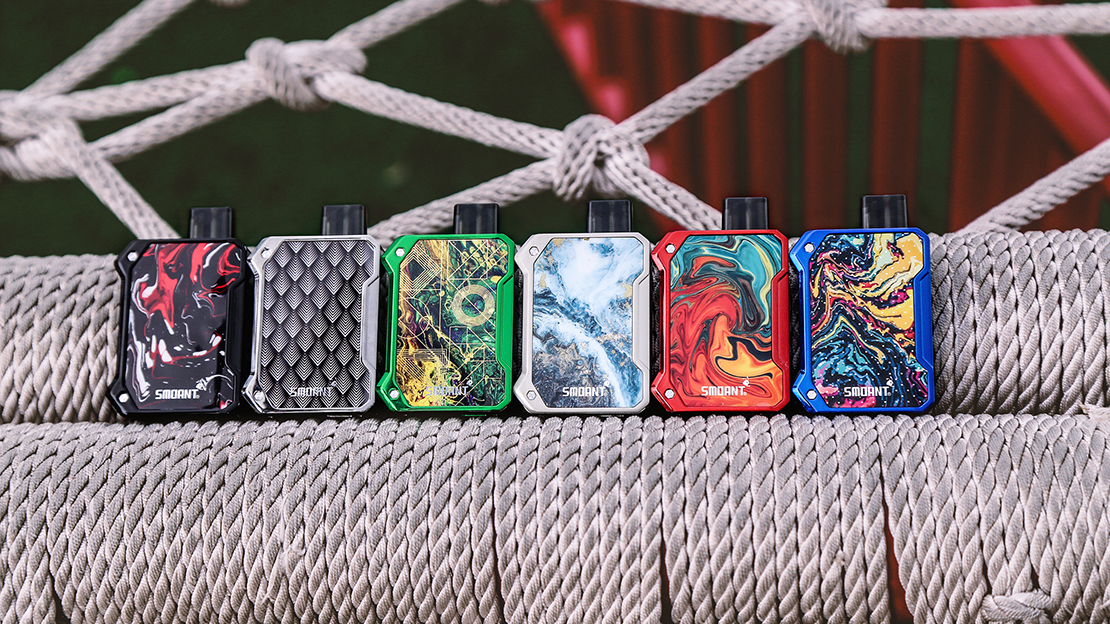 Frankly, 'It'll be an alternative to Voopoo Drag Nano Pod Kit'(

) . That's exactly how I felt when I took the first glance at this Smoant Battlestar Baby Pod Kit(

). Let's check it out!
Check the short unboxing video first!
The Appearance Design
The colorful panels on this kit are specially designed which is exactly the same as the Smoant Pasito Pod Kit. Compare to the traditional plastic, this kind of special technical material could make the color and patterns brighter and more vivid. On the other hand, the panels will be much durable in daily use.
The Battery Mod
Given the special constructed material, The whole battery is compact and portable to carry with. The capacity of the internal battery is 750mAh and the max output is 15 watts. And you can charge it via the USB-C port on the bottom. Due to the charging power is 5V/0.8A only, so it'll take you about 60 minutes to fully charge.
On the left side, the indicator will tell you the current battery life in different colors.
Inside of the battery, the ANT Smart Chipset equipped ensures the stable output voltage to keep powerful every time.
The USB-C charging cable is specially designed as well which you can use it as a lanyard or the cable if necessary!
The Pod Cartridge
The coil head is replaceable. Due to the shape of the pod cartridge, the replacement coils are a little different from the others of Smoant accessories, which means it's not compatible with the other Smoant replacement coils.
There're two coils included in the package. 0.6ohm mesh coil and 1.2ohm regular coil. And the organic cotton wrapped inside delivers pure flavor.
The capacity of the pod is 2.0ml and you can fill it through the port on the left side.
The Gallery
Specifications:
Battlestar Baby Mod
Size:60mm x 45mm x 15mm
Weight: 78g
Battery: 750mAh
Power output: 10/15 W
Charging: 5V/0.8A
Port Type: Type-C
Charging Time: 45-60 minute
Surface Process: Electroplate + Patch
Battlestar Baby Cartridge
Weight: 7.8g
Capacity: 2.0ml
Material: PCTG
Coil: Mesh 0.6Ω 15W, Ni80 1.2Ω 10w
Kit Includes:
Battlestar Baby Mod * 1
Refillable Cartridge * 1
Type-C USB Cable(lanyard) * 1
0.6Ω Mesh Coil(pre-installed) * 1
1.2Ω Ni80 Coil * 1
User Manual * 1
Warranty Card * 1
Certificated Card * 1
Smoant Battlestar Baby Vape Pod System Kit:(

)
Now you can find it in our store.
Click here to see: https://www.ave40.com/smoant-battlestar-baby-vape-pod-system-kit-750mah.html
Vape Wholesale & buy Electronic Cigarettes online in Bulk.
Quality Vape Products, Trusted Vape Wholesale Supply by Vape Shops Owners.
Wholesale Inquiry: https://www.ave40.com/wholesale-service.html
Thanks for Reading!