Asvape Michael VO200 TC Box Mod - The Walking DEAD New Edition
Asvape Michael VO200 TC Box Mod - The Walking DEAD New Edition
Product Information
The Asvape Michael mod Walking Dead edition has huge personality, with the same playful and attractive looks as, say the Japanese Ukiyo-e art designs employed by its sibling, the Asvape Michael mod Devil night. Asvape Michael mod Walking Dead edition is characterized by full color comic illustration and fulfilled by the advanced water transfer printing with excellent die cut details. From the green, cracked skin texture of the zombies to the rags besmirched with mud, everything provides a compelling dark humorous on a well-founded zombie apocalypse conception.
The Asvape Michael mod Walking Dead edition measures 60mm by 28mm by 91.5mm and feels comfortable in your palm. The fire button can be finger activated while the bulk of it rests in the palm. Overall, all buttons are touch-sensitive, well – fitting and reasonable-sited to aligned with the thumb- ergonomically designed for the utmost comfort when holding it for use.
The most notable feature of the Asvape Michael mod Walking Dead is the high-end VO200 chipset, which provides this 200W vape mod with most of the necessary modes. The user interface is easily navigable for you to switch between different user setup pages. You can choose from 3 different modes: BYPASS (0.2 to 3.0-ohm resistance range), TC (212 to 572 Degrees Fahrenheit temperature range), and also VW (0.08 to 3.0-ohm Resistance Range under VPC Mode). Under the TC (Temperature Control mode), you can have your Ni200 Nickel, Titanium and Stainless-Steel coils built in a resistance range from 0.03 to 3.0 ohm. While the VW (Variable Wattage Mode) enable you to customizer wattage curve precisely.
See Also Asvape Michael Devil Night
In contrast to most of box mod's of Western features – think street style, rustic vintage, pop culture, signatures and stories – This Asvape Michael Devil Night embraces sharp Japanese mythology characters, solid color, traditional painting with iconic imagery.
Asvape Michael Mod (Devils Night Edition), drawn by a famous illustrator, could be called the most luxurious and unique VO200 Box Mod out there. You may be familiar with the VO chipset as you may or may not heard of BMI, the Asvape Michael Mod is using the latest VO200 chip set. Powered by dual 18650 batteries, the output wattage can be 200W. The output modes OUT DIY, TC, VW and Bypass to bring fantastic vaping experience. Like most of other mods, the Asvape Michael Mod uses a 25mm 510 thread for most of the Asvape tank, such as Aspire Cleito EXO Tank (24mm diameter), Aspire Nautilus 2 (22mm diameter), Aspire Cleito 120 (exactly the same 25mm diameter). Asvape Michael Mod, made out of zinc alloy, also covered by real carbon fiber.
Quick Links:
Asvape Michael VO200 TC Vape Mod Devil night
Aspire Cleito EXO VapeTank (24mm diameter)
Aspire Cleito 120 Vape Tank (25mm diameter)
Features
§ Premium water transfer printing with reasonably sleek-looking design
§ Powerful VO 200W chipset to bring fantastic vaping experience
§ Smooth contour curve - aesthetically pleasing and comfortable to hold
§ Power output running up to 200W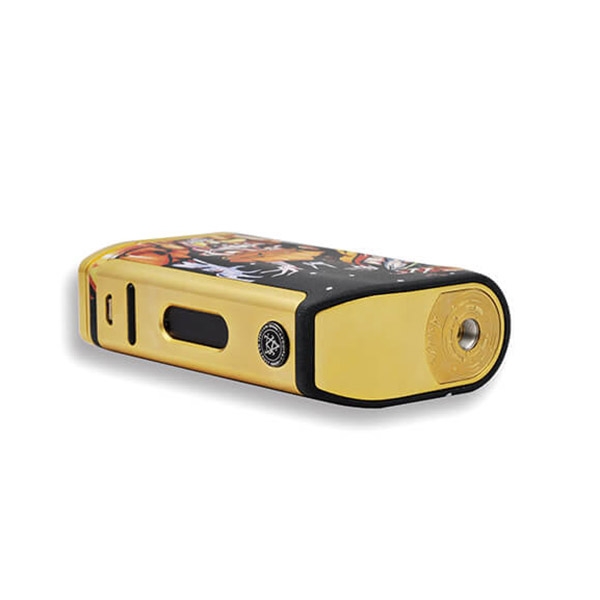 Parameters
| | |
| --- | --- |
| Brand | Asvape |
| Size | 60mm x 28mm x 91.5mm |
| Wattage Range | 5W - 200W |
| TC Range | 200℉- 600℉/ 100℃- 315℃ |
| External Battery | 2 x 18650 |
| Chipset | American VO200 |
| Edition | The Walking DEAD |
| Resistance Range | 0.05ohm- 3.0ohm |
| Vpc Mode | 5 DIY Power Curves |
Package Included
§ 1 x Asvape Michael VO200 TC Box Mod - The Walking DEAD (Battery not included)
§ 1 x USB Cable
§ 1 x User Manual
§ 1 x Warning Card
§ 1 x Gift Box