Alchemy KN95 FFP2 Anti Bacterial Respirator Face Mask
Regular Price
$0.99
-90%
Regular Price
$9.99

Alchemy KN95 FFP2 Anti Bacterial Respirator Face Mask means that it can filter 95% of the air Oil-free particles, prevent Coronavirus and pm2.5 air pollution, suitable for home and professional use, making your indoor and outdoor breathing easier.
KN95 mask is a great alternative to the N95 mask. And it's also better than the disposable mask if you have to go to where the crowds gather.
4 -Layer filtering method for maximum protection. Alchemy KN95 masks are comfortable, soft on the skin, non-toxic, and non-irritating. Reduce the viral infection in crowd Light and Nonbulky, fabric-based. Comfort wear, elastic fasteners with latch-on clip. When worn correctly, you will benefit from comprehensive protection.
We also recommend:


Guo Xiang KN95 FFP2 Professional Protective Mask
Alchemy Disposable protective Face Mask
How to Use A Face Mask
The range of application and storage
1. This protective mask is suitable for respiratory protection of various particulate matters, such as dust, sand dust, flying foam, and other productive dust and air pollutants such as non-volatile fog, and can be used as effective protection of fine particulate matter(PM2.5) from environmental air pollution.
2. This product does not produce oxygen and cannot be used in an anoxic environment with oxygen concentration lower than 19.5%.
3. Do not wash with water.
4. This product cannot be used for the protection and filtration of toxic gas or steam.
5. When the mask is found to be contaminated, damaged, or damaged, a new mask shall be replaced.
User Instructions:
This product has passed the national quality inspection.
GB2626-2006 is a compulsory national standard for particulate matter masks issued by the state general administration of quality supervision, inspection and quarantine, which requires simultaneous detection of particulate matter. The filtration efficiency and the tightness under human wearing, the detection of filtration efficiency requires the use of particles with a particle size of 0.3 microns because particles with a particle size of 0.3 microns are the most difficult to filter.
1. Functions: smog prevention, PM2.5 prevention, automobile exhaust prevention, pollen prevention, dust prevention, and foam prevention.
2. Precautions: Not recommended for children under 3 years old due to bow vital capacity due to poor air circulation, breathing difficulties, and sleep.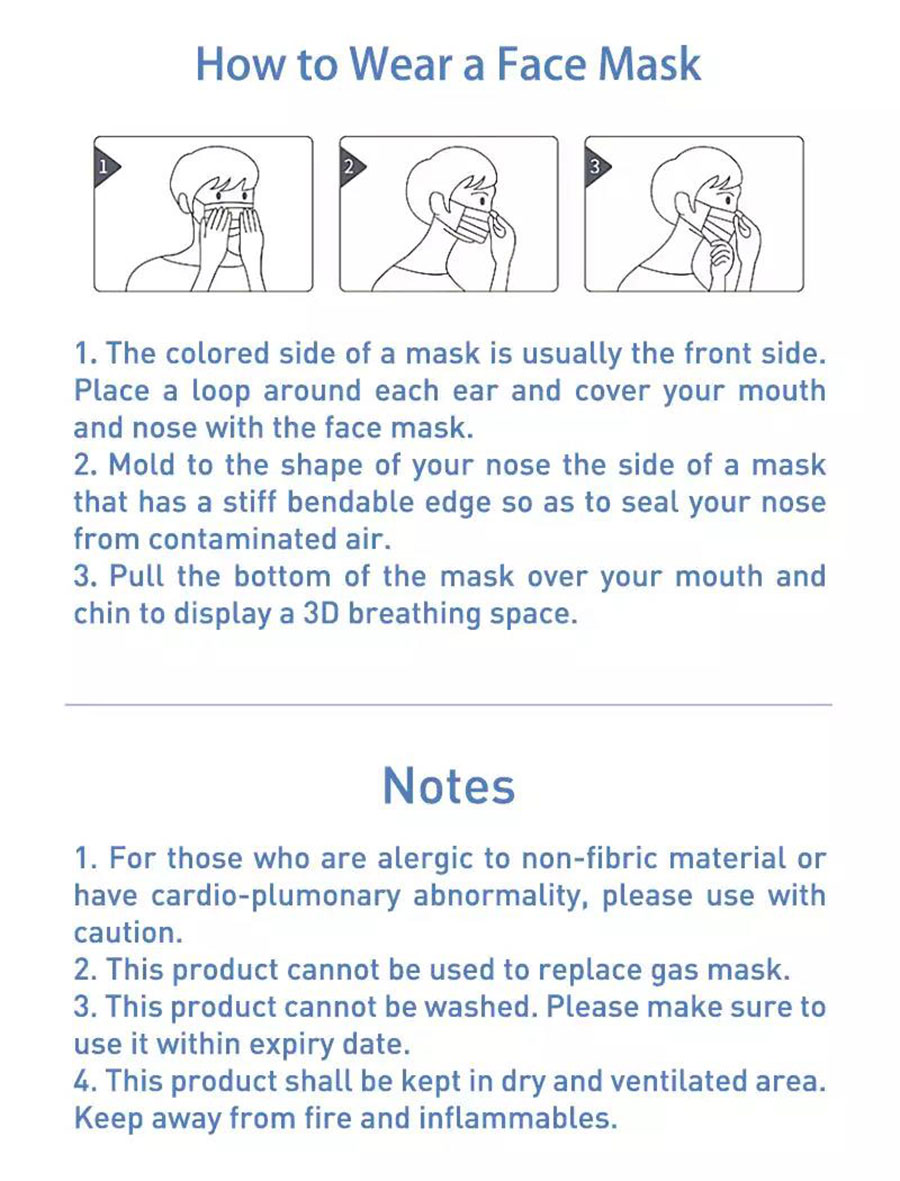 Medical-Grade Material used
Highly Efficient Filtration
Optimal Comfort
Filtration Efficiency: ≥95%
Execution Standard: GB 2626-2006 KN95,
Material: non-woven/PP
Functions: High-quality filtration material, smooth ventilation, refuse odor can effectively prevent Coronavirus,Haze, Pollen, Dust, Germs, Allergies, Smoke, Pollution, PM2.5, Ash, and so on.

1X Alchemy KN95 FFP2 Anti Bacterial Respirator Face Mask 10pcs/box