Alchemy Disposable Protective Face Mask 50pcs/box
Regular Price
$35.99
-10%
Regular Price
$39.99

Alchemy disposable face mask is strictly implemented in accordance with the medical device production standard(YY/T 0969-2013). The relevant license is expected to pass the approval in early April. The package is not in the form of "medical" before the certificate is issued.
BFE95/PFE95 filter layer: Effectively filter dust particles and bacteria larger than 2.5um in diameter, prevent most virus infection sources, and protect the respiratory system.
We also recommend:


Alchemy KN95 FFP2 Anti Bacterial Respirator Face Mask
Guo Xiang KN95 FFP2 Professional Protective Mask
How to Use A Face Mask
The range of application and storage
1. This protective mask is suitable for respiratory protection of various particulate matters, such as dust, sand dust, flying foam, and other productive dust and air pollutants such as non-volatile fog, and can be used as effective protection of fine particulate matter(PM2.5) from environmental air pollution.
2. This product does not produce oxygen and cannot be used in an anoxic environment with oxygen concentration lower than 19.5%.
3. Do not wash with water.
4. This product cannot be used for the protection and filtration of toxic gas or steam.
5. When the mask is found to be contaminated, damaged, or damaged, a new mask shall be replaced.
User Instructions:
This product has passed the national quality inspection.
GB2626-2006 is a compulsory national standard for particulate matter masks issued by the state general administration of quality supervision, inspection and quarantine, which requires simultaneous detection of particulate matter. The filtration efficiency and the tightness under human wearing, the detection of filtration efficiency requires the use of particles with a particle size of 0.3 microns because particles with a particle size of 0.3 microns are the most difficult to filter.
1. Functions: smog prevention, PM2.5 prevention, automobile exhaust prevention, pollen prevention, dust prevention, and foam prevention.
2. Precautions: Not recommended for children under 3 years old due to bow vital capacity due to poor air circulation, breathing difficulties, and sleep.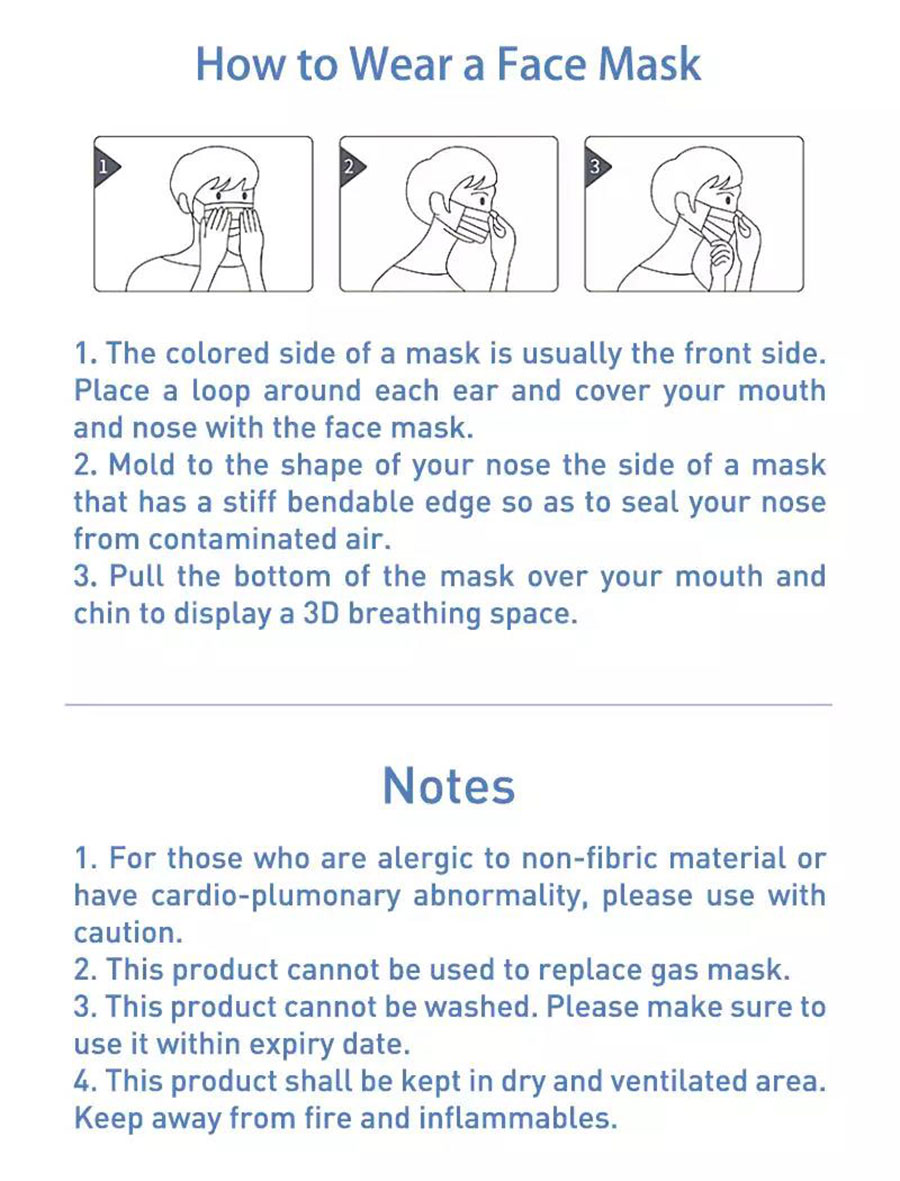 3-layer filtering
Maximum protection
One size fits all
3-layer filter structure protects from virus effectively:
Outer waterproof filter layer: Effectively block droplet transmission
BFE95/PFE95 core filter layer: Isolate most bacteria and particles
Inner protective breathable layer: Keep breathing comfortable and hygroscopic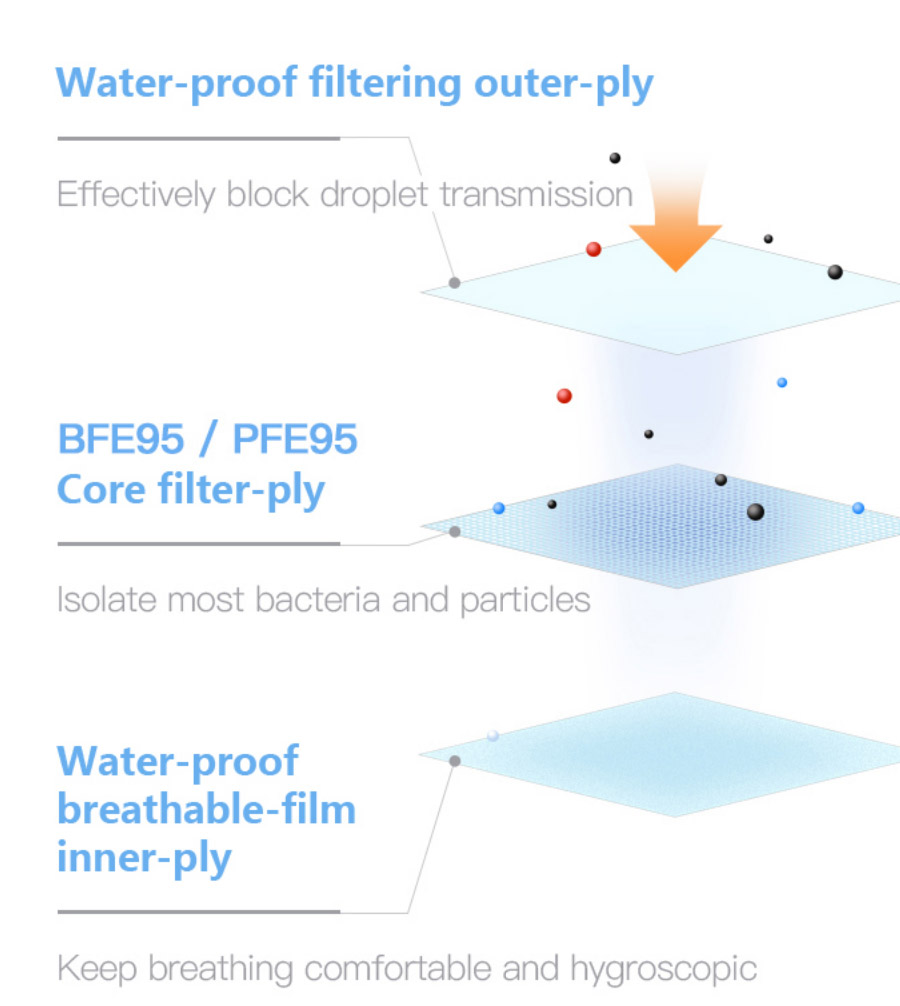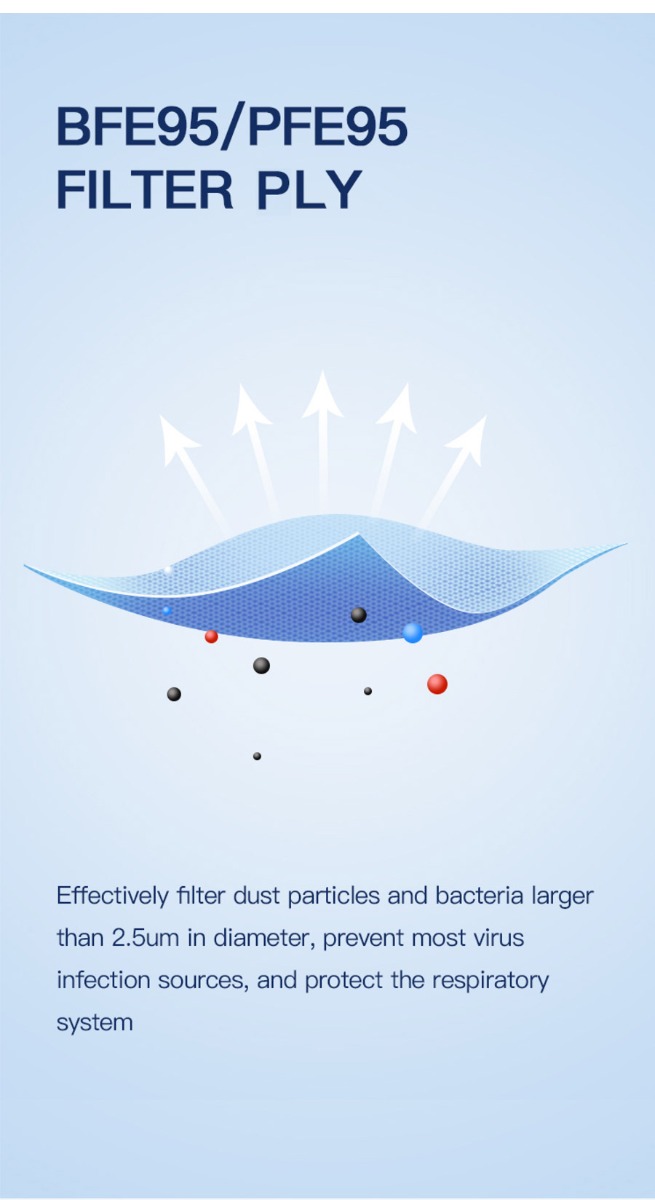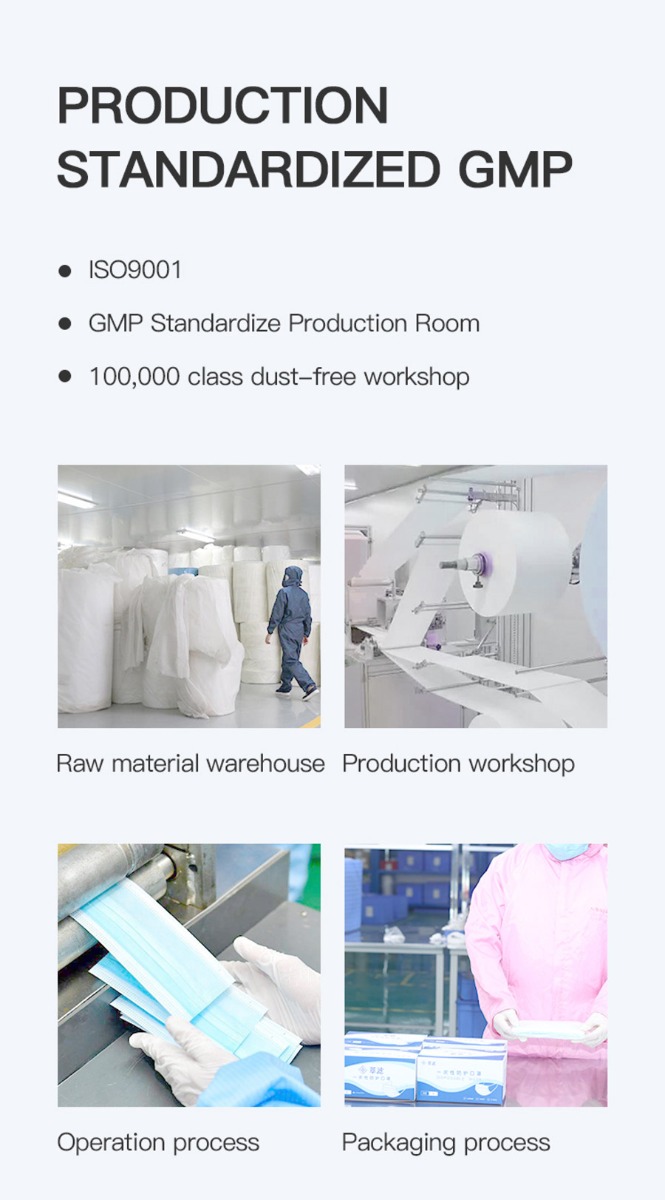 Brand: Alchemy
Mask Size: 175*95mm
Bag Specification: 10pcs/Bag
Individual Box Size: 50pcs/Box
Carton Box Size: 40 boxes / Carton
Main Materials: Non-Woven Fabric / BEF95 Melt-blown Nonwovens / 3-layer permeability membrane
Warranty: 24 months
Implementation standards: YY / T 0969-2013

1X Alchemy Disposable Protective Face Mask 50pcs/box